Zelda The Manatee Joins Save the Manatee Club Adopt-A-Manatee® Program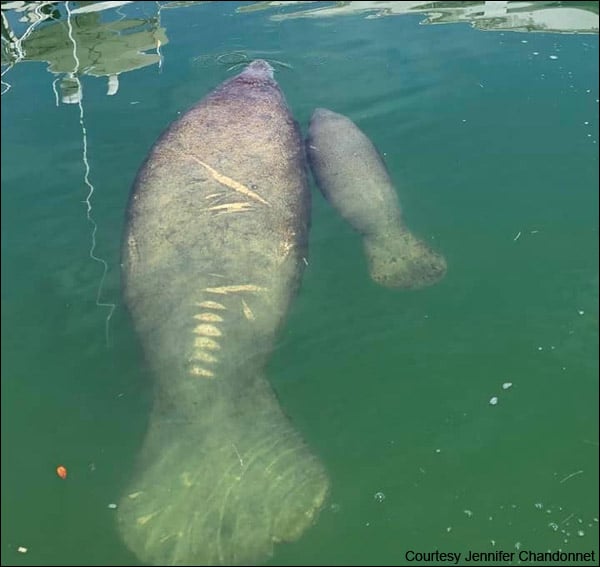 In recent years, the female manatee has been known to frequent the Florida Keys
FOR IMMEDIATE RELEASE—June 3, 2022
Contact: media@savethemanatee.org, 407-539-0990
Photos of Zelda >>
MAITLAND, FL—A new manatee has been added to Save the Manatee Club's popular Adopt-A-Manatee® program. Zelda is a female manatee who has been sighted in recent years in the Florida Keys. Zelda was given a name starting with the letter "Z" because a distinctive scar on her back reminded researchers of that letter.
"Like nearly every other living manatee, Zelda bears permanent watercraft scars from encounters with boats, and researchers can use those scar patterns to identify and track manatees," said Patrick Rose, an aquatic biologist and executive director of Save the Manatee Club. "The data from her sightings over the years are a good reminder that manatees utilize habitat throughout the state of Florida."
Zelda was first photo-documented in 2002 at the Florida Power & Light power plant in Ft. Myers. Over the years, she has been sighted throughout Florida's west coast, including Sarasota, Apollo Beach, and Terra Ceia Bay. Recently, she has seemed to favor the Florida Keys, appearing in Key West and Summerland Key. In late May, she was spotted in the Keys with a newborn calf.
Various organizations, including Mote Marine Lab, the U.S. Geological Survey's Sirenia Project, and the Florida Fish and Wildlife Conservation Commission (FWC), have contributed sightings of Zelda over the years. She has also been documented by members of the public who have submitted sighting information and photos for inclusion in the statewide Manatee Individual Photoidentification Database (MIPS). Anyone can contribute a manatee sighting via Save the Manatee Club's Manatee Sighting Form.
"I am extremely excited to see Zelda included in the adoption program. As she is a frequent visitor to my canal, I have grown to care so much about her," said Jennifer Chandonnet, an employee for Back to the Island Society and recent FWC Marine Mammal Volunteer. The mission of Back to the Island, a Save the Manatee Club supporter, is to preserve and honor the history, culture, and lifestyle of Key West. "Seeing Zelda and her calf in such close proximity to people and boats in my area makes me worry about them and how they are managing. I really want to educate others to watch out for her and all manatees. I hope her adoption raises awareness about manatees here in the Keys."
Funds from the Adopt-A-Manatee® program directly support Save the Manatee Club in its mission to protect manatees and their habitat, including emergency rescue, rehabilitation, and release efforts; education and public awareness programs; and other critical work to address the ongoing manatee mortality crisis in the Indian River Lagoon. To Adopt-A-Manatee®, visit adoptamanatee.org or call 1-800-432-JOIN (5646).
###
Save the Manatee Club, established in 1981 by the late renowned singer-songwriter, author, and entrepreneur Jimmy Buffett, along with former Florida Governor and U.S. Senator Bob Graham, is dedicated to safeguarding manatees and preserving their aquatic habitat. For more information about manatees and the Club's efforts, visit savethemanatee.org or call 1-800-432-JOIN (5646).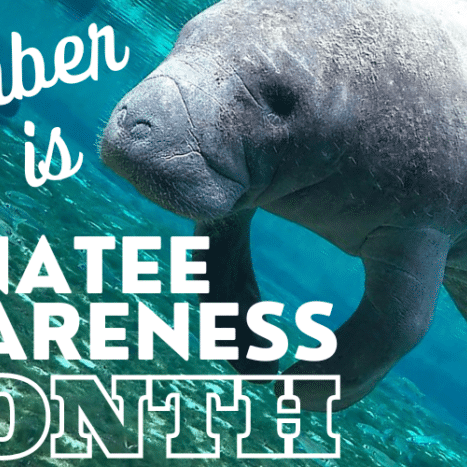 November is Manatee Awareness Month
November is Manatee Awareness Month, an annual opportunity to celebrate Florida's state marine mammal and raise awareness of the ongoing threats to manatees and their aquatic habitat.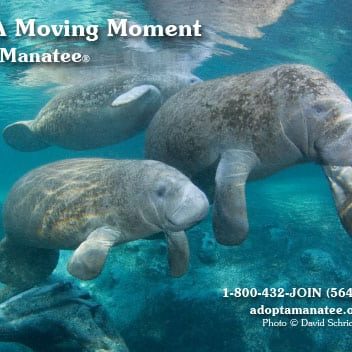 Share A Moving Moment With A Manatee Adoption
Searching for the perfect gift that not only moves the heart but also contributes to a great cause? Look no further than an adoption from Save the Manatee Club.