Tales from the Spring: Manatee Rescue and Release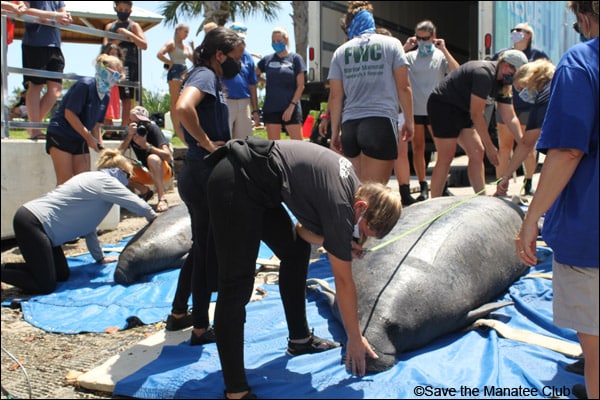 By Cora Berchem, Director of Multimedia and Manatee Research Associate, and Nancy Sadusky, Director of Online Communications
Over the last few months, Save the Manatee Club (SMC) staff assisted with several manatee rescues and releases in the Central Florida area. These rescue and release efforts are coordinated by Florida Fish and Wildlife Conservation Commission (FWC) biologists, who work with a network of agencies and organizations to rescue manatees and transport them to rehabilitation facilities throughout the state. Most of SMC's rescue and release efforts are part of our work at Blue Spring State Park (BSSP), and the Club's webcams are often helpful in detecting injury and illness in the manatees gathered in the spring for the winter.
In November 2020, a little female calf came in with what we presumed was the mom, but over the course of the season, the calf was losing weight, became lethargic, and was not observed nursing the way it should have. The calf was rescued on January 14 and brought to SeaWorld Orlando, where the staff named her Mary Kate. We are told she is doing well and putting on weight, but due to her small size (barely over 100 pounds at rescue), she has quite a way to go.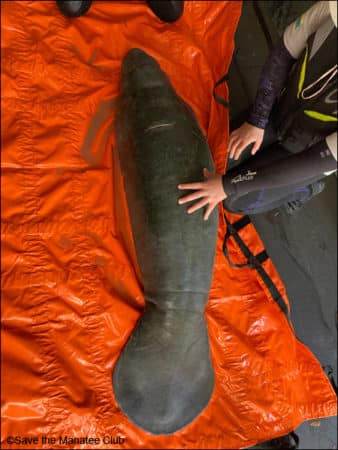 Chloe is an adult female known at BSSP since 2012. During the 2020–2021 manatee season, we noticed she was becoming lethargic and sitting in shallow water for most of the season, so the decision was made to intervene. She also had a monofilament line entanglement on her right flipper, which from the outside didn't look too bad. However, once she was at SeaWorld Orlando, the veterinarian realized that it had cut through her bone, and she needed surgery. At some point, it looked like Chloe might even lose her flipper. Luckily, she started to feel better and put on weight. Chloe was released at Blue Spring on May 12, 2021.
Moira-Rose came in with severe cold stress syndrome on January 29, with white lesions covering her whole body. She also had elevated respiration. In addition, shots from our underwater webcam showed Moira-Rose was very pregnant. A quick decision was made to intervene, and she was rescued on February 1st and brought to SeaWorld Orlando. Luckily, due to the quick response, she made a quick recovery and was released back into the wild on March 15, so she could give birth to the calf in the wild.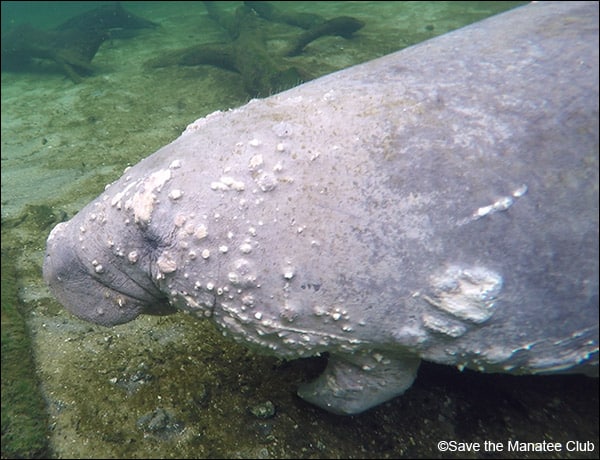 Mandy came in with her calf at the beginning of the season, and both mom and calf seemed to be doing well. Suddenly, on February 22, Mandy started to look extremely emaciated. Her ribs and skull were showing, and the decision was made to intervene. The calf looked great, so we assumed that Mandy might be a first-time mom who invested all her energy into raising a healthy, sturdy calf but neglected to take care of herself. The pair is still at SeaWorld, and we are told that Mandy has started eating and is putting on weight, so hopefully she will be ready to go back into the wild soon. The male calf was named "Manilow" after Barry Manilow's song "Mandy."
We also assisted with the rescue of several manatees who were trapped behind a weir in Brevard County in late December or early January. Two of the manatees, named Ralphie and Hermey, were brought to Jacksonville Zoo for treatment and released at Blue Spring because of ongoing manatee deaths in the Indian River Lagoon on Florida's east coast. Gar had been rescued earlier this year in the Jacksonville area for cold stress and was also released at BSSP with Ralphie and Hermey on February 16.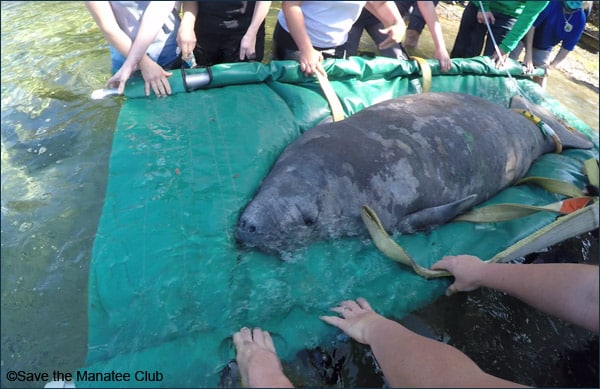 Amelia and Irma were released on February 15 at Blue Spring. Both manatees were rescued as orphaned calves in 2017. Amelia was found in Indian Harbor Beach in Brevard County, Florida, and Irma was rescued in Julington Creek, St. Johns County, Florida. Amelia and Irma are still tagged and occasionally visit BSSP, and they seem to be adapting really well to life in the wild.
Finally, we were thrilled to assist in the release of our East Coast adoptee, Chessie, on May 11 at Anchorage Park in Palm Beach, Florida (see Chessie's Incredible Journey). Two additional manatees—Froggie and Toad—were released on the same day as Chessie. Mother Froggie had been rescued earlier this year in Dania Beach, Florida, when she was found swimming sideways. Her dependent calf Toad was rescued with Froggie, and both manatees were rehabilitated at Miami Seaquarium.
Many other manatees have been rescued and rehabilitated this year. Special thanks to the heroic efforts of the FWC staff, the partner organizations of the Manatee Rescue and Rehabilitation Partnership (SMC is a charter member), and all the volunteers who make these rescues and releases successful!