Spring Into Action on Manatee Appreciation Day, March 31st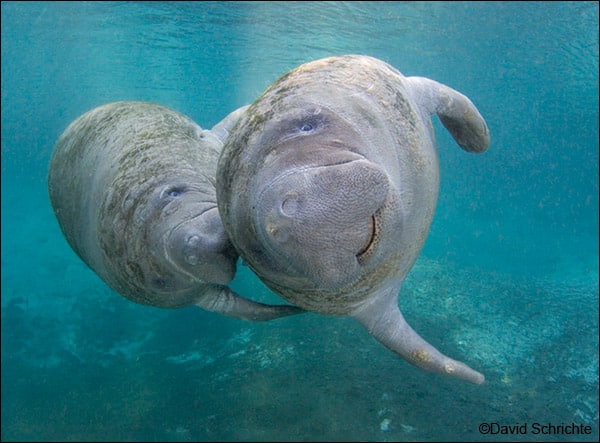 FOR IMMEDIATE RELEASE—March 3, 2021
Contact: media@savethemanatee.org, 407-539-0990
Spring into action to protect imperiled manatees when you Adopt-A-Manatee® or celebrate Manatee Appreciation Day on Wednesday, March 31st with Save the Manatee Club. The last Wednesday in March, Manatee Appreciation Day serves as a reminder to celebrate and safeguard these gentle giants who face various threats in the wild.
Affectionately known as "sea cows," manatees are herbivores who can be found in salt or freshwater environments and anywhere in between – particularly where seagrass beds or vegetation flourish. Manatees need to graze on plants daily to maintain their average weight of 800 to 1,200 pounds (350 – 550 kg). Having co-evolved with seagrass-based aquatic ecosystems, free-ranging manatees feeding on seagrasses actually make seagrass communities more productive, ultimately helping to sustain a diverse ecosystem for a myriad of aquatic species.
Unfortunately, many manatees in Florida have lost their lives this winter season to dwindling seagrass resources as well as cold weather. Despite their large frame, manatees actually have relatively little body fat compared to other marine mammals and are quite susceptible to cold water temperatures. Joined with the risks manatees face from watercraft collisions and entanglement, manatees need our appreciation and support more than ever.
Save the Manatee Club is commemorating Manatee Appreciation Day this year by sharing manatee facts, videos, quizzes, and Q&A sessions with experts online all day at savethemanatee.org/MAD, facebook.com/savethemanateeclub, and @adoptamanatee on Instagram. Learn interesting facts about manatees and what people are doing to protect them, including everything from manatee migration patterns (some travel as far north as Massachusetts in the summer!) to manatee research techniques (like identifying the unique scar patterns on their bodies – sadly from injuries and boat strikes). Find out how to take action to help manatees, whether you spend time alongside them on Florida's waterways or want to help from across the U.S. or anywhere in the world.
Save the Manatee Club also invites manatee lovers to Adopt-A-Manatee to support manatee conservation. Each symbolic manatee adoption includes a one-year Club membership and a personalized certificate and biography of your chosen manatee. Every adoptable manatee is a real, living manatee studied by research teams who provide updates on the manatee's whereabouts and behavior. Proceeds from the Adopt-A-Manatee program help fund many different manatee protection efforts, from advocating for protected warm-water and vegetation-rich habitats to supporting agencies and organizations that work together to rescue, rehabilitate, and release sick and injured manatees.
Adopting a manatee makes a thoughtful gift for someone you love and a big difference for the manatees who need our help. For a limited time while supplies last, Adopt-A-Manatee memberships at the $35 level include a spring-themed manatee ornament. Please order by March 22nd for delivery by Easter. Visit savethemanatee.org/adopt or call 1-800-432-JOIN (5646) to join Save the Manatee Club in our mission to protect imperiled manatees.
###
Save the Manatee Club, established in 1981 by the late renowned singer-songwriter, author, and entrepreneur Jimmy Buffett, along with former Florida Governor and U.S. Senator Bob Graham, is dedicated to safeguarding manatees and preserving their aquatic habitat. For more information about manatees and the Club's efforts, visit savethemanatee.org or call 1-800-432-JOIN (5646).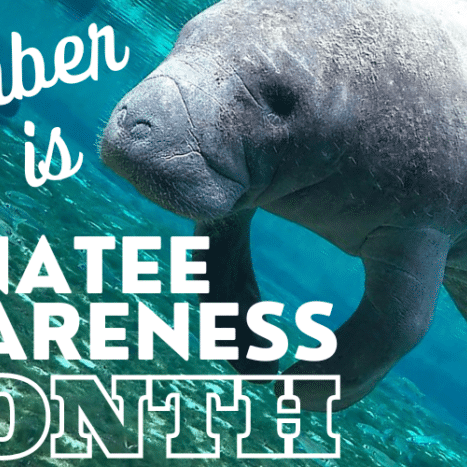 November is Manatee Awareness Month
November is Manatee Awareness Month, an annual opportunity to celebrate Florida's state marine mammal and raise awareness of the ongoing threats to manatees and their aquatic habitat.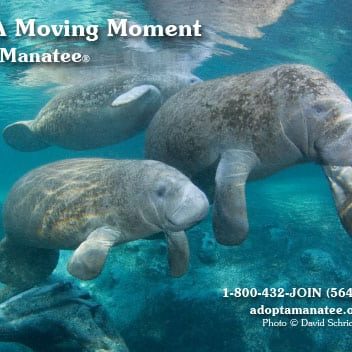 Share A Moving Moment With A Manatee Adoption
Searching for the perfect gift that not only moves the heart but also contributes to a great cause? Look no further than an adoption from Save the Manatee Club.