Sealed With A Kiss: Adopt-A-Manatee® For Someone You Love This Valentine's Day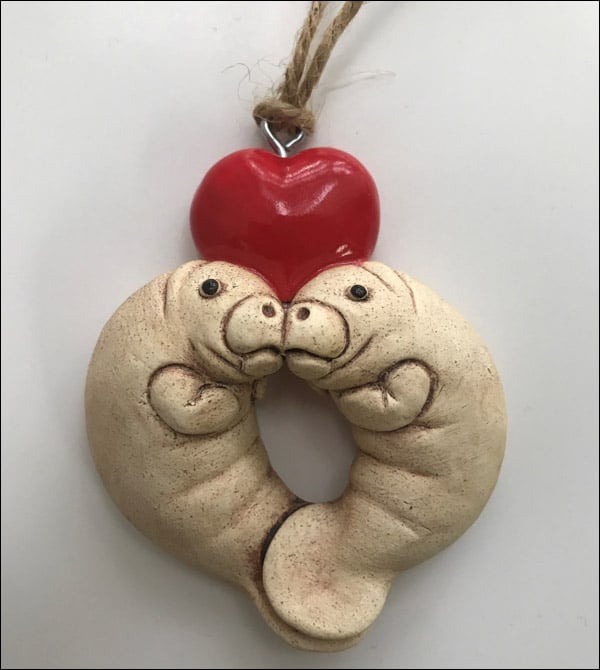 FOR IMMEDIATE RELEASE—December 17, 2019
Contact: media@savethemanatee.org, 407-539-0990
Note: Images of manatees, the manatee heart ornament, and Save the Manatee Club members Christina and David, and Heather and Alix, are available upon request. Also, ask for the Club's new print Valentine's Day public service announcements, available in three sizes!
MAITLAND, FL—This Valentine's Day, give a gift with heart and Adopt-A-Manatee from Save the Manatee Club. Choose a real, living manatee from the Club's adoption program and receive a certificate with a photo and biography of your manatee, along with newsletters and social media updates. Membership adoptions start at only $25, and membership gifts, like a handmade manatee heart ornament, are included at the $35 and higher levels. To read about the real manatees available, including manatees like Philip, Aqua, Lily, Gator, Illusion, and Nick, visit savethemanatee.org/adopt.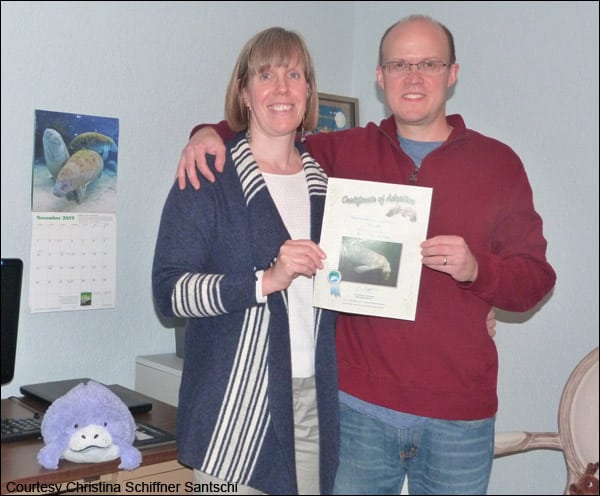 Christina Schiffner Santschi surprised her husband David with his very own manatee last Valentine's Day after adopting different manatees for herself over the years. "I decided to adopt Philip for David for Valentine's Day, since he wouldn't be expecting a manatee for that holiday," she explained. "I thought Philip would be a sweet sign of my love for David, since manatees are gentle, sociable, and loving creatures." David put up Philip's picture, along with the Save the Manatee Club calendar, in their California home. They hope to visit Florida someday to see manatees in their natural habitat.
Manatee Philip, one of the more playful manatees, was also a sweet Valentine's Day gift for Heather Koch from her boyfriend Mike. Manatee gifts are a tradition for Heather, who received manatee Phoebe as a birthday gift from her grandmother in the '90s. When Phoebe passed away, Heather received her calf, Philip, instead. "I was so incredibly happy to find out that Philip was still on your adoption roster after all of these years!" Heather said. "It provides me with hope that we are having a positive impact on these incredible creatures." Heather and her family also participate in the annual Save the Manatee Virtual 5K from their home in Pennsylvania. Learn more about the 5K at savethemanatee5k.com.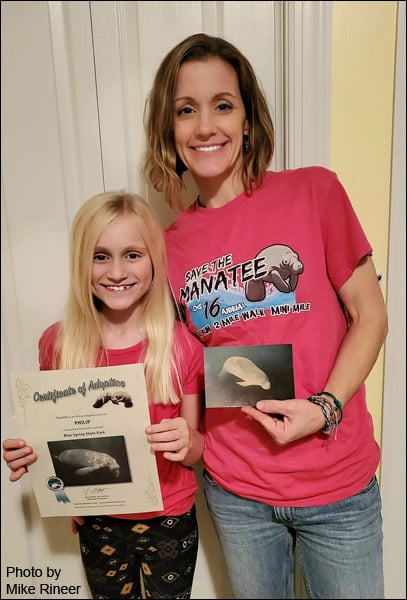 Not only does your adoption make a cute, thoughtful gift, it also helps protect manatees and their habitat. Funds from the Adopt-A-Manatee program support Save the Manatee Club's efforts to increase public education, sponsor manatee research, rescue, and rehabilitation, and advocate for strong protection measures to protect manatees and their habitat. The Club also supports rescue, rehabilitation, research, and education efforts in the Wider Caribbean, Central and South America, and West Africa. These efforts work to prevent human-related manatee deaths and promote the recovery of this imperiled species.
Save the Manatee Club was founded in 1981 by former Florida Governor and U.S. Senator Bob Graham and singer/songwriter Jimmy Buffett. For the past 39 years, Save the Manatee Club, an international 501(c)(3) nonprofit, has educated millions around the world about imperiled manatees and the threats to their long-term survival.
For more information about manatees and to Adopt-A-Manatee as a Valentine's Day gift, visit savethemanatee.org/adopt. You can also call 1-800-432-JOIN (5646). Follow the Club on Facebook, Instagram, Twitter, YouTube, LinkedIn, and Pinterest.
###
Save the Manatee Club, established in 1981 by the late renowned singer-songwriter, author, and entrepreneur Jimmy Buffett, along with former Florida Governor and U.S. Senator Bob Graham, is dedicated to safeguarding manatees and preserving their aquatic habitat. For more information about manatees and the Club's efforts, visit savethemanatee.org or call 1-800-432-JOIN (5646).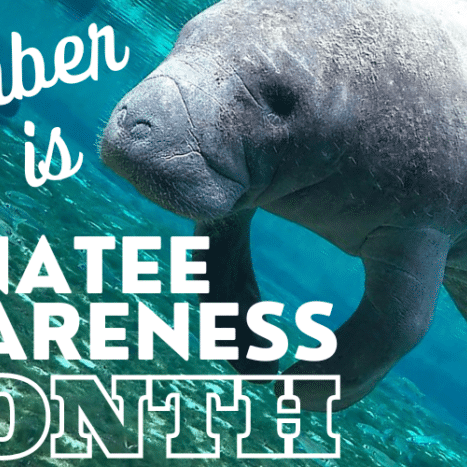 November is Manatee Awareness Month
November is Manatee Awareness Month, an annual opportunity to celebrate Florida's state marine mammal and raise awareness of the ongoing threats to manatees and their aquatic habitat.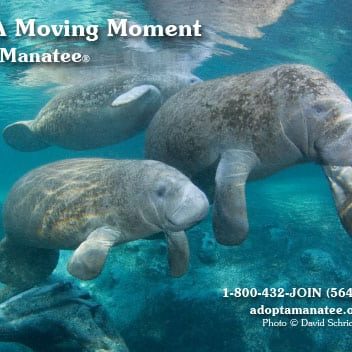 Share A Moving Moment With A Manatee Adoption
Searching for the perfect gift that not only moves the heart but also contributes to a great cause? Look no further than an adoption from Save the Manatee Club.