Save the Manatee Club Applauds FWS-FWC Joint Decision to Approve Supplemental Feeding of Malnourished Manatees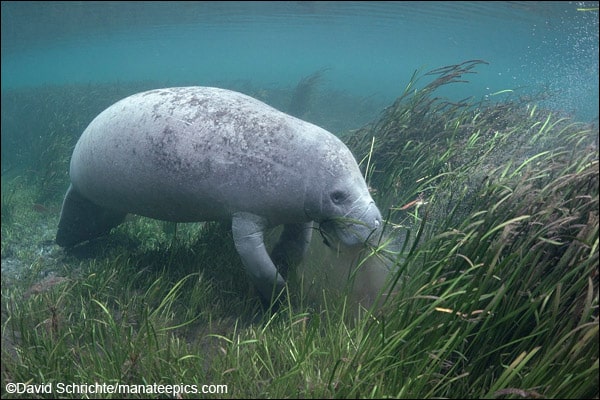 Plan will help prevent starvation due to devastating seagrass losses in Indian River Lagoon as a result of repeated Harmful Algal Blooms.
FOR IMMEDIATE RELEASE—December 7, 2021
Contact: media@savethemanatee.org, 407-539-0990
MAITLAND, FL–On December 2, 2021, the U.S. Fish and Wildlife Service (FWS) and Florida Fish and Wildlife Conservation Commission (FWC) approved a joint plan to move forward with supplementing the diet of malnourished manatees seeking warm water refuge in the Indian River Lagoon (IRL) on Florida's east coast. The plan is being done on a limited, experimental basis to target already malnourished manatees and prevent starvation due to devastating seagrass losses in Indian River Lagoon as a result of repeated Harmful Algal Blooms (HAB) from excess human waste pollution.
"We want to thank both the Service and also the Florida Fish and Wildlife Conservation Commission for taking this important step," said Patrick Rose, an aquatic biologist and Save the Manatee Club's Executive Director. "We have made our position on the provisioning of supplemental food for manatees known to the state and federal government and believe this will be a significant move to help prevent another severe loss of manatees due to starvation that occurred last winter."
Between December 2020 and May 2021, 677 dead manatees were reported on Florida's east coast, the highest number every recorded in the state during a six-month period. Most of the deaths occurred in the cooler months of January, February, and March. By November 19, 2021, the total number of manatee carcasses recovered in the state was 1,017 – an all-time record.
Manatees usually begin returning to Florida's warm waters in November. Despite their size, manatees have relatively little body fat and cannot survive with prolonged exposure to cold water temperatures. They need the constant warmth from natural springs or power plant effluents once the water temperature begins dipping below 68° F (20° C). Manatees are herbivores, and seagrass is a mainstay of their diet. But excess nutrient pollution has fueled persistent annual algal blooms for over a decade in the IRL, resulting in the loss of more than 90% of the seagrass biomass there. The majority of the waterways are essentially devoid of seagrass.
As a result of the severe losses of seagrass on the east coast of Florida, it is important to watch for manatees that appear malnourished, with visible ribs and a sunken area behind their head and unable to keep their balance while breathing more rapidly. A manatee calf by itself with no adults around may be an orphan and should also be reported. Anyone who spends time near the water should view the resources at savethemanatee.org/rescue and report distressed manatees immediately to the Florida Fish and Wildlife Conservation Commission's wildlife alert hotline at 1-888-404-FWCC (3922).  
 
However, Rose stresses that feeding manatees is against the law without proper permits stating: "Ultimately, the decision of whether to feed manatees is physiologically and logistically complicated as it is currently illegal to feed or give water to manatees," he said. "Manatees may lose their fear of people and boats as they learn to associate them with handouts, only to be harassed, injured, or killed. We are asking people please don't feed them on your own, and share this message with your friends, family, and neighbors. " 
 
"Save the Manatee Club and our partners are working diligently on improving water quality to enable natural regrowth of seagrasses and to replant areas where replanting is feasible now," said Rose. "In the meantime, we are also working with our Manatee Rescue and Rehabilitation Partners to find more room and support for any manatees that may require rescue and rehabilitation." For more information on what you can do, go to savethemanatee.org/algae.
###
Save the Manatee Club, established in 1981 by the late renowned singer-songwriter, author, and entrepreneur Jimmy Buffett, along with former Florida Governor and U.S. Senator Bob Graham, is dedicated to safeguarding manatees and preserving their aquatic habitat. For more information about manatees and the Club's efforts, visit savethemanatee.org or call 1-800-432-JOIN (5646).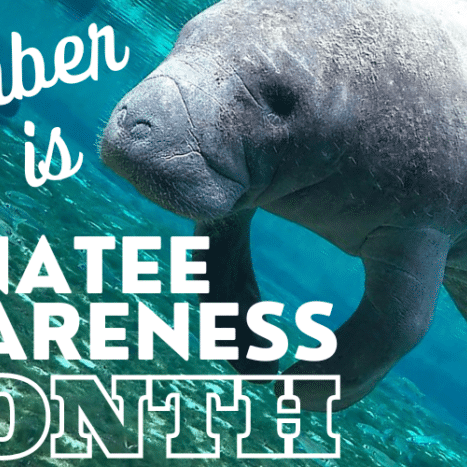 November is Manatee Awareness Month
November is Manatee Awareness Month, an annual opportunity to celebrate Florida's state marine mammal and raise awareness of the ongoing threats to manatees and their aquatic habitat.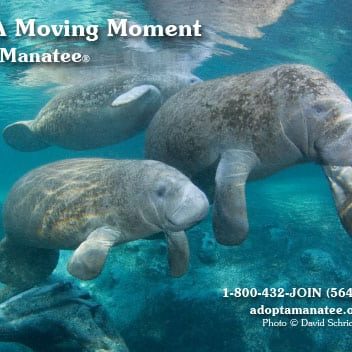 Share A Moving Moment With A Manatee Adoption
Searching for the perfect gift that not only moves the heart but also contributes to a great cause? Look no further than an adoption from Save the Manatee Club.