Remembering the Manatee Lady Helen Spivey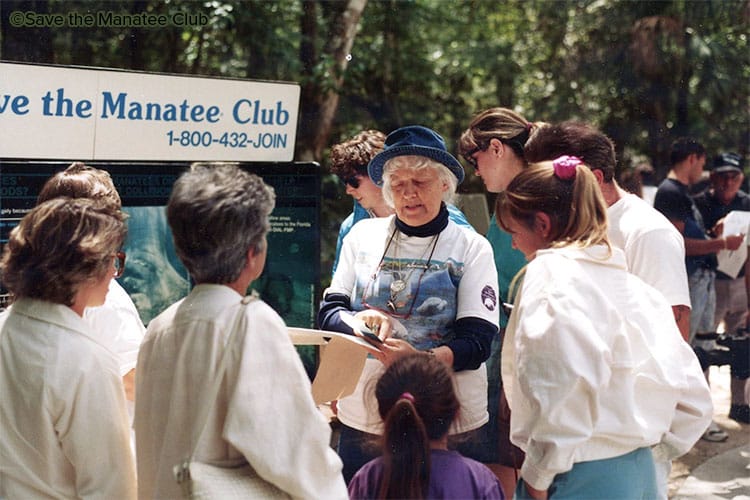 Helen Spivey, environmentalist and fierce advocate, dies at 94
By Nancy Sadusky, Director of Online Communications
On April 20, 2022, the manatees lost one of their strongest and most heartfelt advocates when Helen Spivey, Save the Manatee Club's Board of Directors' Co-Chair, passed away at age 94.
Known affectionately as "The Manatee Lady," Helen was a warm and friendly person who charmed her way into the hearts of both manatee advocates and opponents alike. With her easy laugh, laid-back style, and colorful stories, she was not shy about discussing manatees or aquatic habitat issues, and she was tenacious when she was on a mission. A lifelong activist, Helen served as a model for those, particularly women, who believe in making positive change in their community.
Manatee Protection Pioneer
Helen was one of the first manatee protection pioneers in Crystal River, which has a large year-round manatee population and is one of the most important areas for manatees in the state of Florida. In the early days, Helen received threats from those who opposed manatee protection measures. But she persevered and devoted decades of hard work to protect manatees and aquatic habitat as a concerned citizen and as a member of the Crystal River City Council and the Florida House of Representatives – winning election to the Florida House when she was in her 60s. "As an environmentalist, she hated the litter from campaign signs during election season," said Dan Hendrickson, Save the Manatee Club board member and a community organizer and public interest attorney in Tallahassee, Florida. "So she had only one sign, which she propped up on the ground beside her as she waved at passers-by on Hwy 19, sitting in a lawn chair while her leg was in a cast. She was the only Democrat in the entire country to win a formerly Republican seat that year."
Compassionate Warrior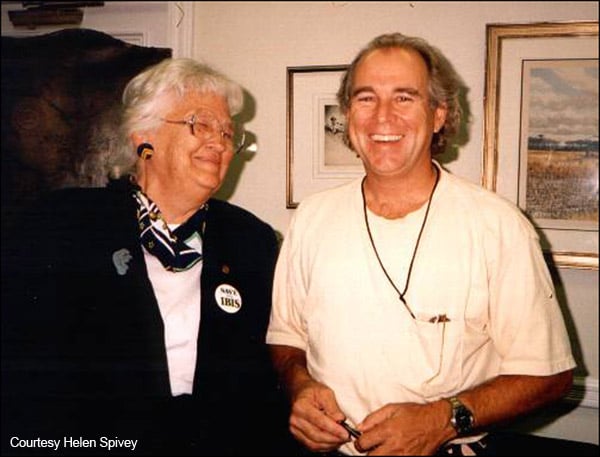 Hendrickson was a longtime friend of Helen, along with his wife, Susie Caplowe, an environmental and consumer lobbyist. "Helen quickly distinguished herself as a legislator in the Florida House by scrutinizing each bill, especially all provisions that could impact the environment," said Dan. "She built new relationships in Tallahassee, and other legislators quickly learned to ask her opinion on environmental legislation. She kept an ongoing dialogue with Florida Governor Lawton Chiles." "Helen was uncompromising and always stood her ground," added Susie. "Coming up to Tallahassee enabled her to continue her decades-long corrections to the ill-fated and destructive 'Cross Florida Barge Canal.' She long argued with legislators to 'Free the Oklawaha River,' when, year after year, Florida has allowed the Rodman Dam to damage the entire river basin across several counties."
Helen's voting record and sponsorship of pro-environmental amendments earned her the "Gold Star" Award for the Florida League of Conservation Voters' Legislative Scorecard, an achievement she repeated her second year in the Florida House. After losing reelection for her house seat, Helen returned to Tallahassee for several sessions to lobby for manatees. She went on to become an appointed member of the Florida Manatee Technical Advisory Council, the Manatee Forum, and numerous environmental committees. Today, she is widely revered for her decades of work—all unpaid—that have made manatees much safer in Citrus County waters and throughout the state of Florida.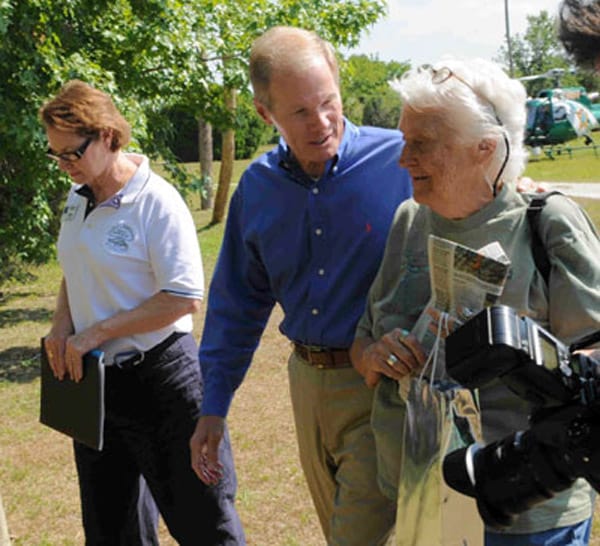 "Helen was lauded, loved, and admired by her peers for being a devoted and remarkable manatee hero," said Judith Vallee, former Executive Director of Save the Manatee Club, who worked closely with Helen for many years. "She was a stalwart champion and compassionate warrior for manatees. She was a courageous and resolute advocate and leader who was 'all in' for the protection of manatees, their aquatic habitat, and for natural Florida, dedicating much of her adult life to conservation efforts."
Helen worked to stop the pumping of treated sewage into Kings Bay in Crystal River, and she was instrumental in helping to protect Three Sisters Springs, a 57-acre property that is now part of the Crystal River National Wildlife Refuge on Florida's west coast. Often described as "an environmental jewel," Three Sisters Springs are blue oases of clear and pristine water located in the heart of Crystal River, Florida, and an important manatee winter warm-water refuge. Protecting Three Sisters Springs for manatees had long been a dream for Helen. Along with 18 other individuals and organizations, including Save the Manatee Club, she received the Regional Director's Conservation Award from the U.S. Fish and Wildlife Service in 2010 for her role in making a significant contribution to natural resource protection for the Three Sisters project. In 2011, Helen's conservation work was recognized by Congresswoman Debbie Wasserman Schultz on the floor of the U.S. House of Representatives.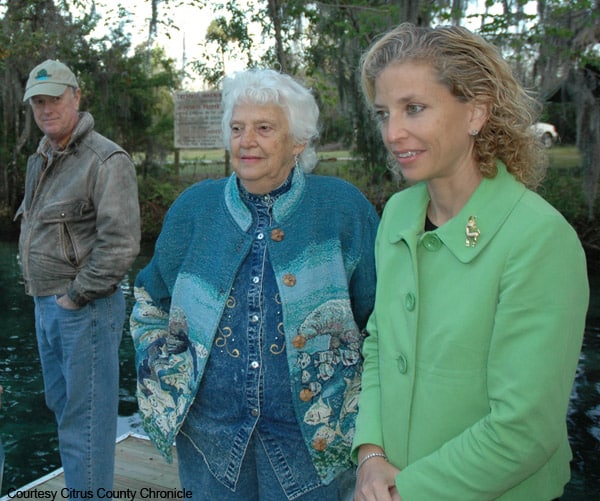 Educator and Volunteer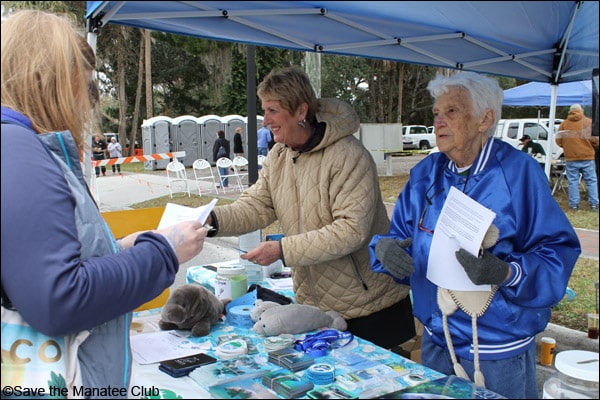 In addition to being an activist, Helen spent many hours helping to educate the public about the importance of manatee and habitat conservation. "Helen was someone who led by doing, always with a 'can do' spirit," said Janice Nearing, former Public Relations Director and volunteer coordinator for Save Manatee Club. "She enjoyed sharing freely of her time and knowledge through volunteering at the Club's tabling events, particularly in the Crystal River area, where she resided. She loved to engage with the public as well as with the other volunteers, and the annual Crystal River Manatee Festival was one of her favorite events, where she participated both days, rain or shine, over many years. She enjoyed putting together the write-up after the festival for posting on the Club's website. Always striving to bring about positive change, Helen's dedication as a volunteer was an inspiration to others."
During her lifetime, Helen's conservation work earned her awards from 1000 Friends of Florida, the Sierra Club, Florida Consumer Action Network, the League of Conservation Voters, Florida Audubon Society, The Nature Conservancy, and, of course, Save the Manatee Club. She received the Good Citizenship Medal from the Withlacoochee Chapter of the Sons of the American Revolution for "her many decades of dedication to the protection of the manatees." As a leader in her local Nature Coast Group of the Sierra Club, Helen served on the statewide board as well as on the Conservation and Legislative Committees in her role as Issue Chair for the Manatee Committee. She also served on the Board of the National Greyhound Foundation and was President of the Florida League of Conservation Voters Education Fund. Helen was an early leader in the Clean Money movement, opposing special interest money in politics, and advocated and won endorsements from various organizations for Clean Money Campaign Reform.
"They Don't Make Them Like Helen Anymore"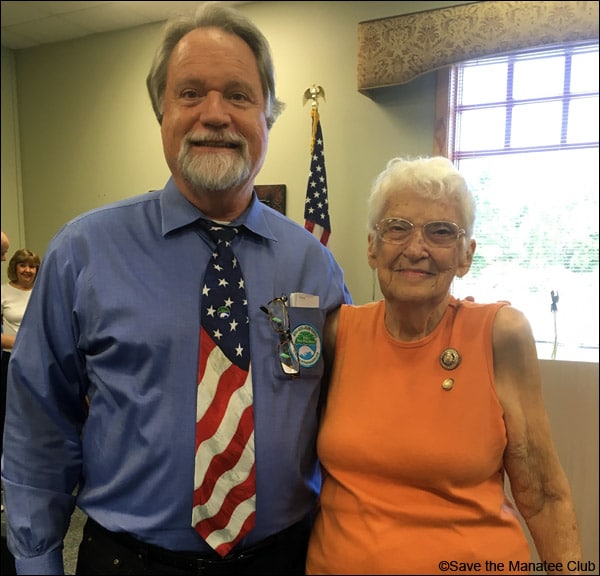 Helen lived modestly with her husband, William "Bear" Spivey, alongside the Crystal River for many years. She loved her dogs and cats, as well as her many friends. Caplowe remembers strategizing together with Helen over many meals in Tallahassee and Crystal River, including when Helen and Bear hosted Susie and Dan at their campsite on St. George Island, Florida. "She was quick, smart, and loved to joke with friends and opponents as well," said Susie. "They don't make them like Helen anymore."
"Helen's influence is hard to measure in its breadth or impact," Dan added. "We recall Helen's instructions for us to follow the 'Turquoise Trail' while in Cerrillos, New Mexico, and visit the 'What Not Shop.' We listened and stopped in at the historic antique store located in an abandoned mining camp and spoke with the owner, who happened to be one of Helen's inspiring friends."
"Helen meant the 'manatee world' to me personally, and I will miss her dearly," said Patrick Rose, Executive Director of Save the Manatee Club. "Although her many accomplishments were so very impressive, her caring concern and compassion was unequaled except perhaps by her humility. I so fondly remember being able to celebrate Helen's 90th birthday with her and her many friends and admirers while remarking to myself about how much more energy, passion and commitment to excellence she exhibited every year she grew older. She will always have a place in my heart and her beloved 'Rosie the manatee' statue will always have a place in my garden, as I promised Helen it would."