National Safe Boating Week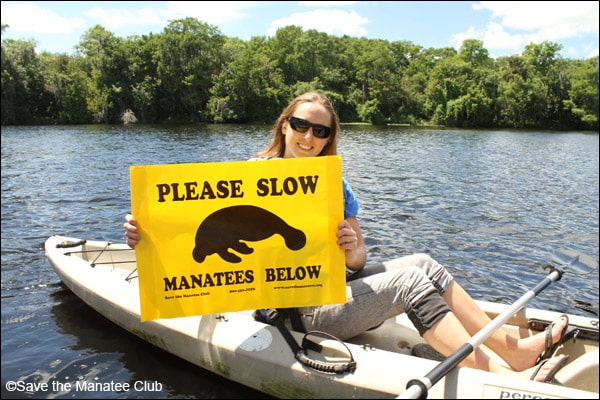 Boaters can follow manatee safe practices to significantly reduce the risk of boat-related injuries and deaths
FOR IMMEDIATE RELEASE—May 20, 2022
Contact: media@savethemanatee.org, 407-539-0990
MAITLAND, FL—Save the Manatee Club is a proud partner of National Safe Boating Week, which runs from May 21-27, 2022 and promotes recreational boating safety. The annual campaign, which kicks off the week before Memorial Day weekend, is an opportunity for Save the Manatee Club to remind boaters of manatee-safe boating tips.
While the primary focus around manatees over the past two years has rightfully been on the devastating Unusual Mortality Event for manatees in and around the Indian River Lagoon, it is important to remember that encounters with watercraft remain a major cause of manatee injuries and deaths. Nearly every living manatee bears scars from encounters with propellers, and blunt force trauma from a high-speed collision with any part of a boat is likely to cause injuries leading to death. Entanglement in or ingestion of improperly discarded fishing line can cause death or disfigurement.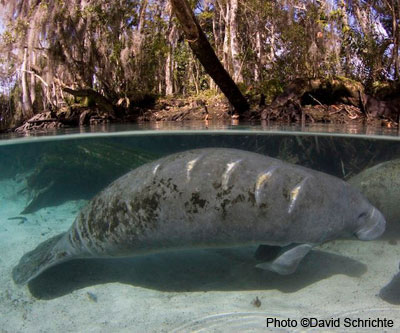 Fortunately, staying manatee-safe on the water can be as simple as learning and following manatee safety tips, most of which apply not just to motorboat operators, but to those on jet skis or paddlecraft as well:
Become familiar with and obey posted speed zone signs;
Wear polarized sunglasses to reduce glare and see below the water's surface;
Learn and look out for telltale signs of manatees in the area, notably a swirl or flat spot on the water that is created by the motion of the manatee's tail when it dives or swims, or a break in the water created by a manatee's snout, back, tail, or flipper;
Keep away from posted manatee sanctuaries and always remain a safe distance away if you encounter a manatee. Never pursue or harass a manatee;
Immediately report distressed, injured, tagged, or orphaned manatees to the Florida Fish and Wildlife Conservation Commission (FWC) at 1-888-404-FWCC (3922) or by using VHF Channel 16 on your marine radio;
Avoid boating over seagrass beds and shallow areas where manatees might be feeding. Stay in deep water channels when boating, but be aware that manatees also use deep water channels when traveling;
Anglers: take care to reel in and properly dispose of or recycle your used fishing line.
"Due to the heartbreaking number of manatee deaths over the past two years, members of the public are increasingly concerned with doing all they can to come to the aid of our imperiled manatees," said Patrick Rose, an aquatic biologist and Executive Director of Save the Manatee Club. "Everyone on the water can do their part to protect manatees right now by following the safety guidelines that prevent manatee injuries and deaths, and make our waterways safe, fun places for humans and manatees alike."
Save the Manatee Club offers free materials for boaters, paddlers, and waterfront property owners to help promote manatee safety. These include aluminum signs alerting to the presence of manatees in waterways, a waterproof "Manatees Below" banner, and a decal with the number to report manatees in distress. These free resources can be ordered at savethemanatee.org/resources.
###
Save the Manatee Club, established in 1981 by the late renowned singer-songwriter, author, and entrepreneur Jimmy Buffett, along with former Florida Governor and U.S. Senator Bob Graham, is dedicated to safeguarding manatees and preserving their aquatic habitat. For more information about manatees and the Club's efforts, visit savethemanatee.org or call 1-800-432-JOIN (5646).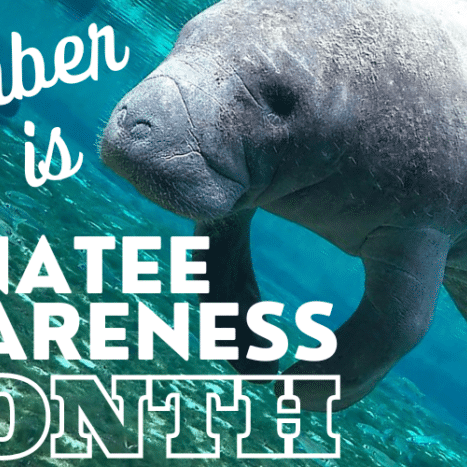 November is Manatee Awareness Month
November is Manatee Awareness Month, an annual opportunity to celebrate Florida's state marine mammal and raise awareness of the ongoing threats to manatees and their aquatic habitat.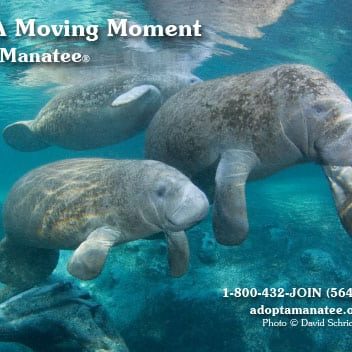 Share A Moving Moment With A Manatee Adoption
Searching for the perfect gift that not only moves the heart but also contributes to a great cause? Look no further than an adoption from Save the Manatee Club.