National Safe Boating Week Is A Perfect Reminder To Be Manatee-Safe On The Water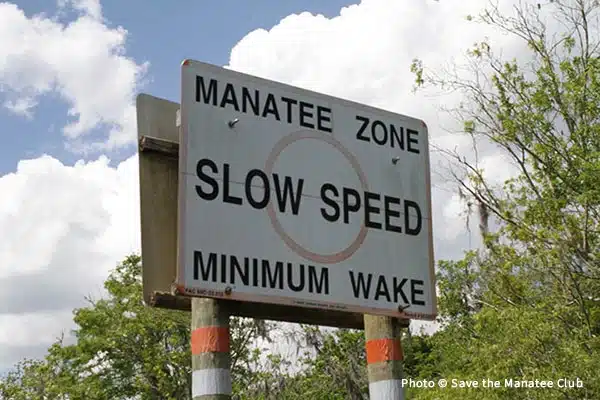 Manatees must surface to breathe air, which can put them on a collision course with fast moving watercraft
FOR IMMEDIATE RELEASE—May 17, 2023
Contact: media@savethemanatee.org, 407-539-0990
MAITLAND, FL—National Safe Boating Week, an annual campaign encouraging boaters to be responsible on the water, kicks off this year on May 20. The campaign promotes recreational boating safety such as checking equipment and wearing a life jacket, and Save the Manatee Club also encourages anyone on the water to be mindful of manatee safety as they begin the summer boating season.
Manatees are semi-migratory marine mammals and are often mobile in the summer, when they are commonly seen in shallow estuaries, bays, rivers, canals, and coastal areas throughout Florida and—to a lesser degree—neighboring states, most commonly Georgia, South Carolina, and Alabama. While relatively uncommon, some manatees are known to travel as far west as Texas and as far north as Massachusetts. As they are slow-moving and must regularly surface to breathe air, collisions between manatees and watercraft are devastatingly common. Nearly every living manatee bears scars from encounters with boat propellers, and high-speed collisions with fast-moving watercraft are a top cause of manatee deaths.
Fortunately, such accidents are preventable through education and awareness. Save the Manatee Club encourages everyone on the water to learn and follow these manatee safety tips:
Become familiar with and obey posted speed zone signs.
Wear polarized sunglasses to reduce glare and see below the water's surface.
Learn and look out for telltale signs of manatees in the area, such as a swirl or flat spot on the water created by the motion of the manatee's tail, or a break in the water created by a manatee's snout, back, tail, or flipper.
Keep away from posted manatee sanctuaries, and always remain a safe distance away if you encounter a manatee. Never pursue or harass a manatee.
In Florida, immediately report distressed, injured, tagged, or orphaned manatees to the Florida Fish and Wildlife Conservation Commission (FWC) at 1-888-404-FWCC (3922).
Outside of Florida, please report any manatee sightings to the appropriate state agency or rescue organization. A list of contacts is available at savethemanatee.org/report.
Avoid boating over seagrass beds and shallow areas where manatees might be feeding. Stay in deep water channels when boating, but be aware that manatees also use deep water channels when traveling.
Anglers: take care to properly dispose of or recycle your used fishing line.
"Each year, National Safe Boating Week provides an excellent reminder for all of us to be aware that we share our waterways with vulnerable manatees," said Patrick Rose, Aquatic Biologist and executive director of Save the Manatee Club. "Over the past three years, we have lost an unconscionable number of manatees to the Unusual Mortality Event on Florida's East Coast, making it increasingly important to reduce or eliminate preventable deaths like those caused by collisions with watercraft. Everyone on the water can help protect these gentle giants by following manatee-safe boating guidelines like obeying posted speed zones and keeping an eye out for manatees."
Save the Manatee Club offers free materials to help safeguard manatees and increase awareness of manatee-safe boating tips. Shoreline property owners, and park or marina managers can order aluminum dock signs alerting others to the presence of manatees in their areas. Boaters and paddlers can request packets that include a safety tips card, a waterproof boat banner, and a decal to adhere to your vessel with the number to report manatees in distress. See savethemanatee.org/resources to view and request materials.
###
Save the Manatee Club, established in 1981 by the late renowned singer-songwriter, author, and entrepreneur Jimmy Buffett, along with former Florida Governor and U.S. Senator Bob Graham, is dedicated to safeguarding manatees and preserving their aquatic habitat. For more information about manatees and the Club's efforts, visit savethemanatee.org or call 1-800-432-JOIN (5646).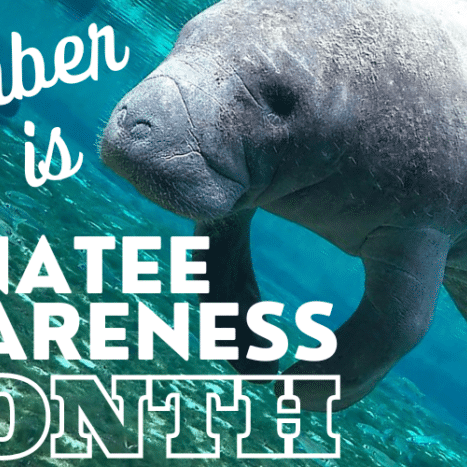 November is Manatee Awareness Month
November is Manatee Awareness Month, an annual opportunity to celebrate Florida's state marine mammal and raise awareness of the ongoing threats to manatees and their aquatic habitat.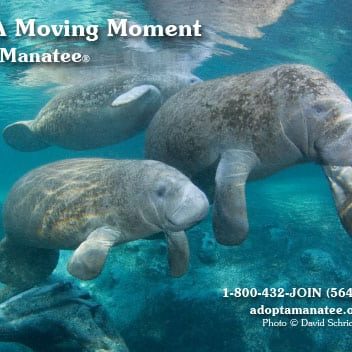 Share A Moving Moment With A Manatee Adoption
Searching for the perfect gift that not only moves the heart but also contributes to a great cause? Look no further than an adoption from Save the Manatee Club.