Mandy and Manilow Return Home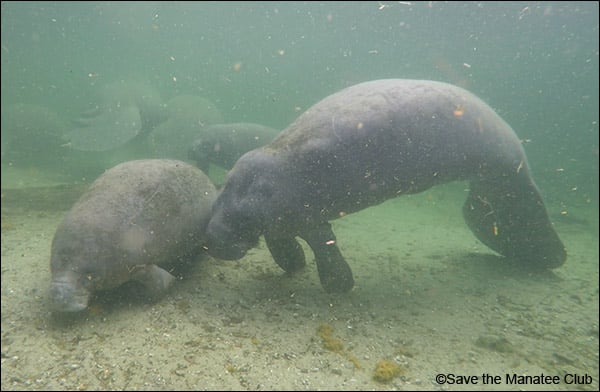 By Nancy Sadusky, Director of Online Communications, and Cora Berchem, Director of Multimedia and Manatee Research Associate
On July 14, a manatee named Mandy and her dependent male calf, Manilow, were released back into the wild at Blue Spring State Park. The pair were rescued in March 2021 after Mandy had become emaciated over the course of the winter season.
Mandy had been known to visit the warm-water refuge at Blue Spring in the winter since 2019, and she came into the park for the 2020–2021 manatee season with a calf. At the start of the season, they both appeared to be in good shape. It was Wayne Hartley, Save the Manatee Club's (SMC) Manatee Specialist, and Cora Berchem, SMC's Director of Multimedia and Manatee Research Associate, who discovered the change in Mandy. "On January 5, Mandy looked good," said Wayne. "From February 1 to the 21, it was warm, and she was not seen at all. But by February 22, she looked bad, and we began to monitor her closely."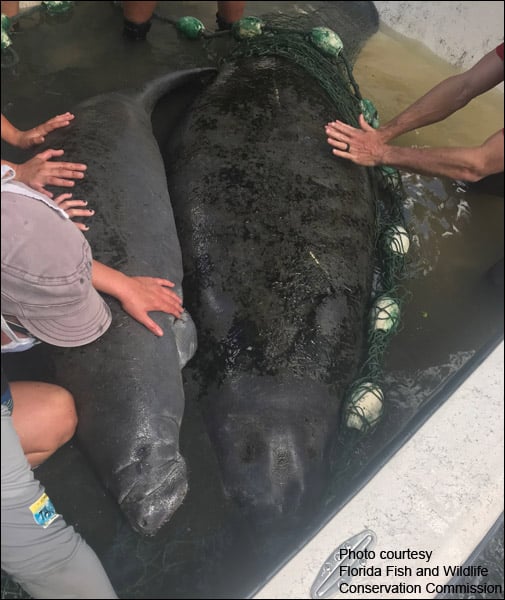 "I recall the day, as we didn't even recognize her," said Cora. "We were coming down the run from roll call and were almost done when I noticed a manatee showing ribs and skull. Wayne and I immediately got the GoPros out and filmed her, and we submitted our findings to Florida Fish and Wildlife Conservation Commission (FWC). I think everyone was concerned right away, and FWC made the decision to rescue her based on our photos and video."
Although food sources nearby were plentiful, Mandy apparently did not thrive during the late winter. Most likely, she was expending all her energy to nurse her growing calf, which Wayne considered to be her first. "Sometimes what happens is what we call the 'first calf syndrome,'" said Cora. "The mom puts all her energy into the calf, nurses it until it's fat as a tick, and she becomes thinner and thinner. This is especially the case with first-time moms. Mandy left the run frequently when it warmed, so we assumed she went to go feed, but she didn't feed enough to sustain herself and the calf."
On the day of Mandy's rescue in March, her ribs were showing, and she exhibited what researchers refer to as a "peanut head," meaning that the area behind her head was sunken in and her skull was showing. Her calf was robust; however, he was still nursing on Mandy, so they were rescued together.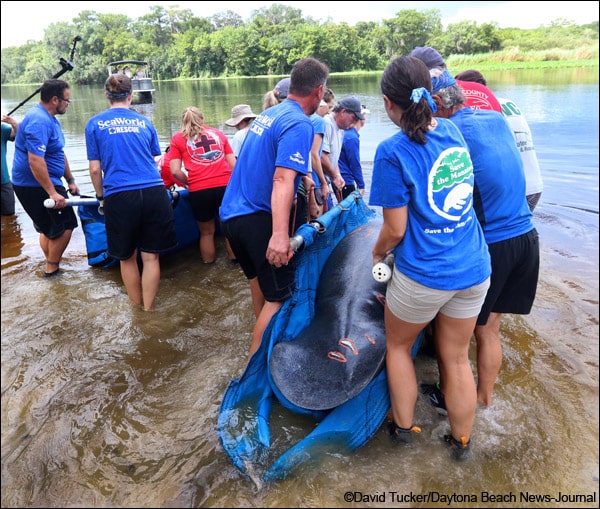 Mandy and her calf were taken to SeaWorld of Orlando for rehabilitation, where the staff nicknamed her calf "Manilow" after singer Barry Manilow's song Mandy. During the time she was in rehabilitation, Mandy gained almost 400 pounds. She weighed approximately 1,300 pounds upon release. SMC staff members Wayne Hartley, Cora Berchem, and Ally Greco were at Blue Spring to assist in Mandy and Manilow's release. Special thanks to the FWC, SeaWorld of Orlando, and the Blue Spring State Park and Volusia County staff who were also present to assist at both the rescue and release.
"It was so nice to see both Mandy and Manilow in good shape and watch them swim back out into the St. Johns River," said Cora. "We're looking forward to seeing them at Blue Spring next winter!"