Underwater Webcam at Ellie Schiller Homosassa Springs Wildlife State Park
Above-Water Webcam at Ellie Schiller Homosassa Springs Wildlife State Park
Above-Water Webcam at Blue Spring State Park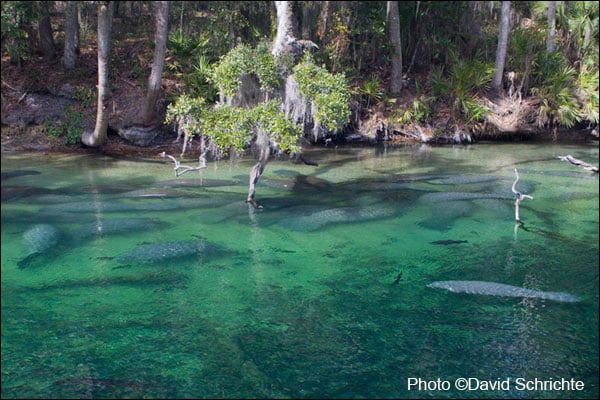 About the Blue Spring Manatees
Where are the Blue Spring manatees? While both cameras are live for manatee season (roughly November through March), the manatees on the Blue Spring webcams are wild. When the temperatures are warmer, manatees may venture freely in and out of the spring and return when it gets colder. At night or when the cameras are not working, the feed will switch to a highlights reel. Any people seen in the videos are researchers or other individuals with special permission.
Support for the Manatee Webcams at Blue Spring State Park was made possible by a donation to Save the Manatee Club as a memorial gift in honor of the late Mrs. Norma Norton, a Florida resident who cared deeply for manatees.
Thursday, November 30, 2023
The river temp remained at 64.4°F (18°C), and the manatees kept coming! We counted 447 manatees and, like yesterday, they had the run so stirred up that there must have been many more in the murky water. It was an adoptee party. We saw Philip, Howie, Annie, Lily, Una, Moo Shoo & calf, Phyllis, Paddy Doyle, Lenny, and Nick!
About the Homosassa Springs Manatees
During the summer months (April–November), the underwater gates at Ellie Schiller Homosassa Springs Wildlife State Park are closed as the wild manatees have ventured out. Permanent residents Ariel and Betsy, along with Heinz and Shantay, who are undergoing rehabilitation, can be seen on the webcams during this time as they freely roam the spring. Since they are permanent residents or rehabilitating manatees in human care, they are fed lettuce and vegetables several times a day. Please remember that it is illegal to feed wild manatees.
Underwater Highlights from the Homosassa Springs Webcams
Underwater Highlights from the Homosassa Springs Webcams
Manatees Peek a boo and Hannah with their calves
Manatee Phalcon and her calf
Manatee Tia and her calf at Blue Spring
Manatee calf plays with a palm frond
Special Thanks to Our Partners