Whether you're a fan of these amazing sea creatures or just looking for some fun craft projects, you're in the right place! Express your creativity with these quick manatee projects.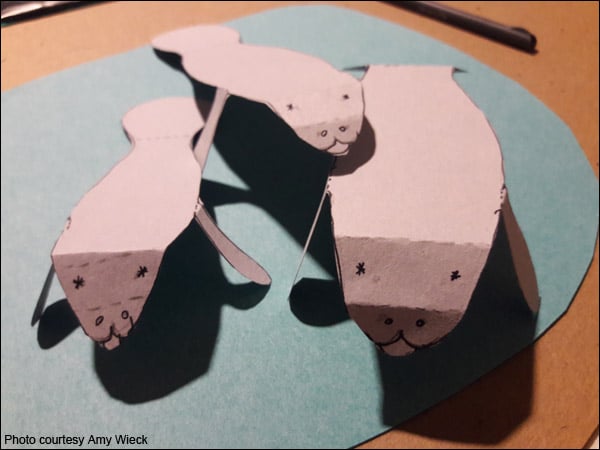 Tabletop Manatee Craft Project
Craft your own tabletop manatee masterpiece! Dive into creativity with our easy-to-follow project. Fun for all levels. Get started today!
Taking Action for Manatees
As an individual, you have a voice in governmental processes. When you make your wants and needs known, you can improve the world! No one is too young to get involved. Students can participate by researching issues at the local level. They can write letters, send email, and attend county commission or city council meetings. They can help their community make wise choices about environmental protection.
Find out how State and Federal Government Works
You can find information about your state government. For example, the Florida State Government has a web site called Online Sunshine, which is a guide to the Florida Legislature. You can find out how an idea becomes a law, look up contact information for your legislator, and other interesting facts. You can also look up information about your state's governor. Florida's governor is Ron DeSantis, and you can click the following link to find contact information for Governor DeSantis. You can get information about the federal government by visiting Scholastic's How America Works. You can also find your U.S. senators and your U.S. representative, get their contact information, and send them a message.
Write letters or send emails to elected officials
If you would like to help manatees, you can write a letter or send an email to Florida's governor to show strong support for manatee protection. Next, you can write your U.S. senator and representative. If you live in Florida, you can also write your state senator and representative! Tell these elected officials why you think it is important to protect manatees and their habitat and to keep other environmental laws strong. Be creative! You can draw pictures, write letters or poems, and send email.
In addition, there are always a number of issues affecting manatees and their habitat that involve local, state and federal governments. You can visit the Take Action page of the Save the Manatee Club website to find current information on these issues.
Write Letters or Send An Email to Your School or Local Paper
You can also help educate others by writing a letter to the editor and sending it to your school or community newspaper. Tell them about manatees, why you think it is important to protect them, and how people in your school or community can help.