Manatee with Bike Tire Entanglement Returns to Blue Spring State Park Tire-Free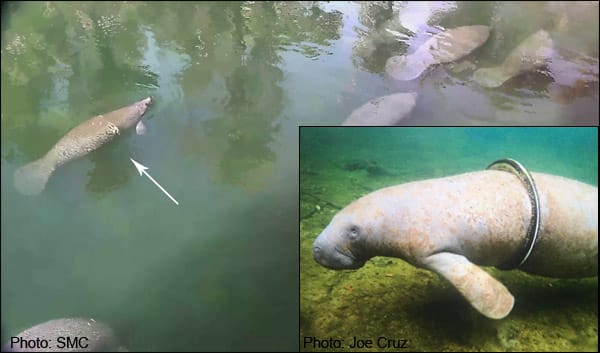 FOR IMMEDIATE RELEASE—December 4, 2020
Contact: media@savethemanatee.org, 407-539-0990
ORANGE CITY, FL—A manatee who became completely encircled in a bicycle tire last season has returned to Blue Spring State Park for the winter, tire-free. Partners from the Manatee Rescue and Rehabilitation Partnership (MRP), who had attempted several rescues earlier this year, confirmed that it is the same individual manatee. Named "Schwinn" by researchers and nicknamed "Wheelie" by concerned citizens last season, the manatee now bears deep scars from the entanglement injury. Schwinn will continue to be closely monitored.
Beginning in November 2019, representatives from the MRP, including Save the Manatee Club, Blue Spring State Park, the Florida Fish and Wildlife Conservation Commission (FWC), Volusia County, SeaWorld, Clearwater Marine Aquarium Research Institute, the U.S. Fish and Wildlife Service, and Jacksonville Zoo and Gardens, attempted to rescue the manatee from Blue Spring State Park, hoping to release it from the tire. MRP representatives and other staff members monitored the area seven days a week and made several rescue attempts. Due to the difficulties involved in making a safe rescue among hundreds of other manatees staying warm in the spring, Schwinn became wary and evaded rescue boats, research canoes, or approaching in-water biologists, making it impossible to safely rescue the tire-encircled manatee.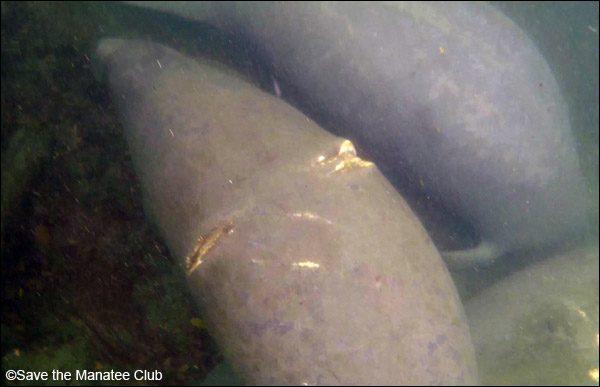 Manatees are somewhat migratory animals that cannot tolerate prolonged exposure to cold water temperatures. They spend winters in Florida's warm water sites, like springs and power plant effluents, and summers traveling freely around rivers and coastal waters throughout the southeastern United States. Schwinn was first reported with the entanglement last October in Fernandina Beach and eventually migrated to Blue Spring for the winter season. No one knows where Schwinn spent this past summer, as no sightings were reported.
As a cold front swept across Florida this week, manatees began making their annual return to Blue Spring State Park. Manatee Research Associate Cora Berchem of Save the Manatee Club first sighted the manatee on the above-water livestreaming webcam on Wednesday. She was screening the webcams as usual when she noticed Schwinn. Officials from FWC and other MRP partner agencies confirmed the sighting. "The live webcams are not only great entertainment, but they're also an excellent tool for our manatee sighting research and for monitoring aspects of the health status of manatees in the spring run," explains Berchem.
Experts cannot determine exactly how the manatee escaped the encircling tire. Ironically, Schwinn the manatee was superficially struck by a boat's propeller in February, which cut through a significant portion of the tire. The cut from the propeller likely weakened the tire, allowing the manatee to swim free sometime later. Schwinn the manatee was both lucky and unlucky, as the propeller was only inches from potentially striking a lethal blow. Watercraft injuries remain the leading cause of manatee mortality. Schwinn's story shows the resilience and strength manatees possess despite their many challenges.
Florida's boaters are reminded this winter to always obey posted speed zones, avoid dedicated manatee sanctuaries, and look for signs of submerged or surfacing manatees. Residents are reminded to prevent pollution in our waterways by disposing properly of their trash and monofilament fishing line and removing other litter from our waterways when boating. Entangled manatees should always be reported to the FWC, and entanglements should only be removed by wildlife officials. Report entangled, injured, sick, or orphaned manatees to the FWC by calling 1-888-404-3922. Visit savethemanatee.org/resources to order a free boat decal with this phone number and other boater resources.
###
Save the Manatee Club, established in 1981 by the late renowned singer-songwriter, author, and entrepreneur Jimmy Buffett, along with former Florida Governor and U.S. Senator Bob Graham, is dedicated to safeguarding manatees and preserving their aquatic habitat. For more information about manatees and the Club's efforts, visit savethemanatee.org or call 1-800-432-JOIN (5646).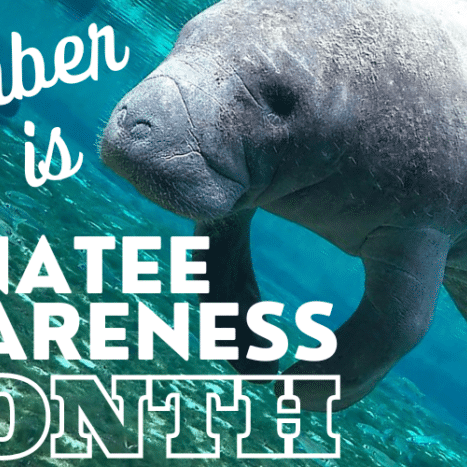 November is Manatee Awareness Month
November is Manatee Awareness Month, an annual opportunity to celebrate Florida's state marine mammal and raise awareness of the ongoing threats to manatees and their aquatic habitat.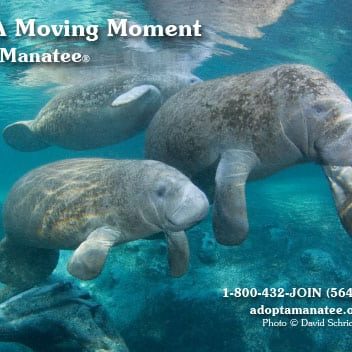 Share A Moving Moment With A Manatee Adoption
Searching for the perfect gift that not only moves the heart but also contributes to a great cause? Look no further than an adoption from Save the Manatee Club.