Manatee Awareness Month Proclamation Signed by Governor Scott

FOR IMMEDIATE RELEASE—November 1, 2011
Contact: media@savethemanatee.org, 407-539-0990
Officially, it's Manatee Awareness Month in the state of Florida. Governor Rick Scott recently signed the proclamation, thereby continuing a vital time-honored tradition undertaken by Florida's governors to officially proclaim November as Manatee Awareness Month. A primary purpose of this designation is to heighten public awareness about the importance of protecting Florida's official marine mammal, which the proclamation states is "a distinctive and valuable beloved natural resource" and further declares that "manatees face the risk of extinction due to human-related threats, including the loss of warm water winter habitat."
Patrick Rose, Executive Director of Save the Manatee Club, is grateful to Governor Scott for supporting the need to safeguard the well-being of Florida's endangered manatees.
"Save the Manatee Club's mission is to protect manatees and their habitat for future generations," says Rose. "To accomplish this, we work closely with federal, state, and local governments, as well as with the public at the grass-roots level, and support policies based on the best scientific data available."
The Club offers a variety of ways for the public to be directly involved with manatee protection. Free public awareness waterway signage, banners, boat decals, and educational posters are produced by the Club. The bright yellow waterproof banner, which boldly cautions, "Please Slow: Manatees Below," can assist in warning boaters to slow down for manatees who may be present. Shoreline property signs and matching boat decals are also available. Both feature the Florida Fish and Wildlife Conservation Commission's hotline number (1-888-404-3922) for reporting sick and injured manatees. Boater and diver awareness posters are also available to dive shops, marinas, businesses, visitor centers, classrooms and libraries. Family-friendly 2-foot by 3-foot outdoor signs are produced by the Club and distributed to state, municipal, and county parks; marinas; and other sites where human/manatee interactions can be a problem.
Requests for the free banners, signs, decals, and posters can be sent via e-mail to education@savethemanatee.org or by calling toll-free at 1-800-432-JOIN (5646).
"Manatee Awareness Month helps to save manatee lives," says Rose. "We must continue to expand efforts to raise awareness about the presence of manatees in our waters and to reach more people, in Florida and outside the state, about how to help prevent manatee injuries and deaths. Our behavior has a direct impact on the manatee's survival, and the public's ongoing participation in manatee conservation is essential for the welfare and protection of the species."
###
Save the Manatee Club, established in 1981 by the late renowned singer-songwriter, author, and entrepreneur Jimmy Buffett, along with former Florida Governor and U.S. Senator Bob Graham, is dedicated to safeguarding manatees and preserving their aquatic habitat. For more information about manatees and the Club's efforts, visit savethemanatee.org or call 1-800-432-JOIN (5646).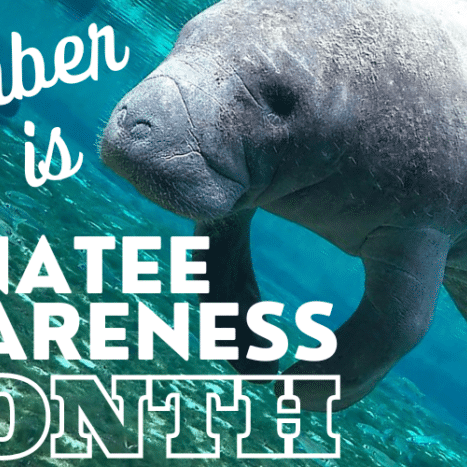 November is Manatee Awareness Month
November is Manatee Awareness Month, an annual opportunity to celebrate Florida's state marine mammal and raise awareness of the ongoing threats to manatees and their aquatic habitat.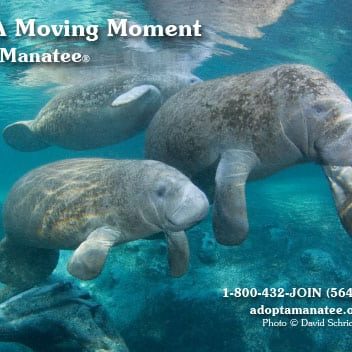 Share A Moving Moment With A Manatee Adoption
Searching for the perfect gift that not only moves the heart but also contributes to a great cause? Look no further than an adoption from Save the Manatee Club.