Let's Talk (Manatee) Tracking!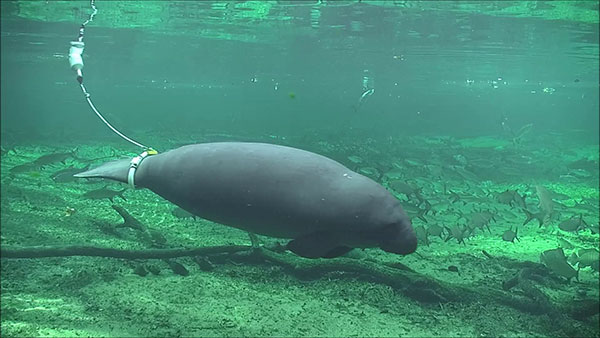 Have you ever seen a manatee with what looks like a buoy attached to a belt around its tail? Most likely this was a manatee with a satellite tracking device!
By Cora Berchem, Director of Multimedia and Manatee Research Associate
The devices consist of a belt around the peduncle (where the tail meets the body of the manatee), a 3–4-foot-long tether, and the satellite tag, which sends information to researchers and lets them keep track of the tagged manatees.
Manatees are tagged for various research studies or upon release after they have been rehabilitated. A tracker will help researchers make sure the manatees adapt well to life in the natural environment, find warm water when it gets cold, and leave the warm water site to feed when it warms up. This is especially helpful when a manatee is considered "naïve" (when it does not have a lot of prior experience out in the wild).
The device contains several "weak links", so if it gets caught on something, it will break off. Therefore, there's never a danger that the manatee may entangle itself on something, and the tracker does not inhibit natural behavior.
Manatees are tagged by several different organizations, including the U.S. Geological Survey Sirenia Project (USGS), Florida Fish and Wildlife Conservation Commission (FWC), Dauphin Island Sea Lab (DISL), and Clearwater Marine Aquarium Research Institute (CMARI).
Currently, there is a large number of tagged manatees in Florida. Many more will be joining them later this month, when various manatees are released at warm water sites upon completing their rehabilitation.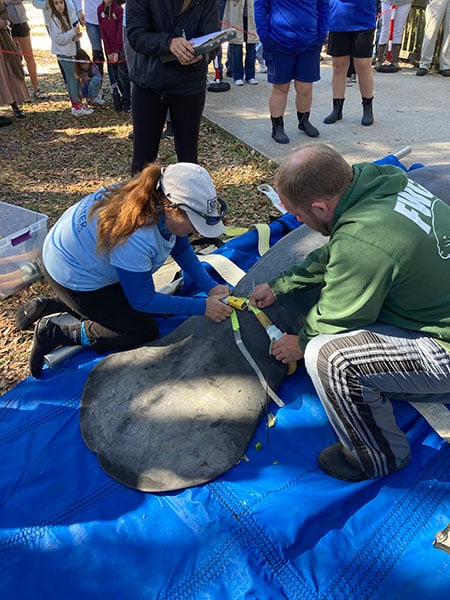 Manatee "Miles" was released at Blue Spring on January 19. He was originally rescued as a small orphan along the east coast of Florida and released back into the wild after rehabilitation in 2020 on the east coast. However, due to the ongoing Unusual Mortality Event (UME), Miles was found emaciated and sick in 2022 and had to be brought back into human care for rehabilitation. The decision was made to release him at Blue Spring where the habitat is much better than along the east coast. Just days after his release he was already seen socializing with other manatees in the spring run – a good sign! You can watch Miles and his wild pals on Save the Manatee Club's webcams at ManaTV.org!
You may have also seen some tagged manatees in the Crystal River, Homosassa, or Weeki Wachee area. Those are manatees that were tagged last summer in Alabama and are taking part in a tracking study on how manatees use the Northern Gulf of Mexico.
It is extremely important that people do not interfere with tagged manatees or the tracking devices. Manatees—especially young manatees—wear these devices to contribute to their successful reintroduction in the wild and without them, they would not be able to be located should they encounter difficulties. The public is advised to report tagged manatees to the FWC at 1-888-404-3922.
All activities conducted under permits DEP #02042213, USFWS #MA770191, and USFWS #MA791721-6.