Symbolically adopt or renew an adoption of a real manatee for yourself or as a gift, starting at as little as $25 per year! The manatees in our program are real, living manatees with known histories, and funds go toward efforts to help protect imperiled manatees and their aquatic habitat. No matter which manatee you choose to adopt, adopting one helps all manatees.
If you'd prefer not to adopt online, you can send an adoption application by mail or call us at 1 (800) 432-5646 to adopt over the phone with our team.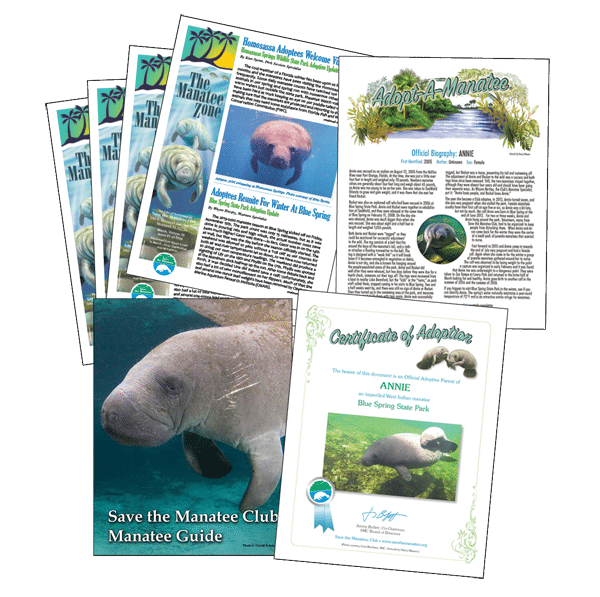 Membership Packet Materials
For as little as 7 cents a day you can help manatees! To show our appreciation for your support, every manatee adoption packet includes:
A one-year membership to Save the Manatee Club.
A membership handbook filled with photos, facts, and information. (With new adoptions)
A biography and official adoption certificate of the manatee you choose.
Our official newsletter, The Manatee Zone, four times a year.
A FREE 2024 Save the Manatee Club Calendar, while supplies last.
A FREE membership gift at the Friend level or above, listed below.
Associate members receive an adoption packet, which includes a biography and certificate of adoption for your selected manatee and our membership handbook.
A manatee Friend will receive all the Associate level materials along with a blue, debossed luggage tag.
When you become a manatee Sponsor, you will receive your adoption packet as well as an exclusive SMC t-shirt. You can also substitute the shirt for the Friend level gift.
Guardians of the manatee can collect a cotton bucket hat with their adoption packet, or they can substitute the gift for one available at a lower adoption level.
Our manatee Stewards will receive their adoption packet, plus a heavy-duty cotton tote with navy-colored stripes. This gift can also be substituted for any other gift available in the program
Educators can adopt at any level and request classroom educational materials, however we do offer a discounted level exclusively to educators.

Due to tax substantiation laws, the discounted school membership is ineligible for a membership gift.
Click on each manatee's picture to explore their story and learn how to adopt them! Updates are provided quarterly in our newsletter, The Manatee Zone. Blue Spring adoptees and Homosassa Springs adoptees can also be seen on our webcams.
All
Alabama
Blue Spring State Park
East Coast
Homosassa Springs Wildlife State Park
Tampa Bay
The Florida Keys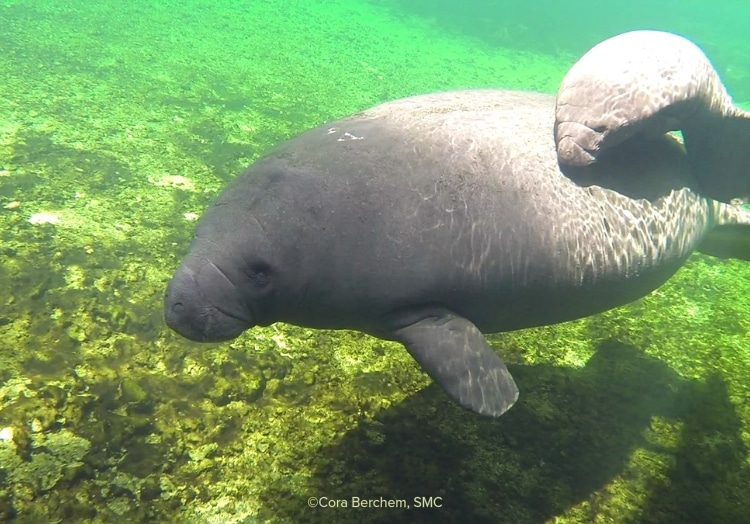 Annie
Annie was rescued as an orphaned calf and released in 2008. Not a shy manatee, she is quite popular with Blue Spring State Park visitors.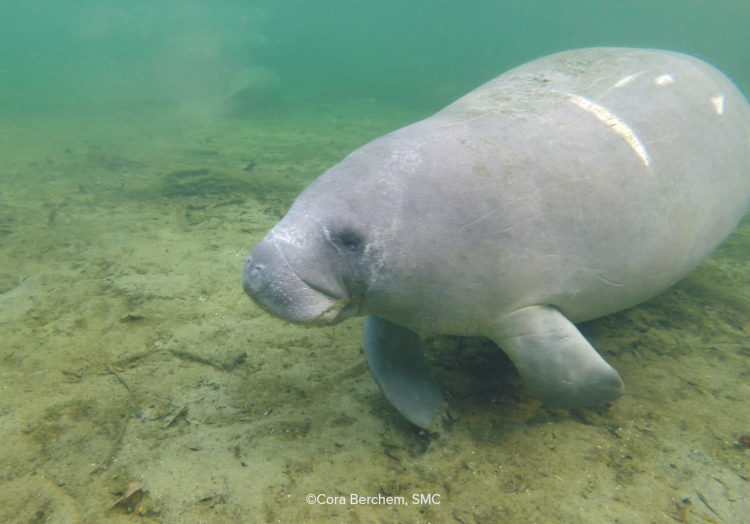 Aqua
Aqua was first sighted at the park in 2011 and has been a regular winter visitor since. Identified by scars on her left shoulder, she has had five known calves.
These manatees haven't been seen in a while or have passed away, so there will likely not be any updates on these adoptees. However, adoptions are still available so we can share their stories.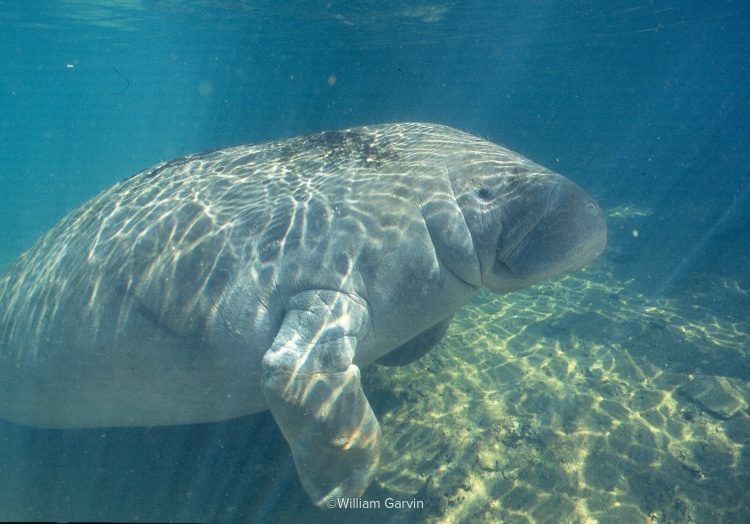 Electra
Rescued in 1998, park staff said that Electra was spunky and liked to follow her own path despite her injuries. She passed away in August 2020.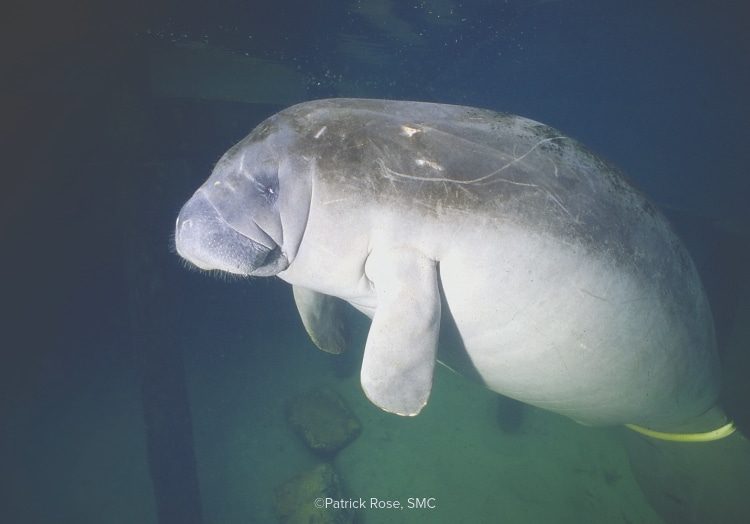 Georgia
Georgia was a favorite at Blue Spring State Park who passed away in 2015. She was a wonderful, caring mother for her own calves and also for orphans in need.
Frequently Asked Questions
Fossil remains of manatee ancestors show they have inhabited Florida for about 45 million years. Modern manatees have been in Florida for over one million years (probably with intermittent absences during the Ice Ages). The present Florida manatee (Trichechus manatus latirostris) is a subspecies endemic (or "native") to Florida. Genetic studies indicate that it is not derived from the populations in Mexico or Central America but more likely colonized Florida from the Greater Antilles thousands of years ago, after the last Ice Age. Having inhabited these waters far longer than modern civilizations, manatees in Florida today have every right to be considered Florida natives.
We have to keep in mind that the adoptive manatees are wild animals with individual behavior. Some manatees come late and leave early and, occasionally, certain manatees will skip a season and winter at another warm-water area.
Since we have a limited number manatees in the Adopt-A-Manatee program, you will be one of many people who are an adoptive "parent" of the manatee you choose. However, the money from the Adopt-A-Manatee program goes toward increasing public awareness and education; sponsoring research, rescue, rehabilitation, and release efforts; advocating for strong protection measures, such as boat speed zones and sanctuaries; taking legal action when appropriate; and supporting rescue, rehabilitation, research, and education efforts in the Wider Caribbean, South America, and West Africa in order to protect all manatees and their aquatic habitat.
For more information on the manatee adoption program, visit the Adopt-A-Manatee® page.
We do not track the adoptees in our program. Tracking is typically reserved for manatees that have been recently released so researchers can monitor their adjustment to the wild.
Yes, all online transactions should automatically generate a receipt. However, please check your spam or junk folder as occasionally receipts may end up there. If you provided the wrong email address or there was a typo, please contact either membership@savethemanatee.org or donate@savethemanatee.org for assistance in reissuing a receipt.
We ship via USPS (United States Postal Service) for domestic orders.
On average, domestic shipping times range from 2 weeks to 3 weeks. However, please note that factors such as inclement weather, shipment distance, and technical difficulties can affect the delivery time.
Yes, we offer international shipping. However, please be aware that international shipping times can vary based on the destination country. As a general estimate, expect a minimum of three weeks for international deliveries.
Yes, international shipping increases our postage costs by approximately $15 USD. We greatly appreciate donations to help cover this additional charge.
We cannot ship to countries that USPS has suspended shipping to. Please refer to the list of suspended countries at USPS Service Alerts - International for more information.
Some countries, such as those in the European Union, may have customs or other import fees. Please be aware of the potential additional costs when ordering internationally.
In the case of returned international shipments marked as not claimed or having an invalid address, we require an additional charge for reshipment.