How do manatees fare during a hurricane?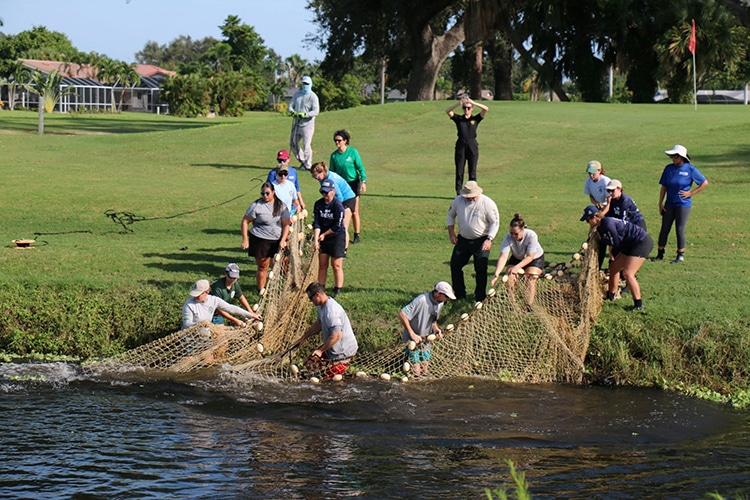 Our partners from the Florida Fish and Wildlife Conservation Commission (FWC) and the Manatee Rescue and Rehabilitation Partnership (MRP) have been very busy in the aftermath of Hurricane Idalia as it swept over the Gulf Coast of Florida at the end of August. The area most affected was the Big Bend region of Florida; however, effects were felt all along the Gulf Coast with heavy rainfall and high water levels.
What do manatees do during hurricanes? Manatees have evolved with hurricanes, so they usually seek out sheltered areas until the storm passes. However, in some cases, shortly before a hurricane, water may recede, leaving manatees high and dry, as happened a few years ago in the Tampa Bay area.
Most often, the main effects of a hurricane on manatees are felt in the days or weeks after the storm has moved through. High water levels oftentimes allow manatees to seek out areas that they usually cannot access. Manatees are curious creatures who like to explore or become accidentally swept into areas such as golf course ponds or waterways behind weirs that they can get entrapped in once water levels recede. This was the case in several instances this fall where FWC, alongside many MRP partners, had to interfere to relocate manatees from behind weirs or other obstacles and release them back into open waterways. Several manatees were rescued from a residential canal system in Whiskey Creek/Fort Myers[1] and a 1,600-pound mother manatee and her newborn calf were rescued and relocated from a canal in Cape Coral[2]. Another large rescue attempt was made in a large pond in Clam Bayou near St. Petersburg[3], but the manatees had found their way out of the pond before rescuers could locate them. These rescues are large group efforts with multiple partners involved, helping with spotting the manatees, corralling and capturing them with large nets and rescue boats, giving them a complete health assessment, and then releasing them back into open waterways. Citizens play a major role too by reporting any entrapped manatees to FWC at 1-888-404-3922.
Get more information on manatees and hurricanes (all links are external):