Homosassa Springs Weathers The Hurricane Season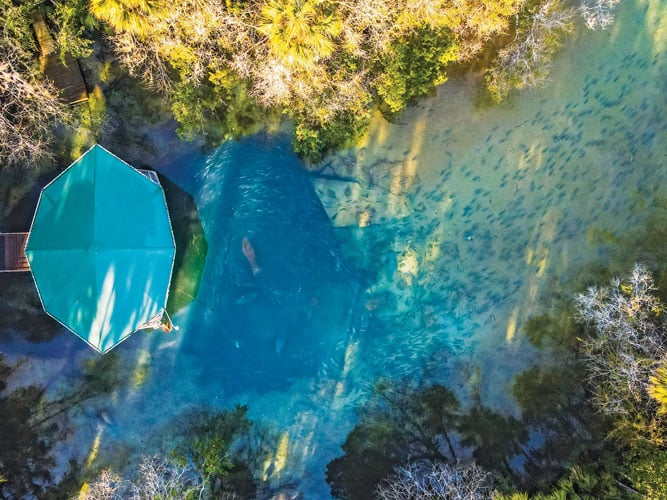 Ellie Schiller Homosassa Springs Wildlife State Park Adoption Update
By Kate Spratt, Park Services Specialist, HSWSP
As the heat of another Florida summer gives way to cooler air, Homosassa Springs Wildlife State Park is gearing up for the beginning of manatee season. In mid-November, the gates on the Long River Bridge are opened to allow the wild manatees to enter. Prior to this, our team of staff and volunteers snorkel in the spring, checking in-water fencing and evaluating for any potential hazards. This ensures safety for our resident manatees when they move into the paddock area, as well as the safety of the wild manatees that visit the warm Homosassa spring.
At the end of August, our state park felt the effects of Hurricane Idalia. While we were spared from the worst of the wind, we did experience significant flooding. Ariel, Betsy, Shantay, and Heinz were safely contained in our in-ground pool, and many of our other resident wildlife were moved to higher ground or secured in their safe night houses. All our ambassadors are doing well, and life is back to normal. Ariel and Betsy recently delighted visitors in the Underwater Observatory with "window smooches" when they squished their snouts against the glass. Can't make it to the park to see our manatees? It's always a great time to tune into the ManaTV.org webcams to watch daily feedings. Also, the Friends of Homosassa Springs Wildlife Park's Facebook page will start up 'Manatee Mondays with Ranger Kate' in mid-November as well.
Do you like the outdoors, kayaking, and manatees? If so, Homosassa Springs Wildlife State Park is taking applications for our seasonal manatee watch volunteers! This position is for someone who loves kayaking and educating visitors that come to view our beloved manatees. This is a committed position and requires at least a single four-hour shift each week. The season starts on November 15 and ends March 31. For more information and to apply online, visit volunteers.floridastateparks.org.