Higher Water Levels Give Manatees Access to Additional Habitat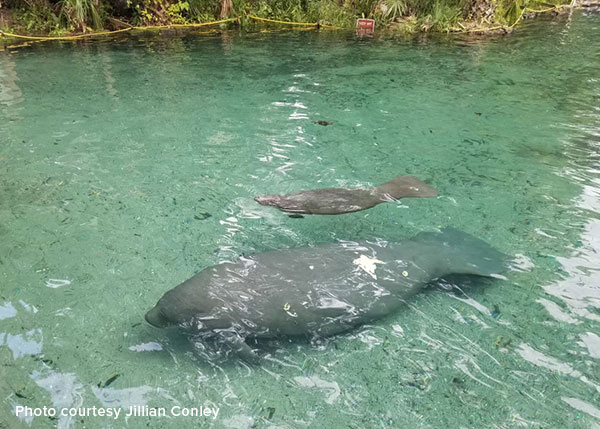 Rising water levels lead to more manatee sightings in the Wekiva River
By Cora Berchem, Director of Multimedia and Manatee Research Associate
With rising water levels from increased rainfall over the past few weeks, manatees have been showing up in places where they are not frequently seen. This can be exciting for local residents and visitors, but it also requires extra caution by boaters and paddlers, in addition to increased outreach and education efforts to make everyone aware of the presence of manatees.
One place we have seen an increase in manatees is the Wekiva River in Central Florida. Manatees can access the Wekiva River from the St. Johns River, and if water levels are high enough, they can swim all the way to the headspring at Wekiva Springs State Park. The river is very shallow and narrow but has plenty of submerged, emergent, and floating vegetation that manatees have been observed eating. Especially with the loss of food sources in other areas of the state, manatees seek out these areas that have ample vegetation.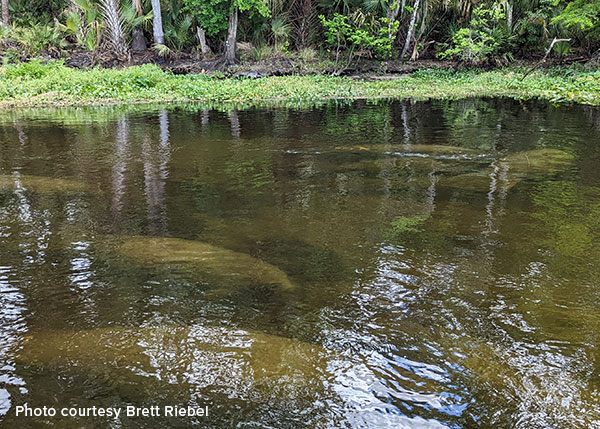 One known Blue Spring manatee, Mata Hari, made her way from Blue Spring, where she was observed by volunteers on Friday, August 26, to the Wekiva headspring, where she was observed by park rangers on Monday, August 29! This is quite an impressive distance to travel in three days, especially because Mata Hari is currently caring for her roughly 6-month-old calf, who made the journey with her. Other manatees, including adoptee Gator, have also been spotted in the Wekiva River this summer.
To keep the manatees safe, we encourage boaters to keep an extra eye out and go slow. If you encounter a manatee in the wild, give it space and observe from a distance. If you are paddling, stay at least two kayak-lengths away from the manatee.
Local residents and waterfront property owners can order yellow aluminum dock signs from Save the Manatee Club to warn boaters of the presence of manatees. To request a sign or to learn more, send an email to education@savethemanatee.org or call 800-432-JOIN (5646). You can learn more about available public awareness and educational resources at savethemanatee.org/resources.
We also encourage residents and visitors to report all healthy manatee sightings to our Manatee Sighting Form. This helps researchers get a better understanding of the presence of manatees in these waterways and keep track of their movements.
In some areas of the state, manatees may make their way into waterways that they can only access when water levels are high enough, including inland ponds and other bodies of water. In these places, there is a potential for them to get stuck when water levels recede. Any entrapped manatees should be immediately reported to the FWC hotline by calling 1-888-404-3922. All sick or injured manatees or orphaned calves should also be immediately reported to the FWC hotline.