Fall Manatee Migrations—You Can Save a Manatee's Life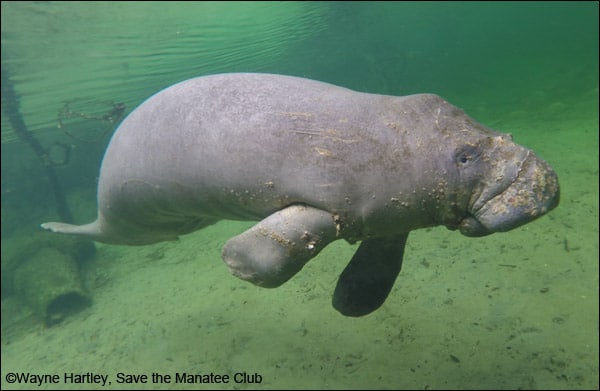 FOR IMMEDIATE RELEASE—October 12, 2020
Contact: media@savethemanatee.org, 407-539-0990
As fall brings chilly weather and cooler water temperatures, Save the Manatee Club reminds boaters and residents in coastal areas outside of Florida to watch for migrating manatees who may not be safe in colder waters. Manatees have little body fat despite their large size, and they cannot tolerate water temperatures below 68°F (20°C) for long periods of time. They may experience what is called "cold stress syndrome" and can die from exposure to prolonged cold weather. This is where your help is needed to watch for and report sick or injured manatees to local wildlife officials.
Manatees are considered somewhat migratory. Throughout the summer, the marine mammals can be found enjoying seasonally warm waters throughout the Gulf and Atlantic Coasts. Sightings are relatively common in Alabama, Mississippi, Georgia, and South Carolina. However, manatees have been documented as far west as Texas and as far north as Massachusetts. At this time of year, most manatees begin returning to Florida to spend the winter in warm-water refuges like natural springs or artificially warm power plant discharges.
"Manatees are very good at detecting small changes in air and water temperatures and instinctually know when winter is on its way and it's time to head back to Florida," explains Patrick Rose, Save the Manatee Club's Aquatic Biologist and Executive Director. "Researchers have documented individual manatees following similar movement patterns in response to cooling water temperatures year after year." However, this isn't always the case, and some manatees overstay their visit as winter approaches. In recent years, wildlife rescue teams have had to rescue cold-stressed manatees in Biloxi, Mississippi, and Charleston, South Carolina. A deceased manatee was even found in New Jersey last winter.
How can one tell if a manatee is experiencing cold stress? If the manatee looks malnourished or emaciated, behaves lethargically, or has white patches of sloughed-off skin, it may have been exposed to cold water for too long. Malnourished manatees look skinny and have a noticeable sunken appearance near the back of their heads, resembling a peanut. Barnacles or whitish scars that have healed are common on manatees – cold stress patches look a lot more like sores or lesions, and are usually on the snout, flippers, and tail. A manatee spotted outside of Florida past the month of November may need to be rescued and should be reported. Check savethemanatee.org/rescue for a guide on how to contact local wildlife officials.
In 2019, 64 manatee cold stress related deaths were documented by the Florida Fish and Wildlife Conservation Commission (FWC). In 2020, 41 cold stress mortalities have been counted already so far. While cold stress is classified as a natural and not human-related cause of death, it can be prevented with the help of watchful boaters, residents, and other caring individuals who spend time near the water. "Rescue team partners make incredible efforts to rescue and rehabilitate sick and injured manatees. Reporting a manatee in peril can absolutely help save its life," says Rose.
###
Save the Manatee Club, established in 1981 by the late renowned singer-songwriter, author, and entrepreneur Jimmy Buffett, along with former Florida Governor and U.S. Senator Bob Graham, is dedicated to safeguarding manatees and preserving their aquatic habitat. For more information about manatees and the Club's efforts, visit savethemanatee.org or call 1-800-432-JOIN (5646).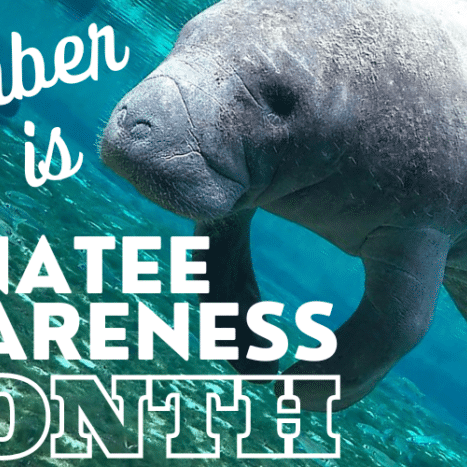 November is Manatee Awareness Month
November is Manatee Awareness Month, an annual opportunity to celebrate Florida's state marine mammal and raise awareness of the ongoing threats to manatees and their aquatic habitat.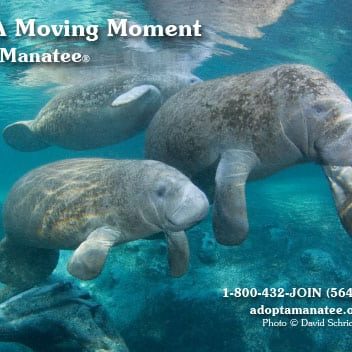 Share A Moving Moment With A Manatee Adoption
Searching for the perfect gift that not only moves the heart but also contributes to a great cause? Look no further than an adoption from Save the Manatee Club.