Do Your Part to Protect Manatees This July 4th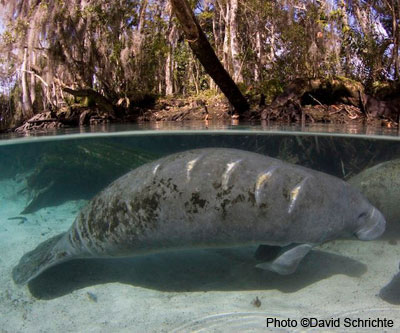 FOR IMMEDIATE RELEASE—July 1, 2021
Contact: media@savethemanatee.org, 407-539-0990
As the busy 4th of July weekend approaches, Save the Manatee Club reminds boaters, vacationers, and residents to follow a few simple guidelines to protect manatees. During the summer, manatees are found throughout Florida as well as in Alabama, Georgia, and South Carolina. With water temperatures having warmed up, manatees can be spotted in shallow, slow-moving fresh, brackish, and saltwater areas, especially areas with abundant seagrass or aquatic vegetation. Here are some tips on how you can protect manatees this summer.
Earlier this year, many manatees suffered and died from starvation due to lack of seagrasses along the Indian River Lagoon in Florida. Harmful algae blooms blocked sunlight from reaching seagrasses, ultimately killing this food source for manatees. Manatees need warm water to survive and could not travel into cold waters to forage. However, this does not mean it is okay to give manatees food if you spot them this summer. Manatees are wild animals. Feeding manatees teaches them to associate people or boats with handouts, altering their behavior. Even giving them "natural" foods like lettuces or vegetables can be harmful in the long run.
"Feeding manatees could encourage them to hang around in high boat-traffic areas waiting for handouts," explains Patrick Rose, Aquatic Biologist and Executive Director for Save the Manatee Club. "If you see a manatee, you should observe it passively and let it be left alone to look for food along its summer foraging routes." The same thing goes for disturbing a manatee by touching or petting it – all of these actions are illegal.
Instead, you can help manatees this summer by doing your part to reduce pollution and prevent harmful algal blooms from forming and hurting seagrasses. During the rainy summer season, fertilizers that contain algae-forming nitrogen should be avoided entirely, especially near the water. If you must fertilize your lawn, please do so only once between September 30th and June 1st, using a slow-release nitrogen fertilizer. You can also check for sewer or septic leaks, plant native vegetation instead of grass, and be mindful with herbicide use, lawn clippings, and pet waste.
Additionally, if you enjoy boating on waterways where manatees may be present, please follow the posted speed zones and watch carefully for manatees by using polarized sunglasses to reduce glare and keeping an eye out for snouts, tails, and flippers. Slow-moving, air-breathing manatees are especially vulnerable to fast boats in shallow areas.
Save the Manatee Club also urges boaters to steer clear of seagrass beds where manatees might be feeding. If you must boat over seagrass beds, trim up your motor and before getting on plane, travel at idle speed to a safe depth to prevent damage to seagrass (and your boat!). Scarred seagrass beds take a long time to regrow, and healthy seagrasses are needed by manatees, fish, and many other animals in these essential aquatic habitats.
Finally, learn about ways you can be a voice for manatees by visiting savethemanatee.org/action. Contact elected officials and policymakers about manatee protection, order free resources and educational materials, and get involved. You can also learn how to report sick or injured manatees to local wildlife officials in time for them to be rescued. Florida residents should save the number for the Florida Fish and Wildlife Conservation Commission (FWC) at 1-888-404-FWCC (3922). "Caring boaters and waterway users are an essential voice for imperiled manatees and their habitat," says Rose.
###
Save the Manatee Club, established in 1981 by the late renowned singer-songwriter, author, and entrepreneur Jimmy Buffett, along with former Florida Governor and U.S. Senator Bob Graham, is dedicated to safeguarding manatees and preserving their aquatic habitat. For more information about manatees and the Club's efforts, visit savethemanatee.org or call 1-800-432-JOIN (5646).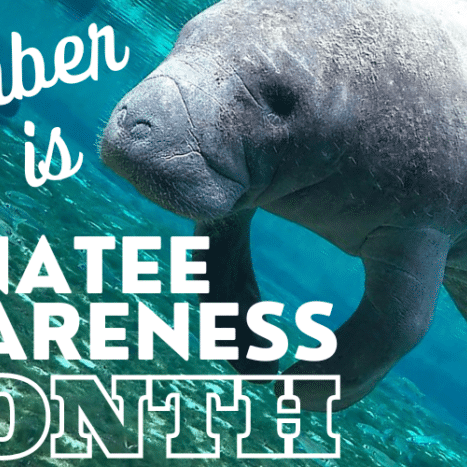 November is Manatee Awareness Month
November is Manatee Awareness Month, an annual opportunity to celebrate Florida's state marine mammal and raise awareness of the ongoing threats to manatees and their aquatic habitat.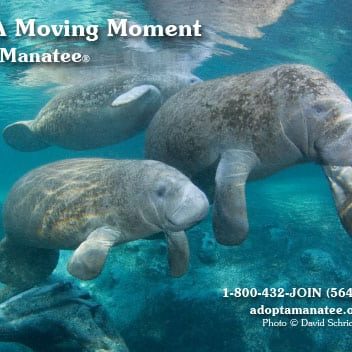 Share A Moving Moment With A Manatee Adoption
Searching for the perfect gift that not only moves the heart but also contributes to a great cause? Look no further than an adoption from Save the Manatee Club.