Chessie's Incredible Journey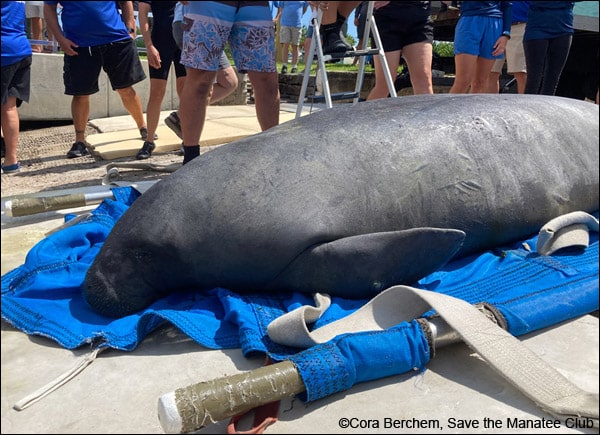 By Cora Berchem, Director of Multimedia and Manatee Research Associate, and Nancy Sadusky, Director of Online Communications
On February 5th of this year, our partners from the Florida Fish and Wildlife Conservation Commission rescued an emaciated male manatee swimming sideways in the Lake Worth Lagoon near Riviera Beach, Florida. He turned out to be a famous manatee and one of Save the Manatee Club's adoptees, named Chessie.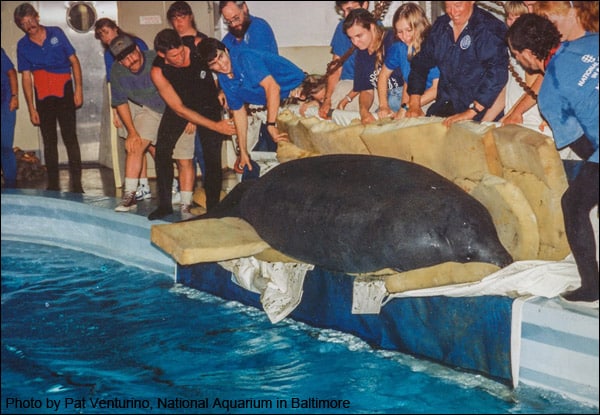 Chessie first gained the attention of people up and down the Eastern Seaboard after he was sighted in the Chesapeake Bay in July of 1994. Although manatees can be found outside of Florida in the summer, Chessie's Maryland appearance was rare, as summer sightings typically occur in Alabama, Georgia, or South Carolina. After the weather turned cold and Chessie showed no signs of returning to Florida, he was rescued by a team from the U.S. Fish and Wildlife Service (FWS), SeaWorld Orlando, the National Aquarium in Baltimore, and the Maryland Department of Natural Resources. Save the Manatee Club (SMC) was instrumental in Chessie's initial rescue and provided financial support for the rescue effort. "Through the grapevine, we learned that a manatee was too far north, too late in the season," said Judith Vallee, former SMC Executive Director. "We pledged $6,000 to rescue Chessie, and Jim Valade was our U.S. Fish and Wildlife Service hero and made it happen. The Club also helped fund a FWS staging area at the Merritt Island National Wildlife Refuge, where Chessie and other rehabilitated manatees spent time in semi-wild conditions before being released. " Chessie spent several days at the National Aquarium before he was flown back to Florida by the U.S. Coast Guard. He was then tagged with a satellite transmitter and released back into the wild. Read Club news articles from 1994 and 1995.
When the summer of 1995 came around, Chessie headed back north again while being tracked by researchers from the U.S. Geological Survey's Sirenia Project. He visited the Chesapeake Bay and even went as far as Point Judith, Rhode Island! This time, however, he returned to Florida on his own for the winter. In June 1996, he was tracked again as he crossed the Florida-Georgia border. But by July of that year, Chessie had lost his transmitter near Beaufort, North Carolina, After that, there were only three more sightings: August 1996 in Portsmouth, Virginia; August 2001 at the Great Bridge Locks in Virginia; and 10 years later in July 2011 in Calvert County, Maryland.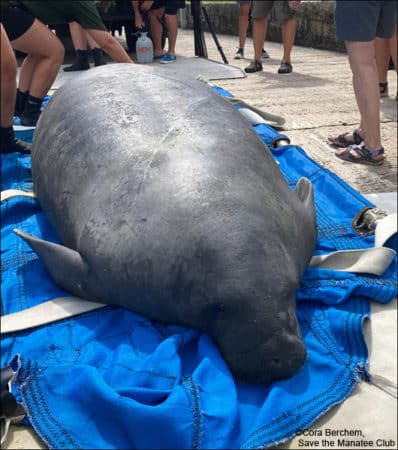 Ten more years went by before Chessie was discovered this year in the Lake Worth Lagoon. He was in poor body condition and exhibited buoyancy problems, so he was taken to SeaWorld Orlando for critical care. The cause of his poor health condition was not fully determined, but other manatees in the area exhibited similar problems at the time. "His sideways swimming was probably the result of poor nutrition with significant muscle loss, likely combined with intestinal abnormalities," says Patrick Rose, Save the Manatee Club's Executive Director.  "These symptoms are being seen in a number of severely malnourished manatees within the Indian River Lagoon and portions of southeast coastal waterways, which is undergoing an unprecedented Unusual Mortality Event." Chessie's prognosis was poor, but veterinarians and animal care staff at SeaWorld did their best to nurse him back to health, and he showed everyone how resilient manatees can be when he made a full comeback!
Chessie was released back into the wild on May 11, 2021, at Anchorage Park in Palm Beach, Florida, by partners from the Manatee Rescue and Rehabilitation Partnership, of which Save the Manatee Club is a founding member. Chessie was once again outfitted with a satellite tracking device. Researchers from the Clearwater Marine Aquarium Research Institute (CMARI) will be monitoring his movements.
After his release in Palm Beach, Chessie immediately started heading north! We can't wait to see how Chessie does back out in the wild and where his journey takes him next!
For more information about adopting Chessie, go to Save the Manatee Club's Adopt-A-Manatee® page or call 1-800-432-JOIN (5646). Each person who adopts Chessie will receive a full-color photo, biography, and adoption certificate, as well as a membership handbook and subscription to The Manatee Zone, a newsletter featuring updates on the adopted manatees when they are sighted, and Paddle Tales, Save the Manatee Club's bi-monthly eNewsletter. Proceeds from adoptions of Chessie go to the Manatee Rescue & Rehabilitation Partnership (MRP), a cooperative of agencies, organizations, and oceanaria with a mission to rescue, rehabilitate, and release manatees.