Celebrating An Unprecedented Achievement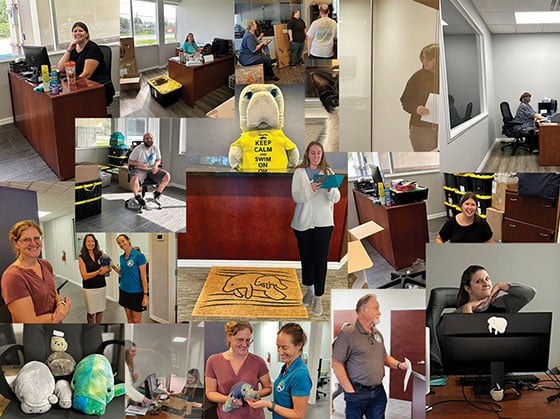 By Tonya Higgins, Director of Development and Operations
Today marks a momentous occasion in the history of Save the Manatee Club—the realization of a dream that has been nurtured for over four decades. With hearts full of joy and gratitude, we are thrilled to announce our relocation to a permanent home, made possible by an extraordinary legacy donation. As the Director of Development and Operations, I am elated to share this incredible milestone with all of you.

For over 43 years, our organization has worked tirelessly to protect and conserve these gentle giants. Throughout this journey, we have encountered countless challenges and celebrated numerous successes, all the while holding onto a vision of a kinder, gentler world for manatees and humankind alike. One of our long-term dreams during this time has been a permanent home that would be a testament to our unwavering commitment to manatee conservation.

Today, I am thrilled to share the news that our vision has become a reality. We were ultimately able to reach this landmark achievement due to an exceptional legacy donation from an individual whose love for manatees and dedication to our cause knew no bounds. Their generous contribution has transformed our dreams into tangible bricks and mortar, providing us with a solid foundation on which to build an even brighter future for manatees and their habitats.

Our new facility is more than just a building; it is to be a symbol of hope and progress for manatees and all those who care for their well-being. We are still very much in the throes of this epic move, keeping at the forefront of our minds that as we step into our new home, we carry with us the legacy of our donors and the passion of all those who have dedicated their time, energy, and resources to making this vision a reality.

None of this would have been possible without the enduring support of our members, partners, volunteers, and advocates, as well as our revered board members, directors, and staff, both past and present. Each of you has played an indispensable role in this journey. Whether you have been with us since the beginning or recently joined our cause, your dedication has been the driving force behind our successes, and a solid rock to help us overcome our challenges.

To our legacy donor, whose far-reaching impact will be felt for generations to come, we extend our deepest gratitude. Their belief in our mission and generous contribution through their planned giving have laid the foundation for the vital work we will continue to undertake.

As we settle into our new home, we do so with a sense of purpose, enthusiasm, and the knowledge that this achievement is just the beginning. Our enhanced capabilities and expanded resources will enable us to amplify our efforts, accelerate conservation initiatives, and advocate even more passionately for manatees and their habitats.

In this new chapter of our journey, we invite each of you to continue standing by our side in support of manatees. Together, we can create a world where manatees flourish, their habitats thrive, and their future is secure.