Celebrate Labor Day and International Manatee Day by Helping Manatees Near and Far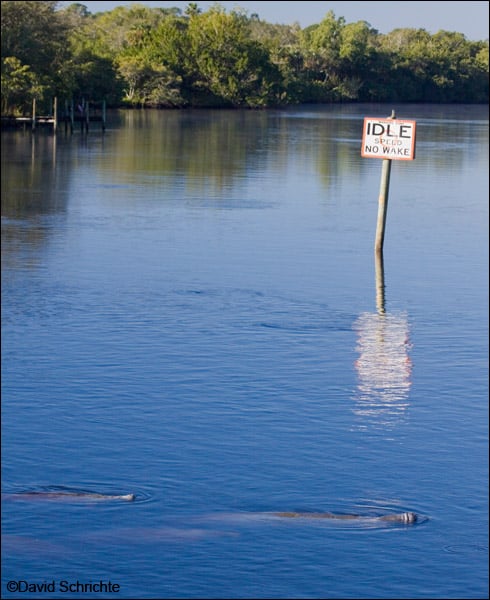 FOR IMMEDIATE RELEASE—September 1, 2021
Contact: media@savethemanatee.org, 407-539-0990
Help manatees near and far this Labor Day Weekend and on Tuesday, September 7th, International Manatee Day. Save the Manatee Club, the world's leading manatee conservation organization, encourages boaters, homeowners, and caring manatee lovers to play a role in protecting manatees and their aquatic habitat.
Labor Day Weekend marks the official end of summer, and at this time of year, manatees can be found in all kinds of waterways around the southeastern U.S., from freshwater rivers and lakes to saltwater coastal areas, estuaries, and canals. With the holiday weekend bringing busy boat traffic, boaters are urged to boat slowly in posted manatee speed zones and watch carefully for manatees on the move.
"Manatees prefer shallow waters that are rich with vegetation," explains Patrick Rose, Aquatic Biologist and Executive Director for Save the Manatee Club. "When we are boating or recreating in their aquatic habitat, we must take care not to disturb them and especially not to hurt them." Blunt impacts from accidental watercraft collisions are a leading cause of manatee injuries and mortalities in Florida.
However, it's critical aquatic habitat loss that is the greatest long-term threat to the manatee's survival. Save the Manatee Club asks homeowners to do their part to protect aquatic habitat by not fertilizing their yards, especially during the rainy summer season. Fertilizers and other yard chemicals can enter waterways and fuel the harmful algal blooms that kill seagrasses that manatees and other species need to survive. "What you put on your yard affects their lives," says Rose.
After a safe and fertilizer-free Labor Day Weekend, continue helping manatees on International Manatee Day, Tuesday, September 7th. Write to your elected officials to urge them to help manatees in Florida at savethemanatee.org/algae#tips, then learn more about manatees around the world. Save the Manatee Club donations have supported West Indian manatee conservation efforts in Belize, Mexico, and the Wider Caribbean as well as African manatee research in Senegal and Cameroon. They have also sponsored rescues and health assessments for the elusive Amazonian manatee in Peru and Venezuela and will soon be working with partners in Brazil to fund manatee rehabilitation, professional capacity building, environmental awareness education, and genetic studies. Read more and donate to the International Rescue Fund at savethemanatee.org/international.
Responsible boaters, homeowners, and manatee advocates all play an important role in protecting manatees at home and abroad. Here's a quick list of resources to review that can help anyone be a voice for imperiled manatees:

Report sick, injured, orphaned, or dead manatees to the Florida Fish and Wildlife Conservation Commission (FWC) by calling 1-888-404-3922 (FWCC). Watch informative videos and get resources for your state at savethemanatee.org/rescue.
Obey posted speed zones, wear polarized sunglasses to reduce glare on the water's surface, avoid boating over shallow areas and seagrass beds, stash your trash, and never touch, feed, or give water to manatees.
Request free tip cards, waterproof boating banners, waterfront signage, and other resources from Save the Manatee Club at savethemanatee.org/resources.
Take a break from fertilizer and learn other tips that reduce pollution at savethemanatee.org/algae.
Educators – gear up for the school year with free materials and a virtual guest speaker presentation from Save the Manatee Club. Visit savethemanatee.org/education.
###
Save the Manatee Club, established in 1981 by the late renowned singer-songwriter, author, and entrepreneur Jimmy Buffett, along with former Florida Governor and U.S. Senator Bob Graham, is dedicated to safeguarding manatees and preserving their aquatic habitat. For more information about manatees and the Club's efforts, visit savethemanatee.org or call 1-800-432-JOIN (5646).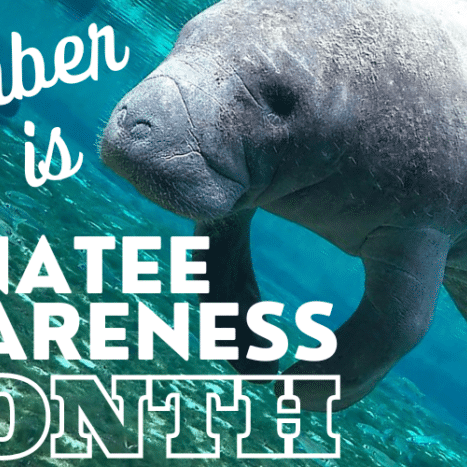 November is Manatee Awareness Month
November is Manatee Awareness Month, an annual opportunity to celebrate Florida's state marine mammal and raise awareness of the ongoing threats to manatees and their aquatic habitat.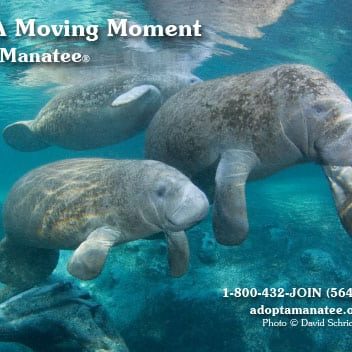 Share A Moving Moment With A Manatee Adoption
Searching for the perfect gift that not only moves the heart but also contributes to a great cause? Look no further than an adoption from Save the Manatee Club.