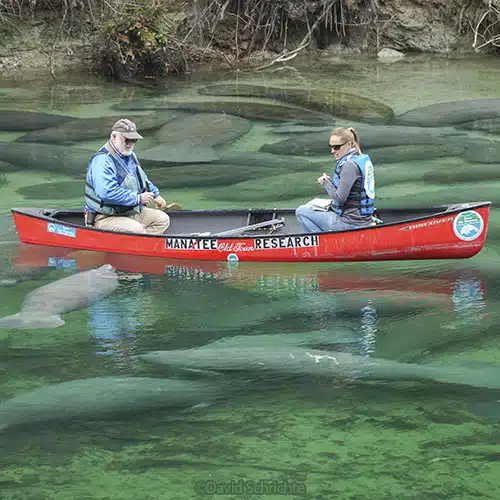 Thursday, November 30, 2023
The river temp remained at 64.4°F (18°C), and the manatees kept coming! We counted 447 manatees and, like yesterday, they had the run so stirred up that there must have been many more in the murky water. It was an adoptee party. We saw Philip, Howie, Annie, Lily, Una, Moo Shoo & calf, Phyllis, Paddy Doyle, Lenny, and Nick!
Wayne & Cora
Wednesday, November 29, 2023
The river temp only went down a little to 64.4°F (18°C), but the number of manatees went way up. We counted 270, and if the water had been clear, we probably would have counted over 300. The Save the Manatee Club adoptees present were Moo Shoo & calf, Deep Dent, and two new arrivals for the season—Whiskers and Rocket! As of yesterday, I said we had 132 manatees in so far this season. That should have been 132 calves and returned manatees. We have seen many more total manatees! As of today, at least 270.
Wayne & Cora
Tuesday, November 28, 2023
The river temp is down to 65.3°F (18.5°C), and we counted 179 manatees! Tomorrow should see many, many more! The Save the Manatee Club adoptees in today were Moo Shoo & calf, Annie, and Deep Dent. All were over halfway up the run. 93 manatees have returned from last season so far. Two were not seen last season but are here now. We already have 37 calves. This works out to a total of 132 individual manatees seen as of today!
Wayne & Cora
Monday, November 27, 2023
The season is underway, for certain! We counted 124 today and the predicted highs and lows for the next few days are in the forties (below 10°C). As for Save the Manatee Club adoptees, Moo Shoo & calf, who have been in several days, were joined by Deep Dent.
Wayne & Cora
Saturday, November 25, 2023
The river temperature was 68°F (20°C) and, for the first time this season, the count broke 100! The park staff counted 106 manatees from the boardwalk and I counted 113 from the research canoe. The manatees were extremely active in the lower part of the spring run, cavorting around the logs, which made counting and identifying difficult. Luckily, on the way back down, they had settled some, so I was able to pick out a few more IDs. The only two adoptees in were Annie and Moo Shoo with her calf. Both were in the area by the aluminum overlook, so the visitors got a good view of them. More adoptees should be arriving soon!
~Cora
Friday, November 24, 2023
River temp was 67.8°F (19.9°C) and I counted 68 manatees. One Save the Manatee Club adoptee was in. It was Annie. She was right beside the boardwalk, so she had a little crowd of viewers. On the research side, on November 21, Cora filmed Hola with a calf. We had not seen her since January 2017. I was afraid she had died during the COVID epidemic and was never recovered, so it was a very pleasant surprise to see her again.
-Wayne
Thursday, November 23, 2023
The air temperature dropped drastically overnight, from being in the 80s yesterday to the low 50s this morning. However, the river didn't seem to have dropped much at all; it was still at 23°C (73.4°F) according to my thermometer. The park staff counted nine manatees, and I counted 18—they seemed to just be arriving. None of them were adoptees, but the cooler temperatures in the next few days should bring some manatees in.
Happy Thanksgiving everyone!
~Cora
Wednesday, November 22, 2023
The river temp was 73.4°F (23°C). That is over five degrees above the magic 68 degrees that starts to get manatees in in greater numbers. It is no wonder we only counted three juveniles! We also counted three deer. Two were at the kiosk that looks over the boil. I had not seen one there before. I included a picture of the youngster that was rescued yesterday since I forgot to include it yesterday. Cora picked it for social media, and I picked it for the webblog, so it must be the best picture. It is supposed to be cooler after Thanksgiving, so hope for more manatees!
Wayne & Cora
Tuesday, November 21, 2023
No proper count today by Save the Manatee Club but the park counted 13. Instead, we had a rescue. A young male manatee was observed several days ago by different people with a severe line entanglement on its left flipper. It did not even appear to be using it. Pictures were forwarded, and today a rescue was completed by FWC, Sea World, Volusia County, Florida Park Service, and Save the Manatee Club. The youngster was designated S14/23. The S stands for seasonal, which means we do not have much hope to ID it next season. We have several manatees now with left flipper entanglements and cannot distinguish between them. He is the 14th manatee seen this season in that category. The 23 stands for the 2023–24 manatee season. Once he is rehabilitated and returned to the spring, that will change, as he will have an ID chip, a name, and a Blue Spring number. He may be hard to ID visually, but if anything happens to him, we will know.
Wayne & Cora
Monday, November 20, 2023
The river temp was 69.8°F (21°C), and we counted 13 stirred-up manatees, all but one by the river. Researchers were in the water. When the count was over, the manatees were settling down, and the count was closer to the park count of 17. The temperatures may be a little cooler later in the week, but the weather is supposed to be wet and windy. No Save the Manatee Club manatees today.
Wayne & Cora
Sunday, November 19, 2023
The river temperature was 71.6°F (22°C), which was only slightly cooler than the spring temperature. The park counted 18 manatees and I counted 25, but there was a lot of coming and going. Most manatees were cavorting close to the river; a few were upstream. As I paddled up the run, I was surprised to see no mom/calf pairs, which at this time of the year are usually the first ones to show up (we have seen many already!). One mom/calf was between the swim entrance and diver entry, with two male juveniles pursuing the annoyed mom. As I was finishing the count and paddling back downstream, at least three more cow/calf pairs showed up, while most of the manatees I had actually counted had since left into the river only to be replaced by more that I did not see during the official count. Among all of them, no SMC adoptees were present today.
~Cora
Wednesday, November 15, 2023
Yesterday the weather was so adverse we didn't do a count. Today it was almost worse with rain and high winds, and it's still very warm considering that it is mid-November. The river temp was 68.9°F (20.5°C), and 5 manatees made the official count. Four more came in after the count was over, but none were adoptees.
~Cora
Monday, November 13, 2023
It has been very warm these past few days, and only a few manatees were seen by the observer volunteers over the weekend. Today the river temperature was 71.6°F (22°C), and no manatees were in the spring run. We will watch out for cooler temps!
~Cora
Friday, November 10, 2023
The river temp was 71.6°F (22°C). Twelve manatees were counted. None were Save the Manatee Club adoptees. Nothing further to report!
-Wayne
Thursday, November 9, 2023
The river temp was 71.6°F (22°C). We counted 30 manatees and none were Save the Manatee Club adoptees. A few new arrivals for the season were in, but we have to wait for cooler weather before the counts go up.
-Wayne & Cora
Wednesday, November 8, 2023
The river temp was up just a bit. It was 68.2°F (20.°C). The manatee count went down accordingly to 53. The only Save the Manatee Club adoptee in for the count was big Lily, and it is always good to see her. The webcam showed Moo Shoo and calf in the run before the count yesterday, so the total adoptees in is four: Annie, Gator, Moo Shoo, and Lily. Only two of the calves seen in the off-season remain to be seen. Looking ahead, temps are warming, but a short cooling trend will set in on Sunday.
-Wayne
Tuesday, November 7, 2023
One more day like today, and I will declare the manatee season started yesterday! The river remained 68°F (20°C). Cora and I counted 62 manatees and ID'd 33. Among these were Save the Manatee Club adoptees Annie and Gator. We recorded twelve calves during the off-season, and seven of these have come in. Not bad for two days! Once we see a calf, we worry about them making it to the refuge for the winter.
-Wayne & Cora
Monday, November 6, 2023
The park staff and manatee observer volunteers saw many manatees this past weekend.
This morning the river temperature was 68°F (20°C), which is considered the "magic number" to bring manatees into the spring. I counted 76, and they were dispersed throughout the spring run. More than I expected! Most of them were either juveniles or mom/calf pairs, who usually come in first. No adoptees this morning, but Annie was seen over the weekend.
~Cora
Friday, October 20, 2023
I measured the river temperature today, and to my surprise, it showed 69.8°F (21°C), which was much lower than I had expected it to be. However, when checking the high and low air temperatures for the past week (which we routinely do during the season on the weather station that the park service has set up), I saw that the overnight lows at the park had actually been in the upper 40s this week—a little cooler than what the online weather forecast predicts for downtown Orange City. That, in addition to a lot of rain before the cold fronts, may have contributed to the lower river temperature.
I attempted a count, but it seemed like nobody wanted to be counted today—no manatees were in the spring run at 8 a.m. Later in the morning, a few came in, including Amelia, a manatee we helped release a few years ago. It was good to see her, and she looked great. It took us a little while to recognize another female manatee, "Chloe." She got a new (not severe) boat strike over the summer that left her with three small scars on the midback, which is all we could see on the webcam. We identify Chloe by a white scar on her left flipper and an entanglement scar on her right flipper, as well as a tiny nick on the left side of her tail. Today I got a good look at her, and it is indeed Chloe, and she has a calf! This might be her first calf. We assisted with rescuing Chloe two seasons ago, and she was brought to SeaWorld for rehabilitation due to lethargic behavior, weight loss, and the entanglement on her flipper. Luckily, she had a quick turnaround and was released later that season.
The next week looks very warm, so most likely the manatees will be moving into the river again. No adoptees were seen today.
~Cora
Thursday, October 19, 2023
We had a little cold snap in Florida this week!
Air temperatures dropped into the low 50s in Orange City, and a few manatees stopped by Blue Spring over the last few days. Although our research team did not do any official counts yet, we monitored via our webcam (they will go live for the public in November), and we received reports from the manatee observer volunteers. On Tuesday, roughly between 13 and 20 manatees were seen; on Wednesday, the numbers increased to roughly 20 to 25 manatees; and today (Thursday), the observer reported 29 in the morning alone. Many of them are unscarred juveniles, and the majority come into the spring and leave quickly, so it is hard to keep an accurate count. It is not cold enough yet for them to want to stay. We observed many of them devouring the floating vegetation that was present in the spring, which was to be expected! A lot of vegetation had blown into the spring run, especially after hurricane Idalia, which made it harder for paddlers, including our manatee observers, to get through—this should no longer be an issue!
We were excited to see some new mom/calf pairs and several previously released manatees who seemed to be doing very well. Particularly exciting was a sighting of manatee Plantaina, whom we helped release at Blue Spring in 2022 after she failed to thrive at her original release location. She was deemed a success last winter by our partners from CMARI after coming back to Blue Spring in good body condition. She swam by the webcam with a group of other manatees yesterday, and we had to do a double-take to confirm that it was her because she has grown so big! The only adoptee seen this week was Annie.
Since it is not yet consistently cold, the manatees usually stop by for a very brief period of time and then leave into the St. Johns River. We will start our official counts once we have consistently cold weather.
-Cora & Wayne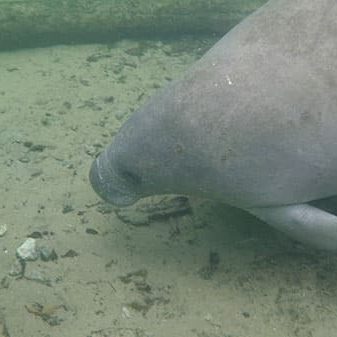 Manatee Sighting Reports: 2022 – 2023
Get the manatee sighting reports from our Blue Spring researchers for the 2022-2023 winter season.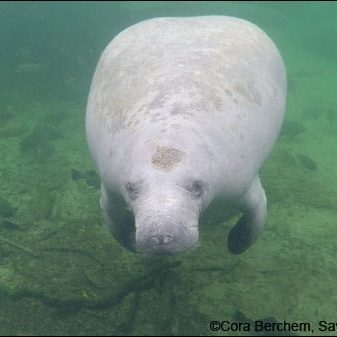 Manatee Sighting Reports: 2021 – 2022
Get the manatee sighting reports from our Blue Spring researchers for the 2021-2022 winter season.