Back on the Water? Watch for Manatees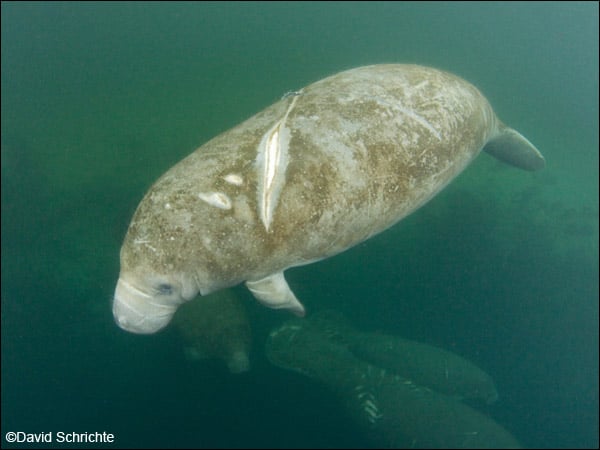 FOR IMMEDIATE RELEASE—May 14, 2020
Contact: media@savethemanatee.org, 407-539-0990
Note: A high-resolution version of the David Schrichte manatee photo, or other manatee photos, and the public service ad below are available upon request.
As much of the world has stayed home over the past few months, there have been reports of manatees and other wildlife thriving in areas they are not normally seen. However, as stay-at-home orders change and the summer season approaches, it is as important as ever for boaters to be safe and look for manatees while on the water. Save the Manatee Club urges boaters to follow manatee-safe boating tips as they return to their favorite pastime.
During the summer, manatees can be found in fresh, brackish, and salt water throughout Florida and their seasonal range in Alabama, Georgia, South Carolina, and other coastal states. They may have entered areas that are new to them as boat traffic lessened during recent restrictions. With this in mind, boaters must keep a watchful eye.
Unfortunately, last year a new record was set for watercraft-related manatee mortalities. At least 136 individual manatee deaths were confirmed as a result of watercraft impact, crushing, propeller wounds, or any combination of these. Those that do survive strikes may require rescue by wildlife officials and several months of rehabilitation. In addition, some injured manatees may never be reported and must live with painful injuries.
Because manatees are herbivores and have no natural predators, they are generally slow-moving, having never developed hunting or defensive skills. They also need to surface to breathe air and prefer shallow water where they feed on aquatic vegetation. "Research shows that manatees have been documented in particular areas to feed, rest, or travel," explains Patrick Rose, aquatic biologist and Executive Director of Save the Manatee Club. "This is why it is imperative to boat slowly in these designated manatee protection areas and to obey all posted speed zones. It gives manatees a chance to avoid boat collisions. Sadly, due to high-speed boating, most living manatees bear the scars from past boating encounters, reminding us that they have been within just an inch of losing their lives."
Here are some more manatee-safe boating reminders:
Report injured, dead, orphaned, beached, entangled, or sick manatees, or manatees being harassed, to the Florida Fish and Wildlife Conservation Commission (FWC) by calling 1-888-404-FWCC (3922), emailing or texting tip@MyFWC.com, or using VHF Channel 16. For more information or to report manatees outside of Florida, go to savethemanatee.org/rescue.
Wear polarized sunglasses to help see below the water's surface, and look for manatees' snouts, backs, tails, flippers, and "footprints," or circles on the surface created when the manatee swims.
If you encounter a manatee, cut your motor, maintain a safe distance, and do not feed it or give it water from a hose, as this can alter manatees' natural behavior and put them in danger.
Read more tips and watch the video "Boat Safely With Manatees" at savethemanatee.org/boatsafely.
"Boaters can be the greatest stewards for manatees, and we appreciate their watchfulness," says Rose. "Reducing the risk of boat-related injuries or deaths helps protect imperiled manatees now and for future generations."
###
Save the Manatee Club, established in 1981 by the late renowned singer-songwriter, author, and entrepreneur Jimmy Buffett, along with former Florida Governor and U.S. Senator Bob Graham, is dedicated to safeguarding manatees and preserving their aquatic habitat. For more information about manatees and the Club's efforts, visit savethemanatee.org or call 1-800-432-JOIN (5646).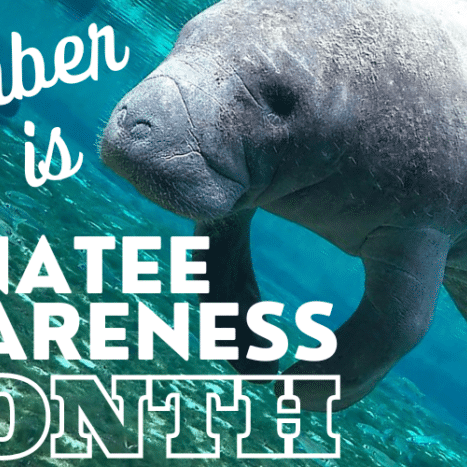 November is Manatee Awareness Month
November is Manatee Awareness Month, an annual opportunity to celebrate Florida's state marine mammal and raise awareness of the ongoing threats to manatees and their aquatic habitat.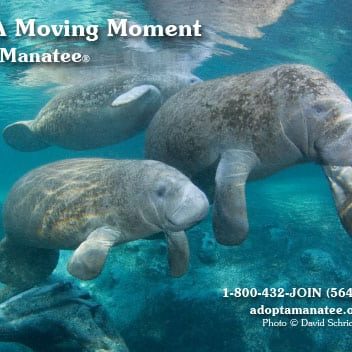 Share A Moving Moment With A Manatee Adoption
Searching for the perfect gift that not only moves the heart but also contributes to a great cause? Look no further than an adoption from Save the Manatee Club.