Annie, Brutus, Howie, And More Make Summer Visits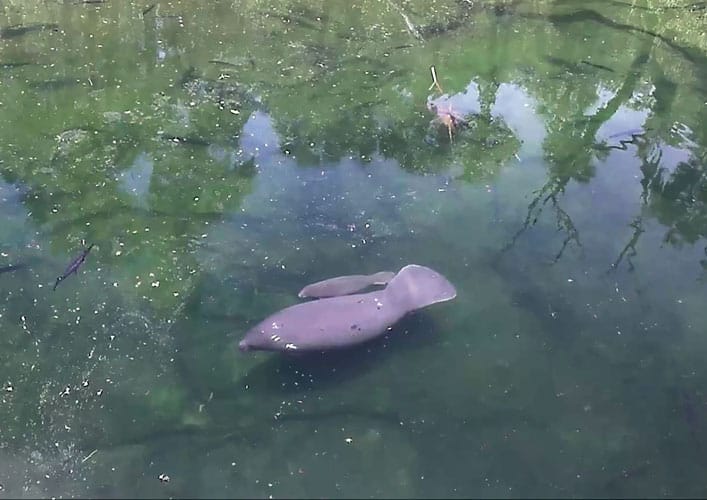 Blue Spring State Park Adoption Update
By Wayne Hartley, Manatee Specialist
There have been many sightings during the summer at Blue Spring. Annie and her new calf, Arlee, were sighted too many times to count. Brutus was in on April 26. Both Brutus and Howie appeared with a mating herd during May. Nick was in during May too but missed the mating herd; he was also seen in June. Phyllis was seen in June and July, and Flash was glimpsed in the Silver River on May 9. Lily and Merlin both made appearances in early August.
The final numbers from the 2022–23 winter season at Blue Spring are in. We counted 828 manatees total. Of those, 487 returned from last season and 15 were from previous seasons. There were a record number of calves at 87, seven more than the previous record. The park staff counted a record-breaking 729 manatees in the spring in one morning. We were unable to identify 239, but 85 of the manatees were marked well enough to get a name and Blue Spring ID number.
For the first time, the winner of the adoptee attendance championship was a male, Gator, with 36 visits. He was followed by the usual suspects: Lily with 35 visits, Annie 33, and Una 27. Paddy Doyle made 24 visits and came in fifth place. Nick did well with 23 visits for sixth. Seventh was Moo Shoo with 22 visits, Aqua in eighth at 21, ninth for Phillip and Phyllis who tied with 20. Our since-departed Lesley had 16 visits. Howie made 14 visits, Doc 13, Brutus and Deep Dent tied at 11, and Lenny 10. Tied for seventeenth were Flash, Floyd, and Whiskers with 9 appearances each, 7 for Margarito and Rocket, and finally Merlin, aka Tail-End Charlie, in twenty-first place with only three visits. Unfortunately, Lucille was a no-show for the season; I hope she is well somewhere.