Adoptee Appearances At Blue Spring Drop Over Autumn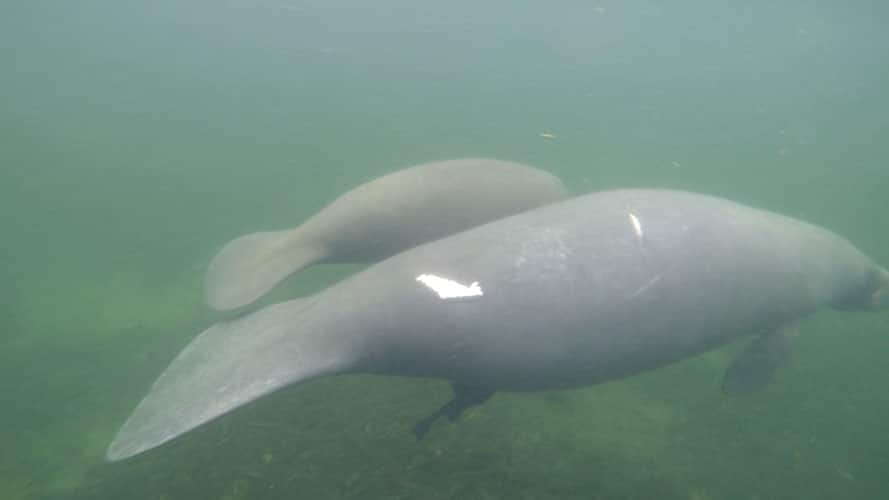 Blue Spring State Park Adoption Update
By Wayne Hartley, Manatee Specialist
We have had many manatee sightings since the last update, but few have been Save the Manatee Club adoptees. However, Annie and calf have come in fairly frequently. Also, Lily dropped by on August 1, and Phyllis was in on August 6 and 13.
A young manatee named Kasper—born to Isla Bella in 2019—came in this past season and was lethargic and thin. Kasper had always been a very lively and curious youngster, so we were very fond of him. Cora and I took quite a bit of film to document his developing condition due to our concern, and on March 20, he was rescued and taken to SeaWorld Orlando. A tremendous effort was made to save him, but it seemed that as soon as one problem was taken care of, another developed. Kasper passed away on September 19.
I did a program in the past where I used an example that I have used before to show the health of the Blue Spring population, but it has been a long time, so I would like to say it again here.
If I use the number of manatees present at any Blue Spring manatee season as a base population, plus I ignore future immigrants, and I consider any manatee that disappears from the base number as deceased (not necessarily true), then the Blue Spring birth rate still causes an increase in the number of manatees at Blue Spring. So Blue Spring gets a pat on the back for having an increasing manatee population, even though the manatees of Blue Spring still face the many hazards that all manatees face.