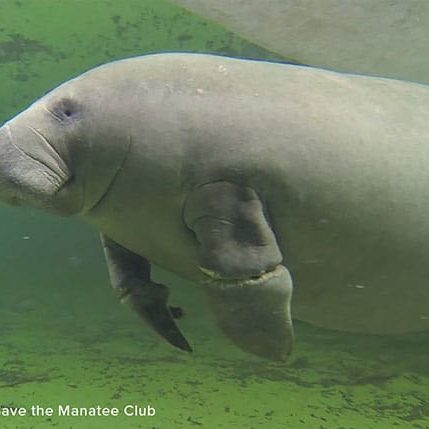 Rescued in 2003 as an orphan, Una faced additional challenges with fishing line entanglement. Following treatment, she is once again doing well in the wild.
Una has been rescued several times for monofilament line entanglement
Una's journey began as an orphaned calf rescued from the Ortega River near Jacksonville, Florida, in 2003. After being cared for at SeaWorld Orlando, she was released into the wild at Blue Spring State Park in 2006. She had grown to over eight feet in length and 980 pounds by then. After the Jacksonville incident, Una re-acclimated well to life in the wild and became a mother, giving birth in 2011 and 2013. Then in November 2013, she came into the park with fishing line entanglement on her right flipper. The following season, she came in with line entanglement on her other flipper. Attempts to rescue her were unsuccessful both years. During the next season, she came in to Blue Spring with even more fishing line entanglement, this time connecting both her flippers. Luckily, the connecting line was able to be cut, but line on each flipper remained. A rescue was again considered, but postponed when researchers noticed that she was pregnant. In November 2016, she was finally able to be rescued with her new calf. They were transported to SeaWorld Orlando for rehabilitation, and Una and the calf, named "Mr. Baby," were released a year later on December 12, 2017, at Blue Spring State Park. Mom and calf went their separate ways as Mr. Baby was weaned by this time.
In November 2019, Una arrived at Blue Spring with her third calf, but researchers noticed that she had once again severely entangled in fishing line. One flipper seemed infected and had worsened to the point where it was not certain the calf could nurse properly. A rescue team from Florida Fish and Wildlife Conservation Commission, SeaWorld Orlando, Clearwater Marine Aquarium Research Institute, Blue Spring State Park, Save the Manatee Club, and Volusia County was able to safely capture Una and her calf on February 24, 2020, and transported them to SeaWorld Orlando for rehabilitation. While at SeaWorld, Una received the expert care she needed, and both she and the calf, named "Maguna" by SeaWorld staff, were returned to Blue Spring on September 2, 2020. A big thank you to everyone who helped! (All activities conducted under permit #MA770191.)
During manatee season, check our Blue Spring webcams for updates on the latest news on Una and other Blue Spring manatees.
Scar Chart & Identifying Photos