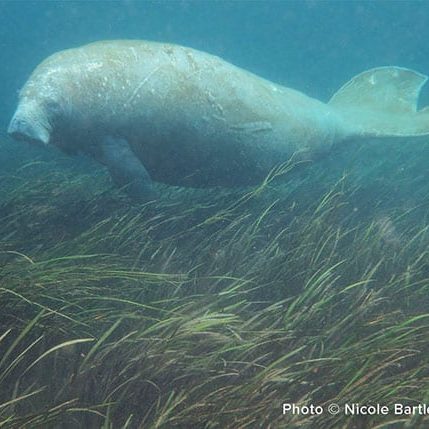 First identified in 1980, Millie is one of the largest manatees ever recorded. She is a traveler with a long sighting history along Florida's southeast coast.
Millie has been sighted from Port Everglades to the Upper St. Johns River
Millie the manatee is a real traveler with a long sighting history up and down the east coast of Florida. Her movements illustrate how manatees use different habitat and various warm-water winter refuges over time. Male manatees usually travel more extensively than females, but Millie is showing us that some female manatees can swim just as far! Her journey began with her first sighting at the now-closed Orlando Utility Company Power Plant in Brevard County in February 1980. Between 1980 and 1991, researchers from the U.S. Geological Survey's Sirenia Project (USGS) and the Florida Fish and Wildlife Conservation Commission (FWC) primarily observed her overwintering in Brevard County on Florida's east coast and at the Port Everglades Power Plant in Ft. Lauderdale. Identified as "BC200" due to her original sighting region, Millie bears distinctive markings, including an hourglass-shaped scar on her head and a forked tail, both as enduring reminders of a past watercraft collision. In November 1991, she ventured to Blue Spring State Park in the Upper St. John's River, where she was rebranded with the ID "BS133" by Wayne Hartley, Save the Manatee Club's Manatee Specialist. Notably, she was accompanied by her male calf, Murphy, and in February 1992, she displayed a unique behavior by feeding on fall asters from the riverbank at Blue Spring, a rare sight among manatees.
Over the years, Millie has had nine known calves. Her first known calf was in 1985 and the most recent calf was in 2004. During the 1993–1994 season at Blue Spring, she brought in a female calf named Michelle. While Michelle has not been sighted since the 2013–2014 season, she has given birth to six known calves—making Millie a grandmother! In winter 1998–1999, she brought in a male calf named Milford, who also visits Blue Spring during the winter. During the 2014–2015 season, Millie was observed at Blue Spring nursing an orphan. To date, she has been sighted nearly every winter at the Port Everglades Power Plant, the Cape Canaveral Power and Light Power Plant in Brevard County, and Blue Spring and other springs in the Upper St. John's River region. She has also had a few summer sightings in the Silver River, which is located near Ocala, Florida. Millie's story is a good example of how manatees can travel long distances and use both fresh- and saltwater habitat. It also shows why it is so important to protect different areas of manatee habitat.
If you happen to visit Blue Spring State Park or one of the viewing centers along the East Coast of Florida during manatee season, keep an eye out for Millie and see if you can identify her from her obvious scars—she just may show up! You can also check our Blue Spring webcams for updates on the latest news on Millie and the other manatees at the park.
Scar Chart & Identifying Photos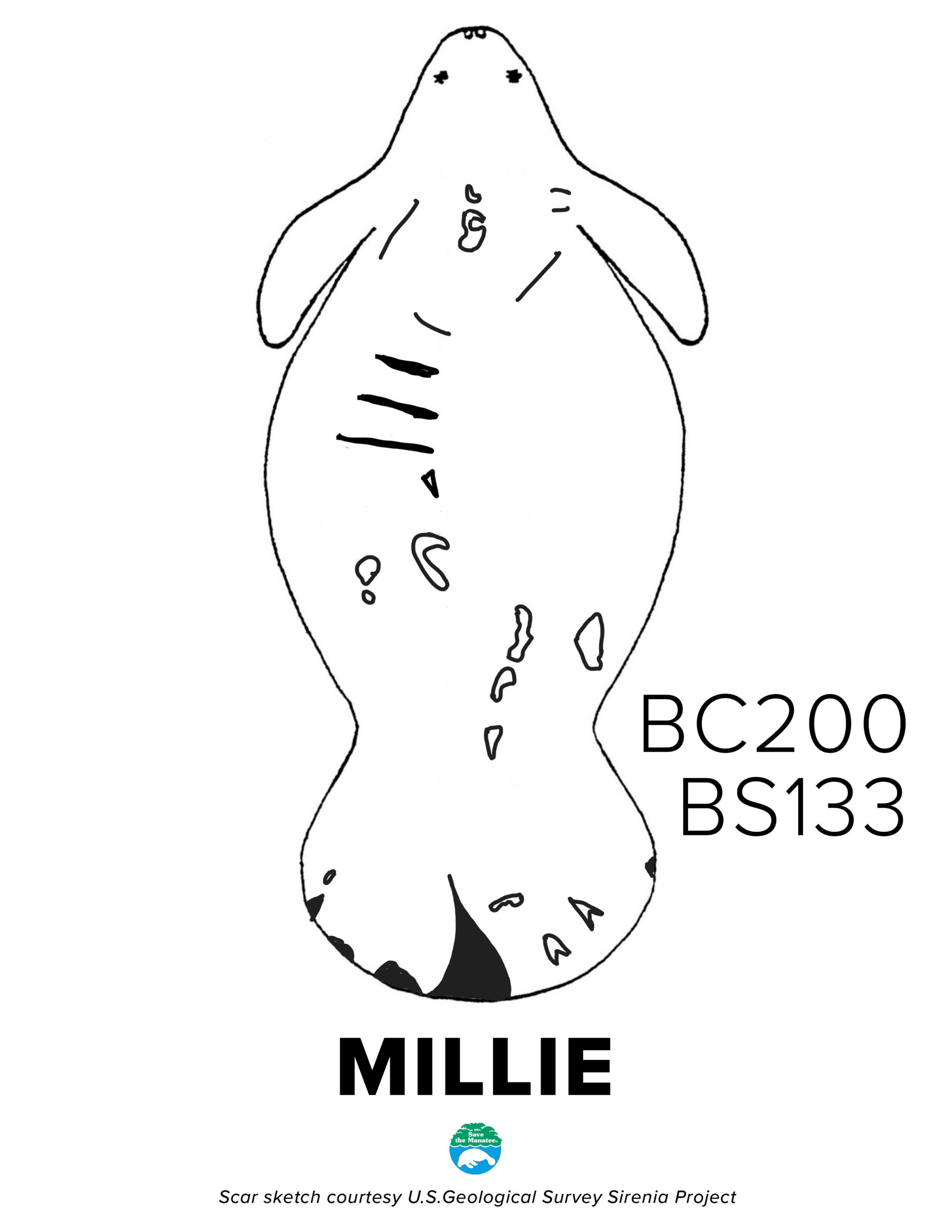 Photos and Videos of
Millie