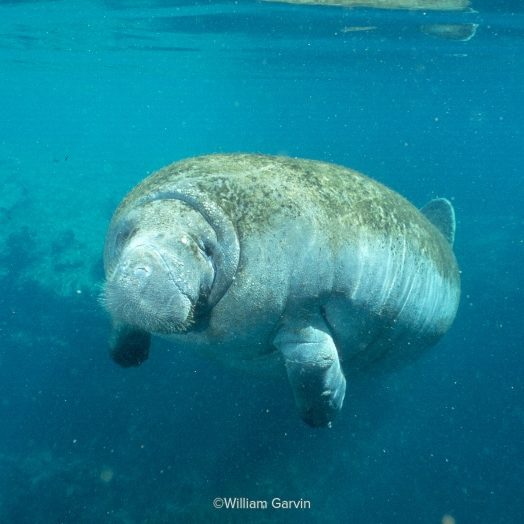 Lorelei was the first manatee born and raised under human care in Florida. Lorelei passed away peacefully on April 23, 2018.
Lorelei was born on May 3, 1975 at the Miami Seaquarium to parents Romeo and Juliet—the first manatee born and raised under human care. She lived at The Living Seas at Epcot/Walt Disney World in Orlando and resided at the Ellie Schiller Homosassa Springs Wildlife State Park in Homosassa, Florida since 1994. Because Lorelei was born in a facility and knew nothing of the challenges found in the wild, she was not considered a good candidate for release. This difficulty highlights why the practice has not been conducted for many years in Florida.
Lorelei was gentle and fairly social. She was a big manatee with a large paddle-shaped tail that she used to swim laps at the park. She had even been known to do a barrel roll or two, demonstrating that even large manatees can move with ease and grace. During educational programs, she would entertain the crowd, and perhaps herself, by rolling over on her back while accepting nutritional treats. On December 3, 2010, Lorelei and the other resident manatees began sharing their spring habitat with free-ranging manatees. They were transferred to a smaller area of the spring for the winter. Their new accommodations included a supplemental heater that they loved! After the transfer, the gate on the park's Long River Bridge was opened, and remained open throughout the winter. This allowed free-ranging manatees access to the spring boil for the first time in almost 30 years. Each spring, the gates lowered, and Lorelei and the other manatees would get the entire spring back. The gates were paid for by donations from Save the Manatee Club.
On April 24, 2018, we received the sad news that Lorelei had passed away peacefully from natural causes. Known for her gentleness, Lorelei lived a long and wonderful life. She had been part of Save the Manatee Club's Adopt-A-Manatee® program since her move to the park, and she touched the lives of countless numbers of people. She will be missed.
Scar Chart & Identifying Photos

Photos and Videos of
Lorelei