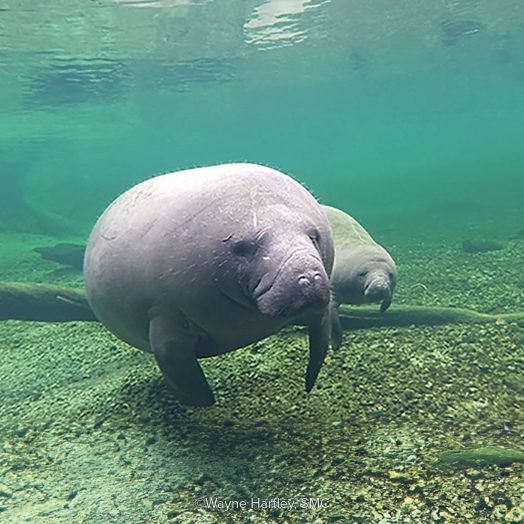 After suffering a boat hit in 2015, Lesley needed several surgeries and nearly three years in rehabilitation to recover. She passed away in February 2023.
Lesley proved the resiliency of manatees despite the odds against them
Lesley was first identified in 2014 at Blue Spring State Park, located in Orange City, Florida, when she arrived with her first calf, Lennox. Lesley was named for Lesley Argiri, a former high school biology teacher from Harrison Township in Michigan, who started the Save the Manatee 5K race in 2003 to raise funds for manatee protection efforts. What began as a small race with a few hundred people has grown to an annual event that now includes a Virtual 5K with thousands of participants from around the world. Thought to be five years old at the time, Lesley the manatee had light scars from a boat collision and was identified mainly by a white skeg scar on her right flank and six gray propeller wounds. She also had a natural bump in the middle of her tail.
In November 2015, manatee Lesley returned to Blue Spring for the winter season with a healed boat strike wound just behind her right shoulder. She survived it and could also be identified at a right angle by her damaged shoulder. She came in with her second calf for the 2017-2018 season. Unfortunately, over the course of the season, Lesley started to lose weight, became extremely emaciated, and had to be rescued in March 2018. Lesley and the calf went to SeaWorld Orlando for rehabilitation, and it was determined that what had appeared to be a healed boat strike wound on her back had become severely infected. The calf, a female named Leena by SeaWorld staff, was released in November 2018 after she was considered old enough to survive on her own. But Lesley needed several surgeries and almost three years in rehabilitation to recover from her injuries and internal infections before she was released at Blue Spring in January 2021.
Because of the dedicated care of the SeaWorld team, Lesley weighed almost 1,400 pounds on the day of her release, and she swam back out into the St. John's River with a big splash. The next morning, she was seen among the 271 other manatees in the spring run that she calls her winter home. She would have always born scars from her injuries, but we hoped that she would adjust well to life back in the wild. Everyone was pleased when she continued to come to Blue Spring for the 2021-22 and 2022-23 winter seasons and was doing very well.
In February 2023, we received the sad news that Lesley had died. She was recovered in Lake Woodruff, just north of Blue Spring. A cause of death could not be determined. Lesley's legacy will continue, through both her descendants and the event started by her namesake. Her calf Lennox is now a mature female manatee, and has already given birth to her own female calf, called "Leona."
You can take action in Lesley's memory by learning more about the Manatee 5K, and by signing up to participate by visiting savethemanatee5K.com. The race is open to participants all around the world. You can run, walk, bike, hike, kayak, swim, ride horseback, or choose any activity wherever and whenever you want.
Scar Chart & Identifying Photos

Photos and Videos of
Lesley