Lenny was born to Luna in 1978 and winters at Blue Spring State Park each year. Lenny is the resident "couch potato," preferring rest to all other activities.
Lenny was born to Luna, who was a Save the Manatee Club adoptee until her death from unknown causes in 1997. During Luna's life, she never missed a winter season at Blue Spring, and Lenny is also a faithful visitor, having spent many winters at the park since he was born. Like other manatee calves, he was dependent on Luna for the first two years of his life. He relied on her to teach him how to find food and fresh water to drink and where to go when the weather gets cold. Luna taught Lenny to travel to Blue Spring in the winter, and he has continued that tradition, generally showing up at the park each year in November and staying until February. He earned the reputation of being a "sleepy head," preferring rest to all other activities.
Lenny was small as a calf, and even as an adult he is still slightly smaller than some other male manatees. Though he likes to lead a quiet life, he has suffered quite a number of boat hits. He has many distinctive scars, particularly on his tail, which is graphic evidence of the damage that boats can do to manatees. He also has a wedge-shaped scar on his left flank and three large deep cuts on the left side of his body, just behind his shoulder. In the early morning during the winter at Blue Spring, researchers go out in a canoe to count and identify the manatees using their scar patterns. During these mornings, just like most other times, Lenny can usually be found snoozing. He does occasionally show a social streak, though, and is sometimes seen in the company of other Blue Spring manatees.
During manatee season, check our Blue Spring webcams for updates on the latest news on Lenny and other Blue Spring manatees.
Scar Chart & Identifying Photos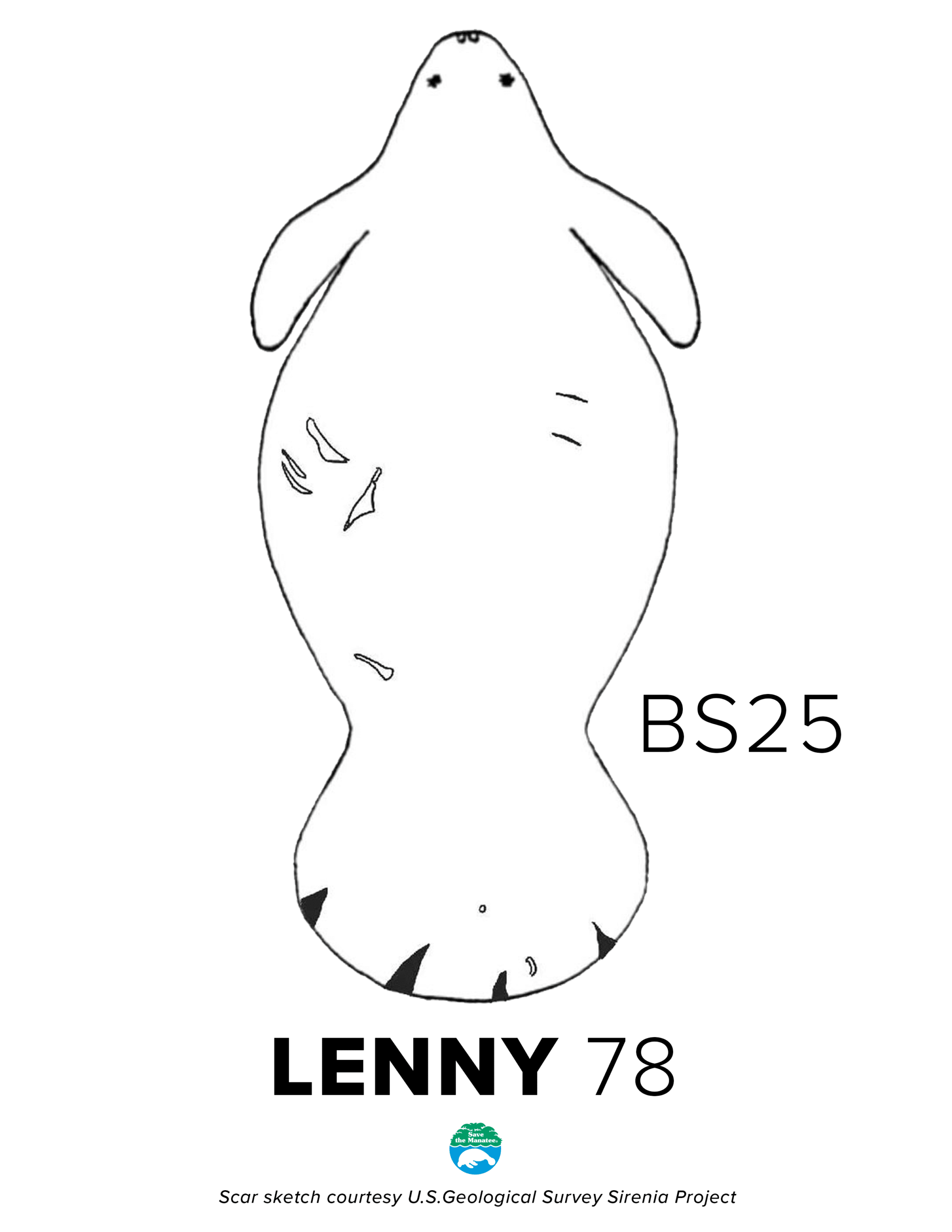 Photos and Videos of
Lenny