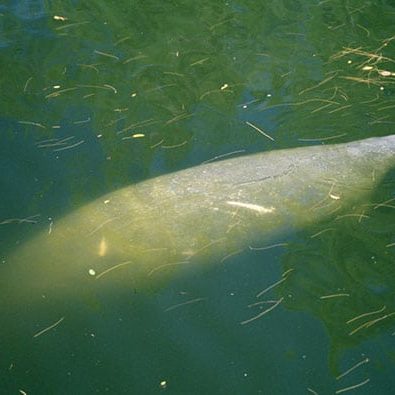 Jemp was rescued in 1995 after being exposed to red tide and released later that year. Jemp travels in a wide range along Florida's west coast.
Jemp is a red tide survivor and ladies' man(atee)
Jemp, a male manatee, was first identified in 1990 by researchers at Mote Marine Laboratory during a Sarasota Bay photo-identification study and named after four volunteers that were present: Jenny, Elizabeth, Mary, and Peggy. He is recognizable by distinctive scars, including a large white scar on his right side with a smaller scar behind it, and other scars on different parts of his back. sing tagging and photo ID data, Jemp has been documented traveling along Florida's central and southwest coast from Tampa Bay south to the Everglades! In 1995, he survived red tide exposure, a toxin-producing dinoflagellate bloom, thanks to a timely rescue and treatment at ZooTampa at Lowry Park. "When he was first taken into [rehabilitation], they did not think he would make it through the night," said Jessica Koelsch, a manatee researcher with Mote Marine at the time. "Because of space constraints, he was put in a tank with an adult female manatee, but he was so ill, he could barely float. To the surprise of the medical staff, the next morning Jemp was not only alive but vigorously chasing his female tank mate around!" After recovery, he participated in a manatee research project, where he was tagged to identify travel corridors and feeding habitats along Florida's west coast. Following the removal of his tag in 1999, he went incognito starting in 2002, reappearing in a mating herd near Sarasota in April 2009.
In 2010, record-breaking cold temperatures posed a threat to manatees, resulting in unprecedented mortality rates. Fortunately, Jemp's resilience shone through as he was spotted multiple times in May and June, confirming his survival. He has often been spotted in mating herds. In June 2015, Mote Marine Laboratory researchers observed him participating in a mating herd in Sarasota Bay. Mote Marine Laboratory staff also sighted Jemp and fellow Tampa Bay adoptee Vector in a mating herd in April 2016 at Coquina Beach on Anna Maria Island. There were 24-26 manatees present in the herd. Jemp was seen again in a mating herd in July 2016 off Siesta Key in Sarasota County by Mote Marine Laboratory staff.
Scar Chart & Identifying Photos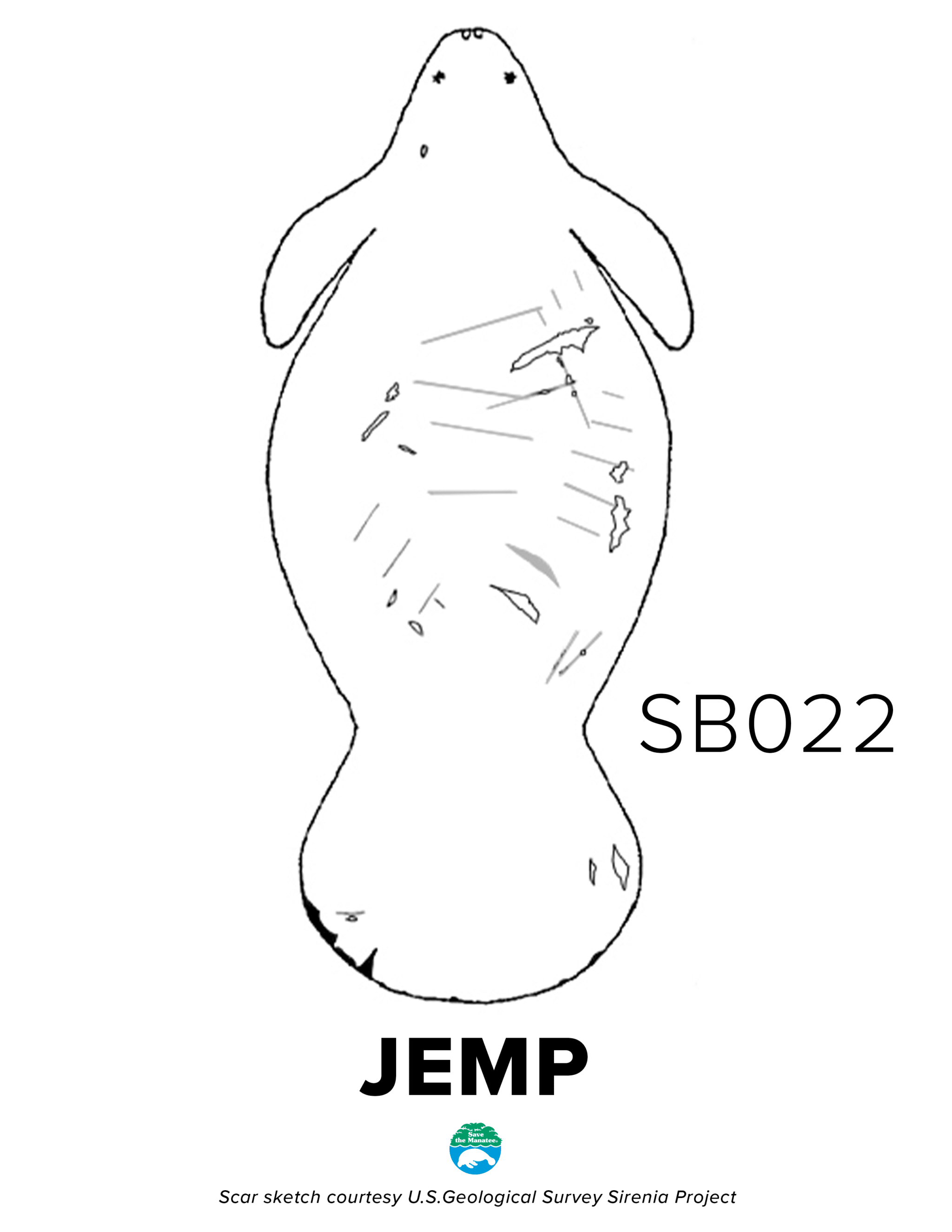 Photos and Videos of
Jemp