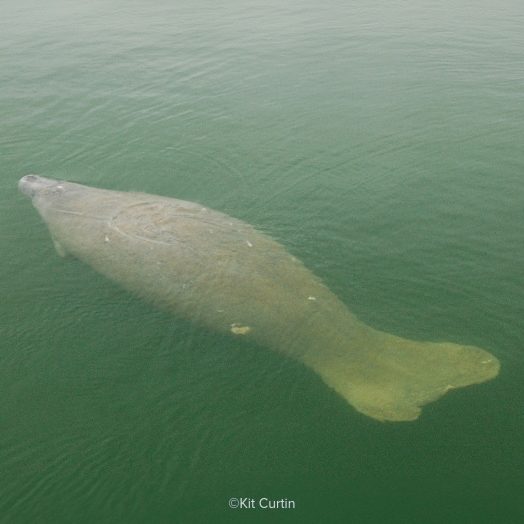 Ilya famously traveled to Cape Cod, Massachusetts in 2009. He passed away in July 2018 in the Florida Keys due to fatal injuries from a watercraft collision.
Ilya was first sighted in 1993 when he was a calf. When Ilya was young, he befriended another manatee named Napoleon, and he was named by a biologist who was a fan of the 1960s TV show The Man from U.N.C.L.E. The show featured two characters: American Napoleon Solo and Russian Illya Kuryakin. In the summer of 2009 when Ilya left his South Florida home and traveled north. He was documented in the Chesapeake Bay, New Jersey, and Connecticut before being seen in Cape Cod in mid-September, and it was his scars that allowed him to be identified on his journey.
After leaving Cape Cod, Ilya was seen again in Connecticut in late September. No additional sightings were reported until October 15, when he was seen at the Conoco Phillips Bayway Refinery in Linden, New Jersey. A refinery outflow with a 75°F water temperature provided a temporary refuge to Ilya, who, like all manatees, needs water above 68°F to survive. Ilya was in danger of dying from cold stress with winter approaching, so he was rescued on October 27 by a group of nearly 40 individuals. After being transported to a heating pool, he was found to be in surprisingly good health, suffering from only a mild case of cold stress syndrome, and he was flown back to Florida on October 29 aboard a Coast Guard C130 cargo aircraft. Once he was back on the ground in Florida, he was transported to Miami Seaquarium where he underwent a short rehabilitation and was released in Miami on December 15, 2009.
After his release, Ilya remained in the South Florida region. He was sighted just a few times after—once in Biscayne Bay in 2010, then not until 2013 at Port Everglades in Broward County, where he was captured and tagged as part of a Sea to Shore Alliance research study. He subsequently lost his tag, but he was successfully retagged in November 2013 after he was spotted in the Florida Keys. In January 2014, he was sighted in the Florida Keys again but had lost his tracking gear and wasn't re-tagged. In early July 2018, Save the Manatee Club was saddened to hear from our partners at the U.S. Geological Survey's Sirenia Project and Florida Fish and Wildlife Conservation Commission that Ilya sustained fatal injuries resulting from a watercraft collision. He passed away near Marathon in the Florida Keys. Ilya's pioneering spirit will be missed by many.
Scar Chart & Identifying Photos

Photos and Videos of
Ilya