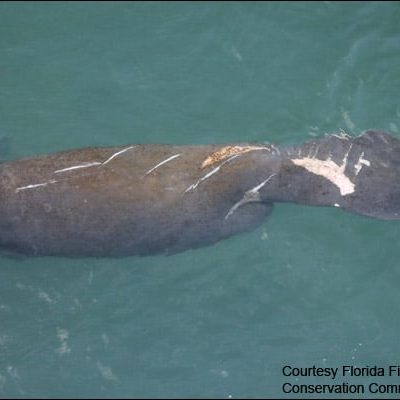 Illusion was rescued in March 2010 after a terrible boat strike. After being released, she is often seen along the east coast of south Florida.
Illusion is a clear example of why it is important to travel slowly in manatee habitat and immediately report sightings of injured manatees
Illusion was rescued by the Florida Fish and Wildlife Conservation Commission (FWC) in 2010 after being struck by a motorboat near Riviera Beach, on Florida's east coast. She had a deep propeller wound on her back and left side and was immediately taken for treatment. At the time of her rescue, Illusion was about eight feet long and weighed almost 700 pounds. She had severe damage to her spine and ribs and lost one complete rib on the left side. Over several months, the veterinary staff removed loose bone fragments until only healthy tissue remained. The lacerations on her back were deeply penetrating and disfigured her body. She was given the name because at one point the staff could literally see through her body to the other side of the pool. It was so surreal that they likened it to a magician's illusion.
Once stabilized, Illusion was housed in a pool with several other manatees, including a small orphaned male calf named Wooten. They quickly bonded, and Illusion acted as a surrogate mother to Wooten. She was released in Florida in 2011 near the Earman River in Palm Beach County. She was over nine feet long and weighed 1,025 pounds at that time. Since her release, Illusion has been regularly observed at Florida Power and Light's (FPL) Riviera Beach power plant during the winter months. She has also been spotted in Brevard and St. Lucie County on Florida's central east coast and during the 2017-2018 winter, she was documented in the Florida Keys. In 2018, she was struck by another vessel that left scars on her back, which were observed by researchers that winter when she returned to FPL's Manatee Lagoon.
If you visit Manatee Lagoon in West Palm Beach during the winter months, keep an eye out for Illusion and see if you can identify her by her prominent scars. Get more information on our Viewing Manatees page.
Scar Chart & Identifying Photos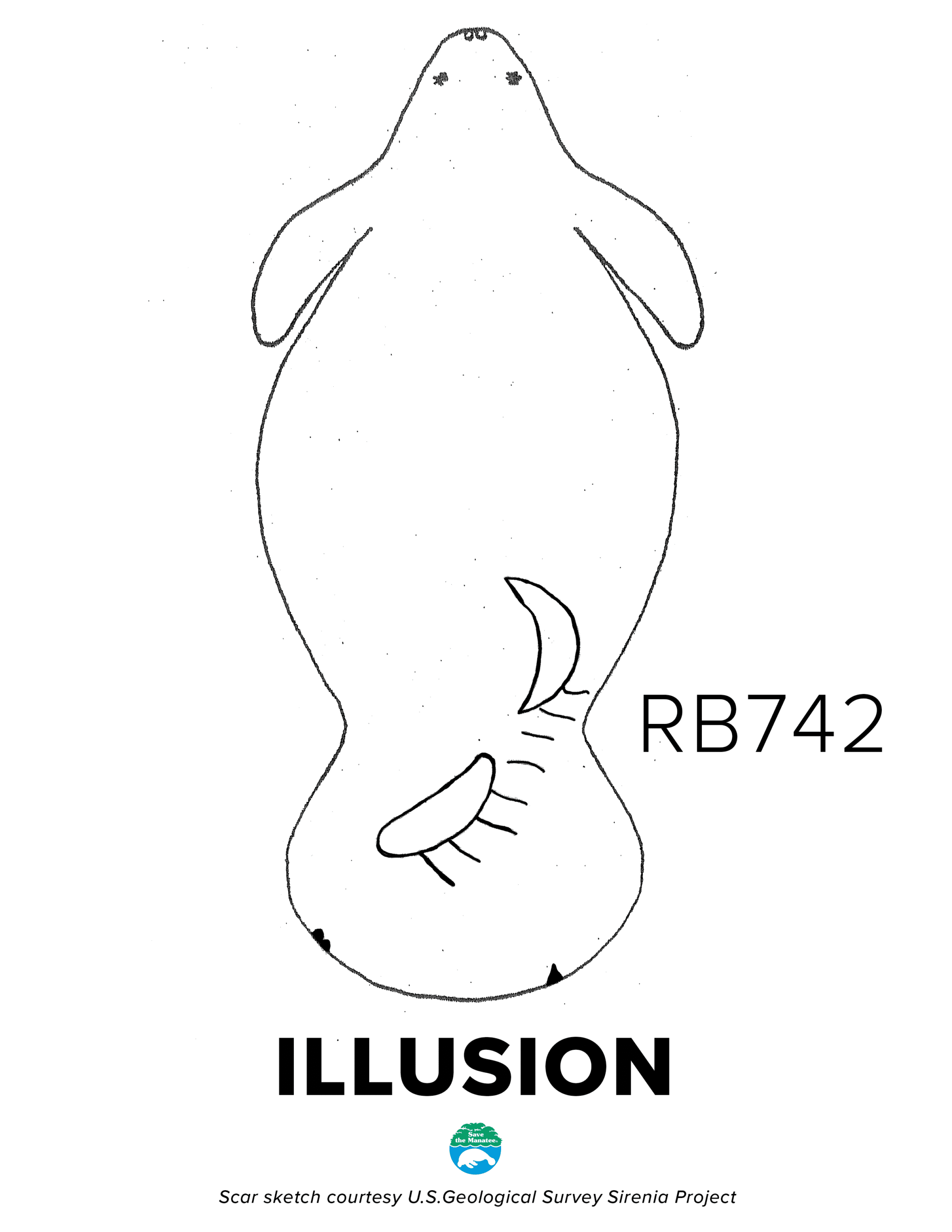 Photos and Videos of
Illusion