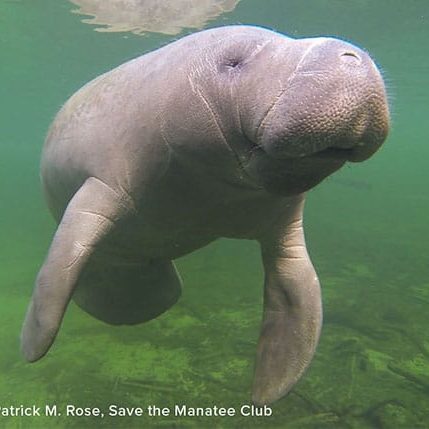 Gator was first identified in 2011 at Blue Spring State Park. He was seen on the webcam chasing and playing with an alligator at the park, earning him his name!
Known for his playful behavior, Gator has been seen chasing and interacting with an alligator
During the winter of 2011–2012, a young manatee was seen on Save the Manatee Club's webcam chasing and playing with an alligator at Blue Spring State Park.  Manatees are found in freshwater, estuarine, and near-shore marine environments, along with alligators, which are the only animals you will see in Blue Spring that can be as big as a manatee. People often think that alligators may be a threat to manatees, but one has never been observed behaving aggressively toward an adult manatee. In fact, sometimes it's the manatee that initiates the interaction. The manatee seen on the webcam was one such curious manatee, and from then on, he was known as Gator!
Although the exact date of his birth is not known, it is believed he was among a group of unidentifiable yearling manatees seen at Blue Spring State Park, located in Orange City, Florida, during the 2010–2011 winter season. Blue Spring is a vital warm-water refuge for manatees in the winter, and Gator returned to the park the following winter on November 30, 2011. As the years have passed, he continues to visit Blue Spring, often arriving early and leaving late for the season, which usually runs from November through March. His playful behavior is frequently noted, both by researchers and as seen on webcams located at the park. He has quickly become a familiar manatee to the Blue Spring State Park staff, and he tends to wander and play all over the spring run. Manatee researchers use scars to identify manatees, and he has a very identifiable scar pattern, making him easy to spot. He has suffered a boat hit and has six large propeller cuts down his right rear side. Sadly, he was hit by a boat again at the end of January 2012, and his new scar consisted of three propeller cuts and a large skeg cut, almost in the exact same location as the previous scar. Wayne Hartley, Save the Manatee Club's Manatee Specialist who tracks the manatees at Blue Spring, also describes Gator as "a bit of a runt," as he is small in size, which is another way he can be identified.
During manatee season, check our Blue Spring webcams for updates on the latest news on Gator and other Blue Spring manatees.
Scar Chart & Identifying Photos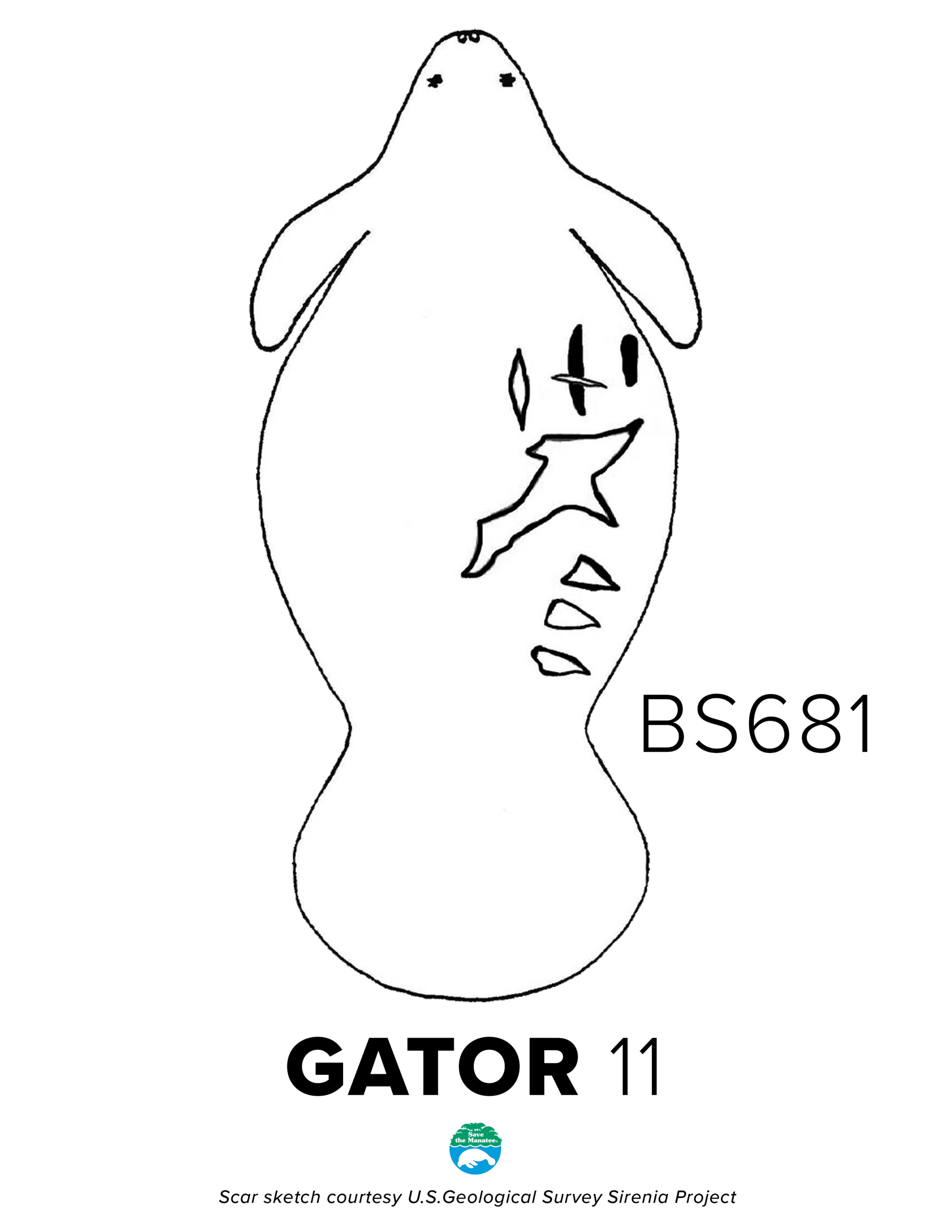 Photos and Videos of
Gator