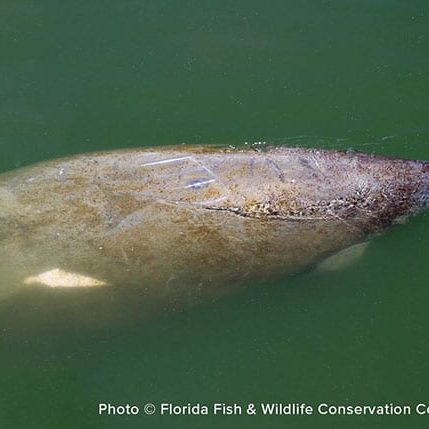 Elsie was first documented in 1983 as part of a photo identification program. She has 2 known calves and once traveled 111 miles in 23 days.
Elsie was first photo-documented by staff of the Florida Fish and Wildlife Conservation Commission (FWC) in January 1983 as part of a new photo identification program. These first sightings were at the Florida Power and Light (FPL) Company's Tice power plant near Ft. Myers. Through the photo-identification project, researchers learned quite a bit about Elsie. For example, she is an excellent mother, having given birth to at least five calves. In addition to important reproductive information, researchers know that Elsie is a bit of a traveler. She often joins hundreds of other manatees that swim up the Caloosahatchee River to the warm waters found at the FPL Tice power plant in Ft Myers. Other years, she joins the manatees at Tampa Electric Company's (TECO) Big Bend Power Plant in Tampa. She has also been spotted in Old Tampa Bay just north of TECO and at the Duke Energy Bartow Power Plant in St. Petersburg.
Unfortunately, Elsie is easily and instantly recognizable by her tail. She has also been nicknamed "Fingers," because the cuts through her tail make it resemble the fingers of a human hand. These mutilations were caused by an encounter with a boat propeller and serve as a powerful reminder that manatees often suffer from collisions with watercraft. Because manatees are slow moving, need to surface to breathe air, and prefer shallow water, they are vulnerable to boat hits. In fact, many manatees, like Elsie, are identified by permanent watercraft scars on their bodies and tails.
Save the Manatee Club helps support the rescue and research programs that help manatees like Elsie, and is a founding member of the Manatee Rescue & Rehabilitation Partnership. In addition, SMC works diligently to protect manatee winter habitat. At the TECO Manatee Viewing Center, visitors can tour the education center, walk the mangrove trail, or watch for manatees on the viewing platform. Stop by on a chilly winter day—you may see Elsie and a few of our other adoptees! Visit our Manatee Viewing page for more information.
Scar Chart & Identifying Photos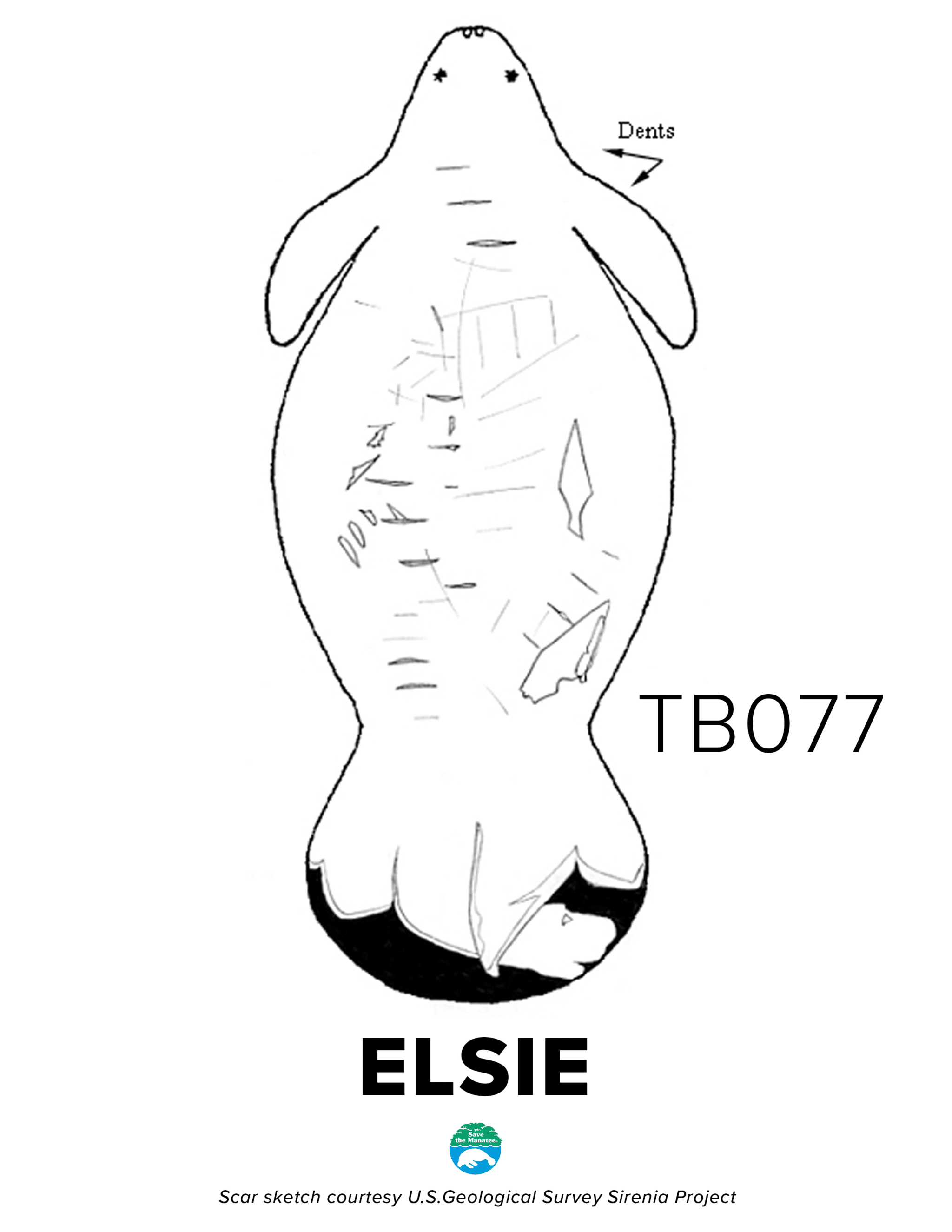 Photos and Videos of
Elsie