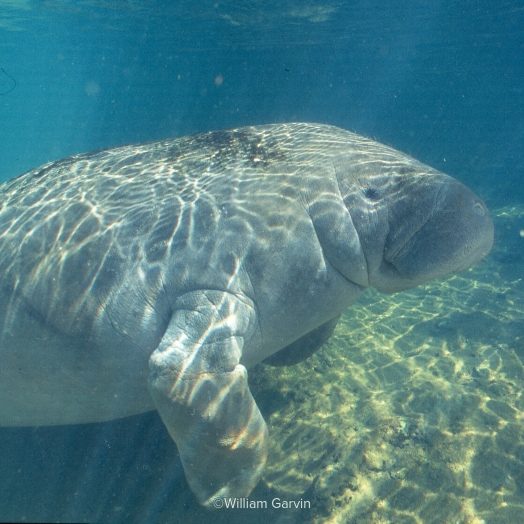 Rescued in 1998, park staff said that Electra was spunky and liked to follow her own path despite her injuries. She passed away in August 2020.
Electra was initially rescued on December 13, 1998, near Titusville on Florida's Atlantic coast. She had suffered trauma because of a boat strike and had scar tissue on both pectoral flippers due to entanglement in a crab trap. She was taken to SeaWorld Orlando where she underwent medical treatment at their hospital facility and was estimated to be five years old. At the time of the rescue, Electra weighed only 765 pounds, but after tube feeding and treatment at SeaWorld Orlando, her weight increased to 905 pounds. At the time, officials said they thought it was unlikely that she would ever be released back into the wild because of the problems she was having surfacing due to buoyancy issues caused by her injuries. The decision was made to place her with the manatees at the Ellie Schiller Homosassa Springs Wildlife State Park. The wildlife care staff there could supervise her progress and see if she may be able to adjust to living in the first-magnitude spring where she would also be protected from boat traffic.
Electra was moved to Homosassa Springs on May 15, 2000. She overcame hurdles with assistance from the other manatees at the park who would take turns swimming below her and guiding her to the surface for breaths. She particularly bonded with Rosie, who was described as the "matriarch" of the springs by the park staff. It was Rosie who helped Electra get used to the spring water. Rosie would swim below Electra and guide her to the water's surface to breathe until she could do this on her own. Lorelei and Ariel, two other manatees living at the park, soon were following Rosie's lead in assisting Electra. After some time, the park's wildlife care staff would describe Electra as having a bit of a stubborn streak and said she liked to follow her own path.
On August 4, 2020, we received the unfortunate news that Electra passed away while receiving treatment for complications related to the serious injuries she had sustained when she was first rescued. Her presence will be greatly missed by Park and Club staff and volunteers as well as our global community of manatee supporters. Electra's legacy lives on through our collective efforts to ensure that all manatees have free access to vital winter warm-water spring ecosystems and ensuring that every sick or injured manatee can be rescued and nursed back to health before being returned to the wild.
Scar Chart & Identifying Photos

Photos and Videos of
Electra