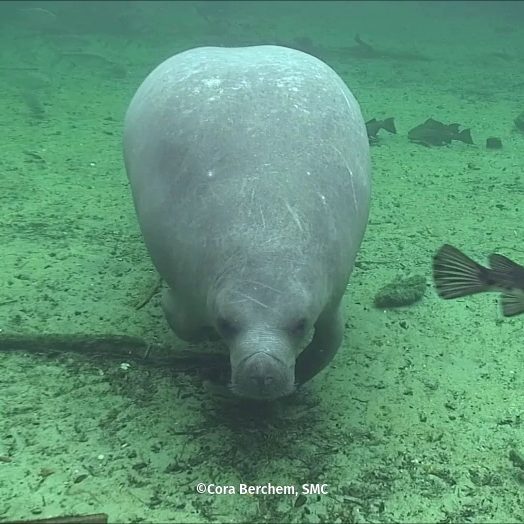 Doc has returned to Blue Spring State Park nearly every winter since 1976, and he's one of the few manatees frequently spotted in the spring in the summer.
Doc has been visiting Blue Spring State Park in the winter since 1976
Doc first chose to make Blue Spring State Park his winter home in 1976. Except for the 2006–2007 season, he has returned every year to spend the cold months enjoying the warm spring water. Doc is nearly 10 feet in length, which is average for an adult manatee. He weighs somewhere between 800 and 1,200 pounds, which is also the average weight for a manatee. He is identifiable by the distinctive white scars on his back and sides and a notch in the left side of his tail.
Doc frequently stays in the park area right up to the very end of the winter season. Sometimes he even stops by in the summer. His fondness for Blue Spring is evident in that he has been the attendance champion for several years, and one season he even put in 43 appearances! While at the park, this social fellow has been known to live up to his name by being a companion to injured manatees. One year he kept a manatee company after that manatee had received some propeller cuts to his tail. Another season, Doc was looking after two young manatees who had been injured. During good times too, he is a manatee companion, often seen in the company of other adoptees. He can be considered a bit of a ladies' man(atee), spending a lot of time socializing with female manatees, in particular adoptee Phyllis. During the summer, Doc may wander far and wide or choose to stay near Blue Spring. One summer, he was spotted in Lake Dexter, which is accessible from the St. Johns River. It is relatively close to Blue Spring and DeLeon Springs State Park, where he has also been known to make an appearance during the winter.
During manatee season, check our Blue Spring webcams for updates on the latest news on Doc and other Blue Spring manatees.
Scar Chart & Identifying Photos