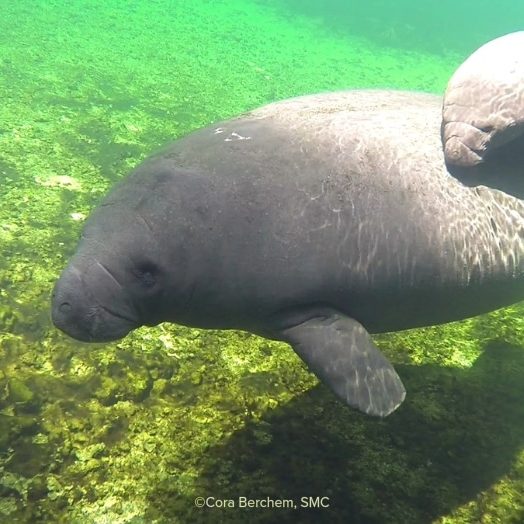 Annie was rescued as an orphaned calf and released in 2008. Not a shy manatee, she is quite popular with Blue Spring State Park visitors.
Rescued as an orphan, Annie has given birth at Blue Spring State Park five times!
Annie was rescued as an orphan on August 12, 2005, from the Halifax River near Port Orange, Florida. At the time, she was just a little over four feet in length and weighed only 70 pounds. Newborn calves are generally four feet long and weigh about 65 pounds, so she was too young to be alone. She was taken to SeaWorld Orlando to grow and gain weight, and it was there that she met her friend Rocket, who was also a rescued orphan. Annie and Rocket were together in rehabilitation at SeaWorld and released at the same time at Blue Spring on February 11, 2008. On the day of release, Annie was was about eight and a half feet in length and weighed 1,055 pounds. Although they were almost four years old and should have been going their separate ways, the two stayed together.
In 2012, she turned seven, and was very pregnant when she visited the park. Female manatees usually have their first calf at age five or six, so she was slightly late. Her calf, a male named Arron, was born in Blue Spring at the end of June. Two years later on July 26, she once again had a calf at the park—this time a female. But when Annie and the calf returned for the winter, a group of juvenile manatees again gathered to nurse, and the calf was losing weight. In February 2015, both were rescued and it was found that Annie was also underweight to a dangerous point. She and the calf underwent rehabilitation at ZooTampa at Lowry Park, where zoo staff named the calf Naui. In late March, they were returned to Blue Spring looking fat and healthy. Since returning to the wild, Annie has gone on to have four more calves, with the most recent born on March 17, 2023.
During the winter, check our Blue Spring webcams for updates on the latest news on Annie and other Blue Spring manatees.
Scar Chart & Identifying Photos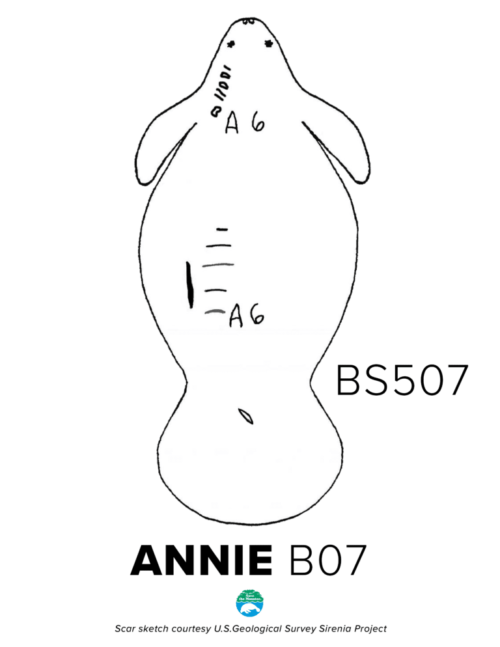 Photos and Videos of
Annie