Emergency Rescue, Rehabilitation, & Conservation Worldwide
Collected and distributed goods worth $11,000 to partner organizations across states and internationally, including over 175 pounds of replacement formula for orphaned manatee calves.
Redistributed $65,000 in grants for research, facility expansion, event sponsorship, and educational initiatives, including the funding of a new seagrass nursery as part of our commitment to preservation.
Collaborations & Initiatives
Engaged in collaborations with organizations like FWC, Volusia County, and various committees to address manatee mortality, promote boater safety, assess herbicide trends, advocate for conservation, and play pivotal roles in projects like the Free the Ocklawaha River Coalition and the Tampa Bay Estuary Program.
Actively involved in extensive manatee research, including data collection and photo-ID matching at Blue Spring State Park, which contributes to diverse research projects on manatee behavior and habitats.
Participated in educational campaigns along the Weeki Wachee River and launched the 'Fertilizer Free for Manatees' campaign targeting the Indian River Lagoon.
Conducted interviews, presentations, webinars, and attended conferences to raise awareness and educate the public about manatee conservation.
Attended a variety of conferences, symposiums, and meetings related to marine mammal biology, manatee conservation, and ecosystem restoration.
Collaborated with Alachua County to establish the 'Alachua County Manatee Sighting Network' for the Suwanee, Santa Fe, and Ichetucknee Rivers area.
Partnered to create the 'Manatee MATES' volunteer program to reduce manatee harassment through education, educating river users, and collecting data on human-manatee interactions along the Weeki Wachee River.
Collaborated with the US Forest Service to establish a manatee education volunteer program at Silver Glen and Salt Spring Recreation Areas.
Teamed up with FWC to improve manatee-safe boating education. Developed comprehensive educational materials, including GIS maps, to enhance boater awareness of manatee protection zones and safe practices.
Engaged with Crystal River National Wildlife Refuge to discuss research and management challenges, expressing concerns and suggestions for enhanced management practices to reduce manatee harassment in the area.
Actively participated in various partnerships and collaborations to promote manatee conservation in the Indian River Lagoon region, engaging with multiple organizations, including drone research initiatives, watercraft-related mortality reduction efforts, ecosystem restoration projects, and ongoing educational campaigns.
Monitored 2023 legislation, participated in FCV and Water Quality Working Group meetings, and engaged in legal actions concerning Critical Habitat and Clean Water Act, including a Notice of Intent to Sue FWC.
Fostered partnerships with governmental and non-governmental entities, such as Save Crystal River, Brevard Zoo, and Marine Resource Council, to enhance collaboration and conservation efforts.
Raised awareness about yard fertilizers' impact on lagoon health through a new webpage, homeowner pledge, and yard signs.
Collaborated with FWC and Volusia County to tackle manatee and watercraft-related mortality. Launched outreach to marinas and aimed to establish local manatee protection zones.
Revitalized efforts for manatee protection zones around Welaka Spring by engaging a citizen and the Citizen's Advisory Committee.
Teamed up for seagrass restoration projects, attended events, and participated in ecosystem restoration efforts of the Indian River Lagoon.
Led outreach, committees, and events for the Ocklawaha coalition (FORCE/Reunite the Rivers). Served as liaison for SMC, shaping priorities with Florida Conservation Voters, while also participating in Florida Springs Council, Water Quality Working Group, and Tampa Bay Estuary Program to strengthen conservation efforts. Engaged against toll road planning (M-CORES) and reformed the Manatee Advisory Council.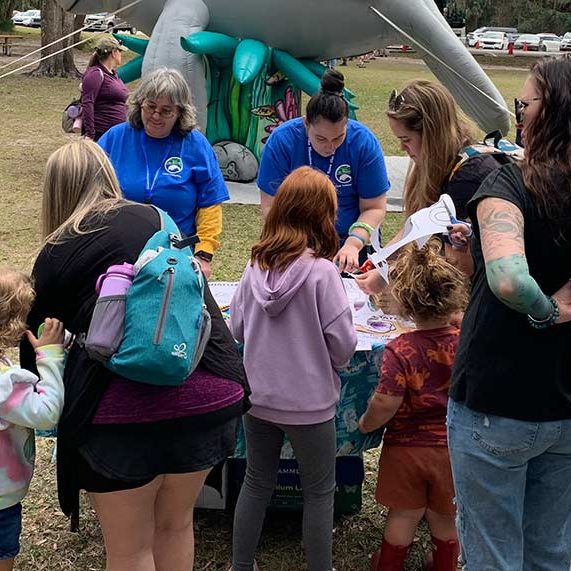 Engaged in 24 impactful events dedicated to environmental awareness and education.
Delivered 26 remote presentations, transcending geographical barriers.
Conducted 5 in-person presentations, fostering meaningful face-to-face connections.
Logged almost 350 volunteer hours at 25 of the events and presentations attended.
Distributed educational materials to over 1000 event attendees, educators, organizations, marinas, homeowners, and individuals worldwide, including:

1553 Waterway Cards
206 Yellow Dock Signs
140 Fertilizer-Free Yard Signs
104 Yellow Boat Banners
Tens of thousands of stickers, brochures, rack cards, and posters.

Gained over 3,300 new Instagram followers and 6,000 new Facebook followers.
Engaged manatee fans worldwide with 479,164 video views and a watch time of 92.3K hours on YouTube.
Raised an impressive 2 million in support for manatee protection.
Garnered support from over 18,000 compassionate individuals, organizations, educators, foundations, and businesses who share our commitment.
Facilitated over 6,500 new manatee adoptions, nurturing a sense of responsibility and connection.
Renewed 4,000 adoption commitments, indicating sustained dedication.
Over 500 previous adoptive parents rejoined the Club.
Expanded our community by 10,000 new supporters.
Recognized 250 supporters who have shown unwavering friendship for manatees over 20 years.
Assisted in honoring 116 individuals' memories and celebrating 241 life milestones.