Rescued manatee "Lesley" named for race director and now available for adoption
FOR IMMEDIATE RELEASE—April 1, 2021
Contact: media@savethemanatee.org, 407-539-0990
The 18th Annual Save the Manatee 5K is now open for racers of all ages to run, walk, cycle, or do their favorite activity in support of Save the Manatee Club's manatee conservation work. To kick off the 2021 all-virtual race, Save the Manatee Club® is also excited to announce a new manatee added to the Adopt-A-Manatee® program: Lesley, named in honor of dedicated volunteer and Save the Manatee 5K Race Director Lesley Argiri. All proceeds from race registrations and manatee adoptions help fund advocacy and education efforts for manatees as well as manatee research, rescues, rehabilitation, and releases.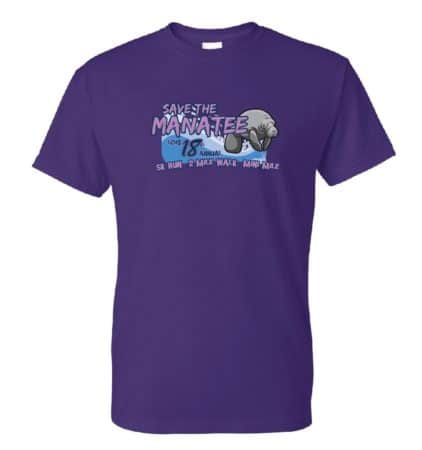 Lesley Argiri and her husband Brian McDonald started coordinating a 5K race for manatees in their hometown in Michigan back in 2003. Although they lived nowhere near manatee habitat, they soon discovered there were a lot of manatee fans in Michigan who loved to run and walk to support manatee protection. Lesley worked tirelessly to mobilize the students at L'Anse Creuse High School, where she taught biology, to help volunteer and fundraise on behalf of the manatees and Save the Manatee Club.
Eventually, this signature event expanded to offer a virtual option for racers around the world to support manatees and receive a t-shirt, race bib, and manatee medal to commemorate their efforts. In 2020, the race went all-virtual, but proved to be a huge success, with people participating from home in all 50 states and several countries. "We were able to donate $38,500 last year to Save the Manatee Club, our largest donation in 17 years," explains Lesley.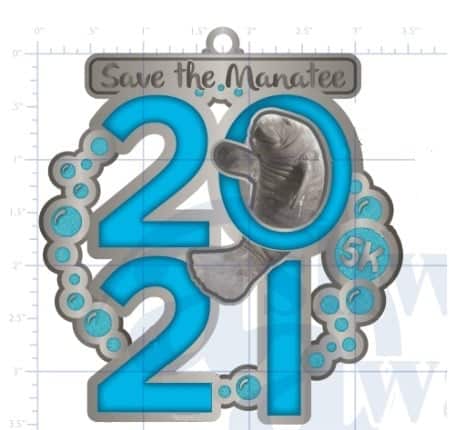 To thank Lesley for her dedication, Save the Manatee Club named a known Blue Spring State Park manatee after her. Now "Lesley" the manatee is the newest addition to the Adopt-A-Manatee program. Research teams first identified her in 2014 due to prominent scars on her back from a boat's skeg and propellers. She returned to Blue Spring for several winter seasons with her first calf Lennox and was being considered as a possible adoptable manatee for the program.
Unfortunately, in March 2018, she was nursing her second calf and started to lose too much weight. Lesley and her calf Leena had to be rescued by wildlife officials and rehabilitated at SeaWorld Orlando. After three years in rehabilitation and several surgeries for injuries and internal infections resulting from an earlier boat strike, Lesley was finally released back to Blue Spring in January 2021. The next morning, she was seen acclimating comfortably with other manatees in the spring run. Thanks to the dedication of the SeaWorld team, Lesley weighed close to a healthy 1,400 pounds on the day of her release.
"To my surprise, Save the Manatee Club named Lesley after me to show their appreciation of our events over the last 17 years," says Lesley Argiri. "I was truly flattered by this gift, and I am very excited that she is released and eligible for adoption." Lesley, along with over 30 other individual manatees, can be adopted for yourself or for a loved one as a gift at savethemanatee.org/adopt. Each adoption starts at $25 and includes a personalized adoption certificate and biography of your manatee as well as other Save the Manatee Club membership materials. Proceeds from adopting Lesley will go to the Manatee Rescue & Rehabilitation Partnership (MRP) to help other manatees in need (Save the Manatee Club is an MRP partner and founding member).
This year's 18th Annual Save the Manatee 5K is also all-virtual, and racers from around the world have already started showing off their t-shirts, bibs, and medals on social media while they #run4manatees. There is also an optional pet medal for furry friends to race for manatees too. Register at savethemanatee5k.com.
###
Save the Manatee Club, established in 1981 by the late renowned singer-songwriter, author, and entrepreneur Jimmy Buffett, along with former Florida Governor and U.S. Senator Bob Graham, is dedicated to safeguarding manatees and preserving their aquatic habitat. For more information about manatees and the Club's efforts, visit savethemanatee.org or call 1-800-432-JOIN (5646).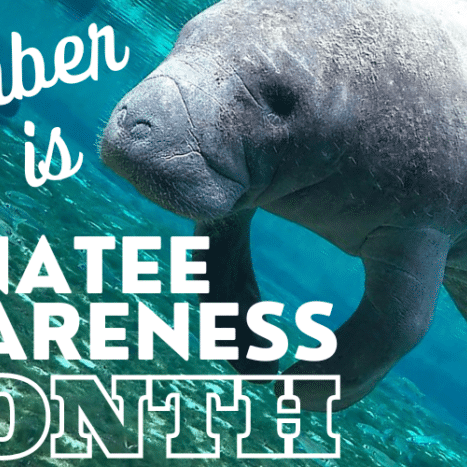 November is Manatee Awareness Month
November is Manatee Awareness Month, an annual opportunity to celebrate Florida's state marine mammal and raise awareness of the ongoing threats to manatees and their aquatic habitat.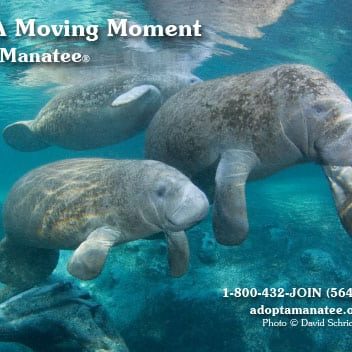 Share A Moving Moment With A Manatee Adoption
Searching for the perfect gift that not only moves the heart but also contributes to a great cause? Look no further than an adoption from Save the Manatee Club.